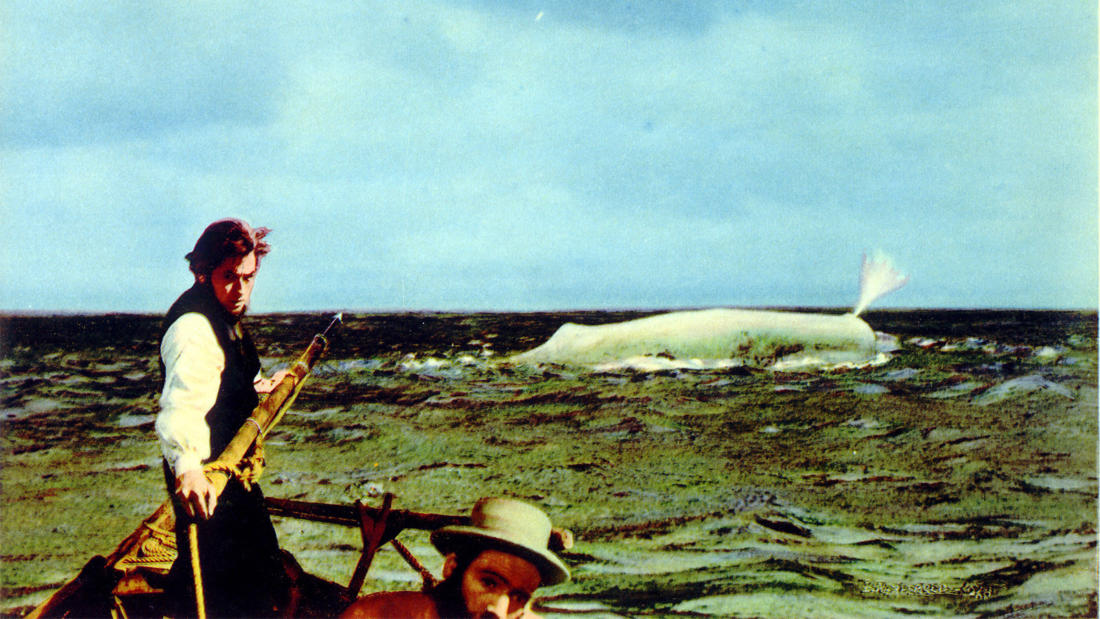 2013
with
Dr. Charles "Stormy" Mayo
Co-Founder and Director of the Habitat Studies Program, Provincetown Center for Coastal Studies
Moby Dick—

The Lives of Whales
Program Description
Dr. Charles "Stormy" Mayo spoke about whale research and whale habitats.
Film Synopsis
The sole survivor of a lost whaling ship relates the tale of his captain's self-destructive obsession to hunt the white whale, Moby Dick.
In this classic adventure film, based on the story by Herman Melville, young Ishmael (Richard Basehart) signs up for service aboard the Pequod, a whaler sailing out of New Bedford. The ship is under the command of Captain Ahab (Gregory Peck), a strict disciplinarian who exhorts his men to find Moby Dick, the great white whale. Ahab lost his leg to the creature and is desperate for revenge. The captain is so overwhelmed by his desire to kill the whale that he is prepared to sacrifice everything, including his life, the lives of his crew, and even his ship. The screenplay was co-written by director John Huston and acclaimed sci-fi author Ray Bradbury.
About the Speaker
Dr. Charles "Stormy" Mayo is a senior scientist at, and co-founder of, the Center for Coastal Studies (CCS), a private, nonprofit organization for research, conservation, and education in the coastal and marine environments. At CCS's Provincetown, Massachusetts-based facility, Dr. Mayo studies the foraging behavior of whales and the health of their habitats, and is also known for his pioneering work developing techniques to disentangle great whales from commercial fishing gear. Director of CCS's North Atlantic Disentanglement Team, Dr. Mayo worked with the National Marine Fisheries Service (NMFS) and the US Coast Guard to develop a Rapid Response Rescue Program to disentangle whales at sea, the first program of its kind in the nation. CCS is the only institution on the East Coast with federal authorization to perform this highly dangerous work. The author of dozens of papers on whale behavior, identification, and rescue, Dr. Mayo earned his PhD in marine biology from the School of Marine and Atmospheric Science at the University of Miami.