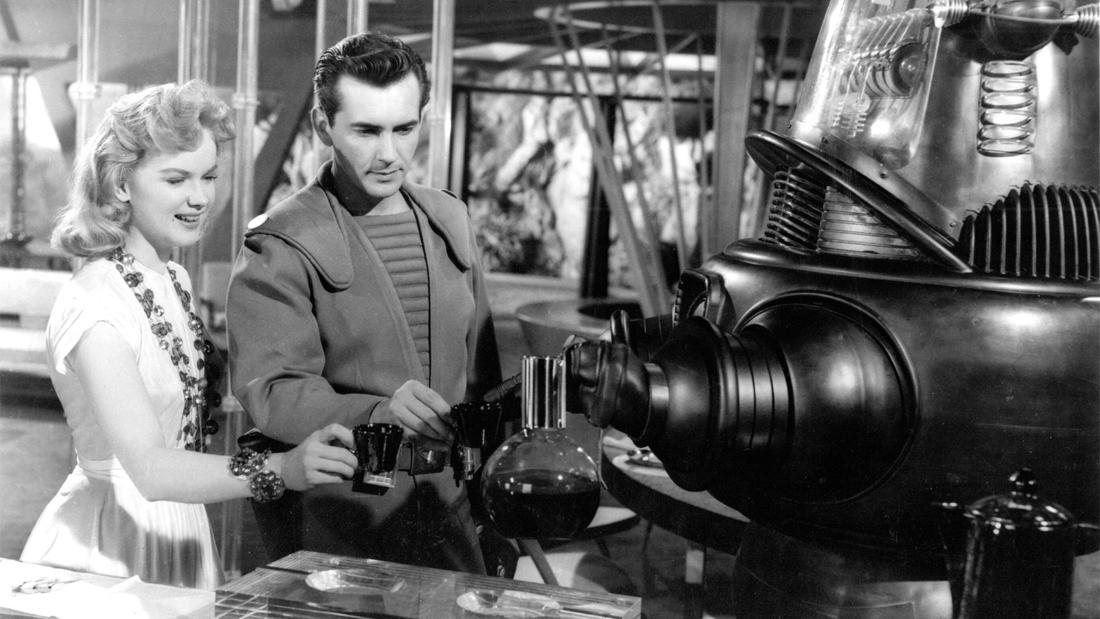 2017
with
Dr. Chris Impey
University Distinguished Professor of Astronomy and Associate Dean, College of Science, University of Arizona
Forbidden Planet—

The Shape of Things to Come: Going Back to the Future with '50s Sci-Fi
Film Synopsis
A starship crew goes to investigate the silence of a planet's colony only to find two survivors and a deadly secret that one of them has.
In this sci-fi classic, loosely based on Shakespeare's The Tempest, a spacecraft travels to the distant planet Altair IV to discover the fate of a group of scientists sent there decades earlier. When Commander John J. Adams (Leslie Nielsen) and his crew arrive, they discover only two people: Dr. Morbius (Walter Pidgeon) and his daughter, Altaira (Anne Francis), who was born on the remote planet. The two have created an Eden-like world that is guarded by their obedient robot, Robby. Gradually, Adams uncovers the mystery of what happened on Altair IV, and why Morbius and Altaira are the sole survivors.
About the Speaker
Dr. Chris Impey is a University Distinguished Professor of Astronomy and associate dean in the College of Science at the University of Arizona. His research interests are observational cosmology, gravitational lensing, and the evolution and structure of galaxies. He has 180 refereed publications and 70 conference proceedings, and his work has been supported by $20 million in grants from NASA and the NSF. As a professor, he has won 11 teaching awards, and he has been heavily involved in curriculum and instructional technology development.
Dr. Impey is a past vice president of the American Astronomical Society. He has also been an NSF Distinguished Teaching Scholar, a Phi Beta Kappa Visiting Scholar, and the Carnegie Council on Teaching's Arizona Professor of the Year. He was a co-chair of the Education and Public Outreach Study Group for the Astronomy Decadal Survey of the National Academy of Sciences. In 2009, he was elected a Fellow of the American Association for the Advancement of Science.
Dr. Impey has written over 40 popular articles on cosmology and astrobiology and co-authored two introductory textbooks. His first popular book, The Living Cosmos, was published in 2007 by Random House. His second and third, called How It Ends and How it Began, both on the subject of cosmology were published in 2010 and 2012 by Norton. In 2013, his book covering iconic NASA missions called Dreams of Other Worlds was published by Princeton University Press, and the following year it won the Eugene Emme Award for Astronautical Literature. Also in 2013, his book on the teaching of cosmology to Buddhist monks in India was published, called Humble Before the Void. His most recent book is Beyond, examining the future of space travel, published by Norton in 2016.