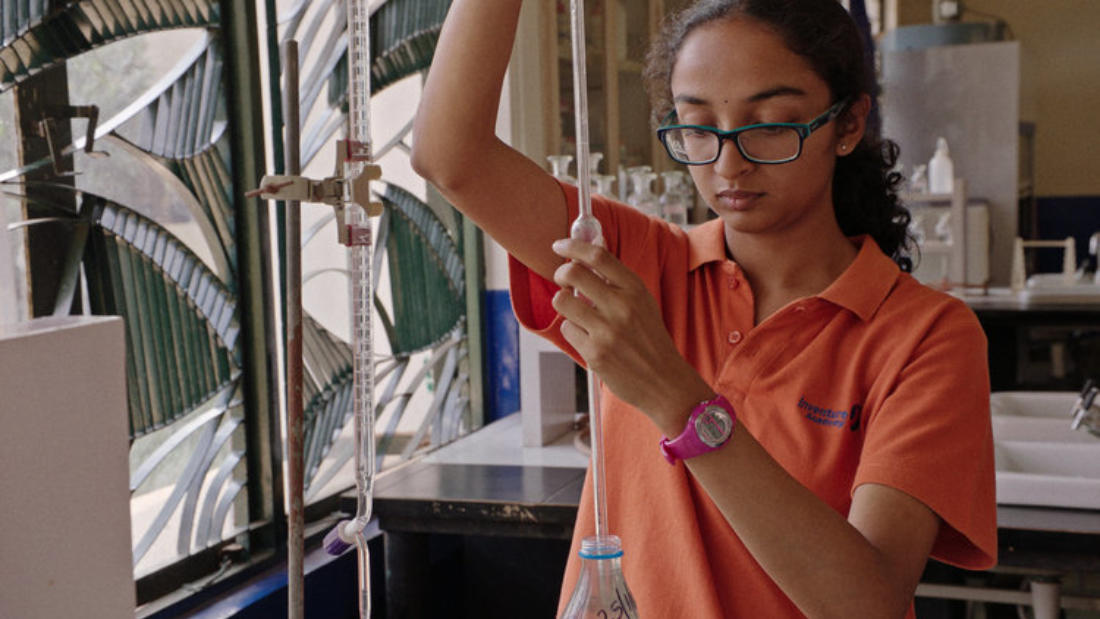 2019
with
Greg Carbone
Professor of Geography, University of South Carolina
and
Monica Barra
Assistant professor, School of the Earth, Ocean & Environment and Department of Anthropology, University of South Carolina
and
Pippa Richter
Senior at AC Flora High School
and
Hayle Turner
Senior at Richland Northeast High School
Inventing Tomorrow—

Tackling climate change where you live
Program Description
Professors Greg Carbone and Monica Barra and local high schoolers Pippa Richter and Hayle Turner talk about the causes, repercussions, and prevention of climate change and pollution in the Southeast US.
Film Synopsis
Passionate teenage innovators from around the world create cutting-edge solutions to environmental threats.
Indonesia, India, Mexico, Hawaii, and many other countries, communities, and islands are rife with the ravages of environmental degradation. But hope comes with a surprising—and touching—group of young people. Meet six brilliant high school students as they prepare for the world's largest high school science competition: the Intel International Science and Engineering Fair (ISEF). Inspired by the issues and problems they've witnessed in their own communities, these teens propose big ideas and ingenious solutions to the world's environmental challenges. With unfettered minds and ambition, they descend upon Los Angeles to participate in ISEF and meet thousands of their peers from all over the world. Soon, a sense of global community forms, focused on making the world a better place.
Director Laura Nix trains her eye on her articulate and loveable subjects and goes beyond the notion of the nerdy whiz kid to create a complete portrait of engaged and inspired (and inspiring) youth. An artful and moving film, Inventing Tomorrow looks optimistically at the future through the passion and forward thinking of these exceptional teens. [Sundance Institute]
Photo courtesy of IQ190 Productions LLC
About the Speaker
Greg Carbone's research includes climate variability and change and climate impacts. He is an investigator with the Carolinas Integrated Sciences and Assessments (CISA) program, a NOAA-sponsored center designed to work with decision makers to improve the use of climate information in resource management. His most recent work exams the spatial and temporal nature of drought and the use of climate change scenarios for decision making. Carbone has won university teaching awards for his instruction of weather and climate courses.
Monica Barra is an assistant professor in the School of the Earth, Ocean & Environment and Department of Anthropology at the University of South Carolina. Her scholarly and creative work focuses on environmental change, science, race, and inequality in the US Gulf South. Most recently, she has worked with natural scientists, engineers, and community groups living on the edge of Louisiana's coastal land loss crisis to devise ways of confronting the unequal impacts of environmental restoration and climate change on historically disenfranchised coastal communities.
Pippa Richter is a senior at A.C. Flora High School. She is the president and founder of the Environmental Club at A.C. Flora which is currently working to establish a system for recycling at the school. Her interests include computer science and molecular biology, especially as they relate to genetics and artificial photosynthesis. She will be attending the California Institute of Technology as a freshman in the fall of 2019.
Hayle Turner is a senior at Richland Northeast High School who has studied and presented on environmental discrimination. She has represented RNE on the Model United Nations UNEP (United Nations Environment Programme).