December 19, 2018
Congratulations to the SoS class of 2018−19!
Back in September, we welcomed our 14th class of Science on Screen grantees. From Hawaii to Maine and Alaska to Florida, they are already hard at work pairing great science content with equally great movies. Learn more below, and check out a 2018-19 Science on Screen event near you!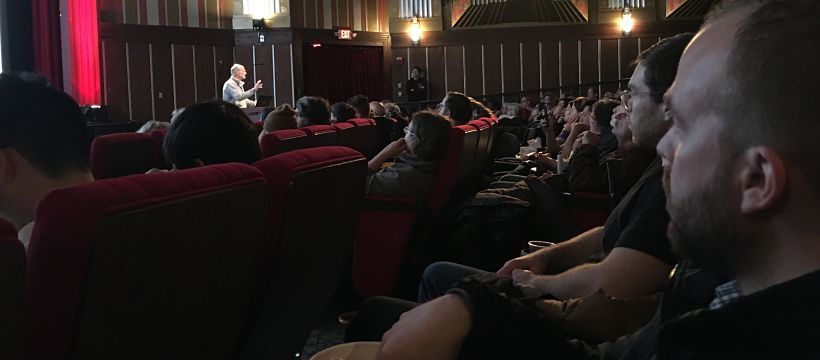 36 ART-HOUSE MOVIE THEATERS WIN GRANTS TO BRING SCIENCE EDUCATION TO THE CINEMA
In 14th season, nationwide Science on Screen® initiative aims to turn movie-lovers into science-lovers—in person and online
Coolidge Corner Theatre and the Alfred P. Sloan Foundation has named the 2018−19 recipients of their nationwide Science on Screen® grant program, awarding grants totaling $229,500 to 36 independent cinemas, museums, and community groups with film programs. Each organization will receive up to $8,500 to create and present three or more Science on Screen events that add science education to the movie-going experience.
Science on Screen events match classic, cult, science fiction, and nonfiction films with lively presentations by experts on specific scientific, technological, or medical issues raised by each film. Featured speakers range from local teachers to science celebrities, including (in the most recent season) ocean explorer Fabien Cousteau and astronaut Fred Haise, former NASA Flight Director Gerry Griffin, and other Apollo 13 moon mission alumni.
Since the launch of the national Science on Screen initiative in 2011, the Coolidge and the Sloan Foundation have awarded 201 grants to 82 nonprofit cinemas across the country.
"We are delighted to support the Coolidge Corner Theatre in expanding the popular Science on Screen program to 36 more independent theatres and communities across America," said Doron Weber, vice president and program director at the Sloan Foundation. "From acclaimed Sloan-supported hits such as Hidden Figures and award-winning indies such as To Dust to Sloan Prize-winning films such as Searching and First Man, this creative pairing of entertaining films with science and technology experts shows that scientific understanding can deepen an audience's appreciation of storytelling, theme, and character."
Some Science on Screen events spotlight science that is purely fascinating. At the best-selling Science on Screen event of the 2017−18 season, for example, the Colonial Theatre of Phoenixville, Pa., paired a tour of the canine mind by dog cognition expert and best-selling author Alexandra Horowitz with the Wes Anderson stop-motion film Isle of Dogs.
Other events—like the Honolulu Museum of Art's panel on nuclear war in the wake of the January 2018 Hawaiian nuclear scare (with Stanley Kubrick's black Cold War farce Dr. Strangelove)—are designed to illuminate audience members' deep and immediate concerns about technology, the environment, food security, and much more.
The program presents science, technology, engineering, and mathematics in an entertaining way to kindle in lay audiences a keener appreciation for science as part of a broader and more integrated cultural understanding. Currently, the United States lags behind many other developed nations in scientific literacy, even though STEM-related occupations are becoming an increasingly large (and well-paid) portion of the U.S. labor force, according to the U.S. Department of Commerce. The U.S. Department of Education reports that only 22 percent of American high school seniors are proficient in science, and the Programme for International Student Assessment ranks the U.S. 24th in science literacy out of 71 countries, behind Singapore, Japan, South Korea, Canada, Australia and New Zealand, Germany, and many others.
According to participants, the program's edu-tainment model works. One two-time Science on Screen panelist from the College of Engineering at University of Hawai'i at Manoa, told the Honolulu Museum of Art that "this is exactly what our department wants to do to engage wider audience in these topics."
The reach of Science on Screen continues to grow. Last season, 22,383 tickets to Science on Screen events were sold, up from 19,924 in 2016−17 and 13,106 in 2015−16. A key goal of the program in the 2018−19 season will be to increase the initiative's virtual reach as well, launching social media efforts and promoting use of the resources available on the Science on Screen website (scienceonscreen.org), which include a video archive of hundreds of Science on Screen presentations, all available to the public for viewing without charge.
Science on Screen was initially conceived and established in 2005 for the Coolidge Corner Theatre's audience in greater Boston, which boasts one of the nation's largest populations of life and physical scientists. In 2011, the Sloan Foundation partnered with the theatre to take Science on Screen nationwide. To date, the Sloan Foundation has awarded more than $2.5 million to support the program.
"The Coolidge received a record 70 applications from cinemas across the country for 2018−2019 grants. The widespread interest, level of creativity and capability of applicants is inspirational, and choosing among them is a challenge," says Katherine Tallman, executive director and CEO of the Coolidge Corner Theatre. "I'm delighted that, thanks to Sloan's support, we can initiate Science on Screen in new places and also provide sustaining grants to cinemas who have established successful programs, including those who offer pro bono access in underserved communities. The number and quality of programs presented each year is always remarkable, and the Science on Screen website will further increase access and audiences."
Science on Screen grant recipients are chosen based on a combination of the following factors: the need for science-related programming in their community, the strength of their proposed Science on Screen programs, the success of past Science on Screen programs (for returning grantees), their location, and their commitment to reaching diverse and underserved audiences. The 2018−19 Science on Screen grantees include 11 first-time participants:
AFI Silver Theatre and Cultural Center, Silver Spring, Md.
Byrd Theatre, Richmond, Va.
Carnegie Science Center, Pittsburgh, Pa.
Cinemapolis, Ithaca, N.Y.
Eureka Theater, Eureka, Calif.
Historic Artcraft Theatre, Franklin, Ind.
Juneau Underground Motion Picture Society (new), Gold Town Theater (returning), and the Juneau Public Libraries (returning), Juneau, Alaska
McWane Science Center, Birmingham, Ala.
Milwaukee Film, Milwaukee, Wis.
Roxy Theater, Missoula, Mont.
Utah Film Center, Salt Lake City, Utah
Grantees returning to Science on Screen in 2018−19 are:
Amherst Cinema, Amherst, Mass.
Athena Cinema, Athens, Ohio
Athens Ciné, Athens, Ga.
Austin Film Society, Austin, Texas
Belcourt Theatre, Nashville, Tenn.
Bryn Mawr Film Institute, Bryn Mawr, Pa.
Cameo Cinema, St. Helena, Calif.
Colonial Theatre, Phoenixville, Pa.
Enzian Theater, Maitland, Fla.
Film Streams, Omaha, Neb.
FilmScene, Iowa City, Iowa
Gold Coast Arts Center, Great Neck, N.Y.
Grand Cinema, Tacoma, Wash.
Honolulu Museum of Art, Honolulu, Hawaii
Loft Cinema, Tucson, Ariz.
Media Arts Center San Diego, San Diego, Calif.
Michigan Theater, Ann Arbor, Mich.
Midwest Theater, Scottsbluff, Neb.
Museum of the Moving Image, New York, N.Y.
Nickelodeon Theatre, Columbia, S.C.
Philadelphia Film Society, Philadelphia, Pa.
Pickford Film Center, Bellingham, Wash.
Salina Art Center, Salina, Kan.
Shotgun Cinema, New Orleans, La.
State Theatre of Modesto, Modesto, Calif.
About the Alfred P. Sloan Foundation
The New York-based Alfred P. Sloan Foundation, founded in 1934, is a non-profit philanthropy that makes grants for original research and education in science, technology, and economic performance. Sloan's program in Public Understanding of Science and Technology, directed by Doron Weber, supports books, radio, film, television, theater and new media to reach a wide, non-specialized audience and to bridge the two cultures of science and the humanities.

Sloan's Film Program encourages filmmakers to create more realistic and compelling stories about science and technology and to challenge existing stereotypes about scientists and engineers in the popular imagination. Over the past two decades, Sloan has partnered with some of the top film schools in the country—including AFI, Carnegie Mellon, Columbia, NYU, UCLA and USC—and established annual awards in screenwriting and film production, along with an annual best-of-the best Student Grand Jury Prize administered by the Tribeca Film Institute. The Foundation also supports screenplay development programs with the Sundance Institute, Tribeca Film Institute, SFFILM, the Black List, and Film Independent's Producing Lab and Fast Track program and has given early recognition to stand-out films such as First Man, Searching, The Martian, and Hidden Figures. The Sloan pipeline has also helped develop such film projects as Shawn Snyder's To Dust, Morten Tyldum's The Imitation Game, Matthew Brown's The Man Who Knew Infinity, and Michael Almereyda's Experimenter. The Foundation has supported theatrical documentaries such as The Bit Player, Bombshell: The Hedy Lamarr Story, Particle Fever, and Jacques Perrin's Oceans.

The Foundation has an active theater program and commissions about twenty science plays each year from the Ensemble Studio Theatre, Manhattan Theatre Club, and the National Theatre in London, as well as supporting select productions across the country and abroad. Recent grants have supported Lucy Kirkwood's Mosquitoes, Chiara Atik's BUMP, Nick Payne's Constellations, Lucas Hnath's Isaac's Eye, and Anna Ziegler's Photograph 51. The Foundation's book program includes early support for Hidden Figures: The American Dream and the Untold Story of the Black Women Mathematicians Who Helped Win the Space Race, the best-selling book that became the highest grossing Oscar-nominated film of 2017 and continues to have a wide-ranging cultural impact.
For more information about the Alfred P. Sloan Foundation, visit sloan.org.
About the Coolidge Corner Theatre
The Coolidge Corner Theatre is located in Brookline, Massachusetts and is one of the nation's most prominent independently operated movie theatres, run by the not-for-profit Coolidge Corner Theatre Foundation. A beloved movie house, the Coolidge has been engaging audiences with the best in cinematic entertainment since 1933. In addition to premiere theatrical engagements of independent film and art house releases, the Coolidge presents numerous special programs including: Science on Screen®, high-definition live broadcasts from London's National Theatre and world renowned opera and ballet companies, Big Screen Classics, midnight screenings, The Sounds of Silents®, and weekend kids' programs. The Coolidge has won numerous awards and honors for its creative programming. For more information, visit www.coolidge.org.