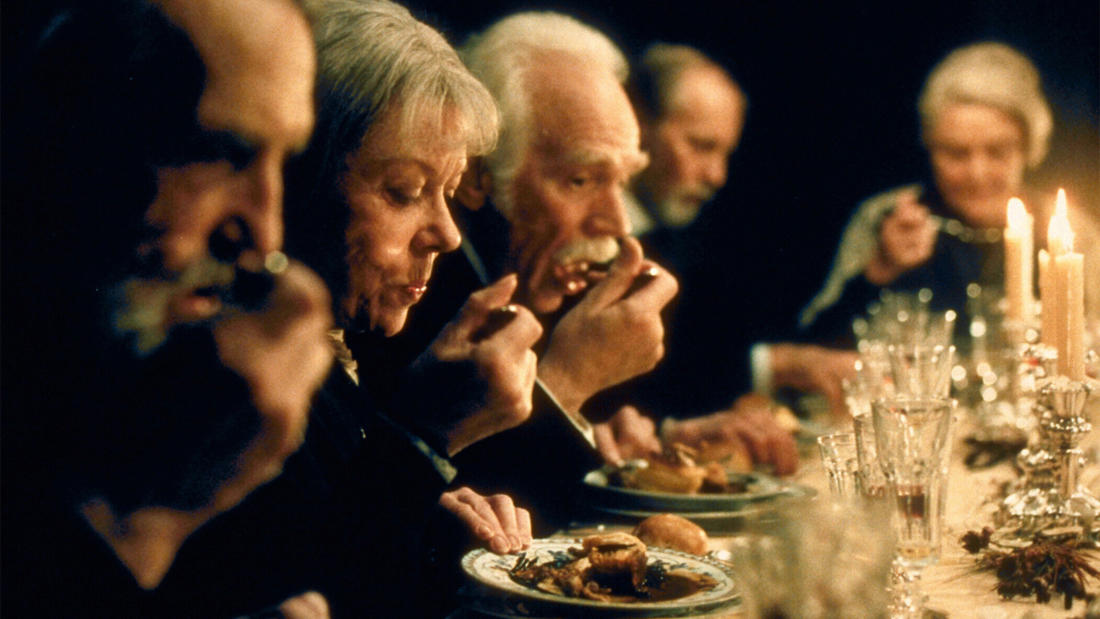 with
Dr. Guy Crosby
Associate Professor, Department of Chemistry & Food Science, Framingham State College; Associate Professor of Nutrition, Harvard School of Public Health; Science Expert for 'Cook's Illustrated' and 'America's Test Kitchen'
Babette's Feast
Program Description
A program pairing Gabriel Axel's critically acclaimed film, in which food plays a major role, with a presentation on the science of taste by a food science professor who also serves as a science consultant to the venerable Cook's Illustrated magazine (known for its scientific approach to cooking) and to the popular PBS show, America's Test Kitchen.
This program took place the week before Thanksgiving, and the film and science angle were deliberately chosen to capitalize on this timing: "As part of its holiday menu, the Coolidge serves art with a side of science with a presentation of the exquisite Babette's Feast paired with a piquant presentation on how we experience taste." In keeping with the program's theme, the theater raffled off a copy of the newest cookbook from America's Test Kitchen and engaged a local restaurant to provide complimentary samples of Baba au Rhum (featured in the film) in the lobby before the screening.
Outreach Strategy
Promoted the program via standard channels: Coolidge website; flyers in lobby; e-blasts to members, Science on Screen list, and general list; in-theater slideshow of upcoming events; theater lobby video reel; Facebook and Twitter postings; online event calendars
Distributed press release to media and blogger list
Event featured on Boston Museum of Science's website (MOS is a co-presenter of Science on Screen) and in their e-news
Enlisted 'America's Test Kitchen' to feature the event in its e-newsletter and post flyers at its facility
Notified Danes in Boston, Scandinavian Living Center, and Nordic Events Calendar
Contacted film departments and film Meetup groups
Reached out to college/university food science programs and culinary arts departments, local cooking schools, epicurean clubs, culinary guilds, chefs' collaboratives, food bloggers, food/cooking Meetups, and local section of the Institute for Food Technologists
Contacted French Cultural Center and French Consulate (Stéphane Audrane connection)
Program Description (as used in promotional outreach)
Winner of the 1987 Academy Award for Best Foreign Language Film, Gabriel Axel's exquisite Babette's Feast tells of two elderly, pious sisters living in a remote religious community on the Danish coast in the latter part of the 19th century. When a French political refugee named Babette (Stéphane Audran) appears on their doorstep seeking shelter, they engage her to keep house and cook their meager meals. Years later, Babette wins the lottery and asks to prepare a sumptuous French feast for the community. Although everyone accepts, the thought of such decadence makes them fear for their Christian souls, and they agree not to show any pleasure. But in one of the great sensual sequences captured on film, we see their mood change as they can't help but be transported by Babette's culinary artistry. Aided by the exquisite food and wine, the parishioners rediscover their bonds of love and fellowship.

The film's mouthwatering scenes raise some intriguing questions. How does our sense of taste work? And how does taste work in concert with our other senses to allow us to detect certain flavors? Why do some foods please our taste buds, and others don't? How does memory factor into our experience of food? What role does science play in orchestrating taste, odors, colors, consistencies, and other sensations to create a delicious meal?

Joining us before the film to explore these issues is food scientist Dr. Guy Crosby, science editor for Cook's Illustrated magazine and science expert for America's Test Kitchen, broadcast nationwide on PBS. Dr. Crosby is an associate professor in the Department of Chemistry & Food Science at Framingham State College and adjunct associate professor of nutrition at Harvard University's School of Public Health.

Finale will be providing samples of a special dessert in honor of Babette's Feast — Baba au Rhum — before tonight's screening. They will also be giving out buy-one-get-one-free coupons for their Coolidge Corner store (1306 Beacon Street) so you can bring home your very own Baba tonight!