January 13, 2019
Science on the big screen
"There is no reason that science should be locked up in academia as it belongs to everyone, and movies seem like a fantastic way to marry the two."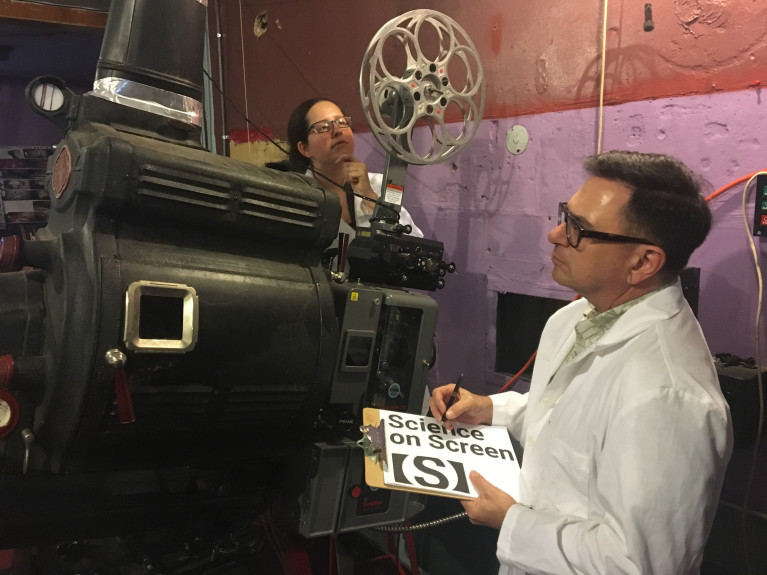 The Times-Standard
January 13, 2019
By Heather Shelton
The Eureka Library and the Eureka Theater are offering two special film series over the next few months.
The "Science on Screen" series is being hosted January through June at the Eureka Theater, 612 F St. "Dumb Movies with Smart People," a series at the Humboldt County Library, is running January to June at the Eureka Library, 1313 Third St.
Eureka Theater
The "Science on Screen" series — which pairs feature films with experts in the fields of science, tech, engineering and mathematics — is made possible through a grant from The Coolidge Corner Theatre Foundation and the Alfred P. Sloan Foundation.
"They offer a specific grant for Science on Screen. It is a competitive grant that the Eureka Theater has applied to in the past and, finally in September 2018, we were one of 37 theaters across the nation to receive it," said Samantha Mena, a Eureka Theater volunteer who was an integral part of the grant writing process.
The grant, she said, covers costs associated with screening an event at the theater, plus the expert speakers and filming.
"Licensing and speakers are where most of the fund goes," Mena said. "Plus, three of the lectures will be filmed and much later posted on the 'Science on Screen' YouTube page."
The films in the Eureka Theater series, and the accompanying speakers, are as follows:
· This Thursday: "Avengers: Infinity War" (2018), with speaker Frank Cappuccio talking about nanobiotechnology.
· Feb. 21: "Tank Girl" (1995), with Lonny Grafman delving into apocalyptic technologies. Grafman is a lecturer at Humboldt State University and the North Coast managing director of BlueTechValley, among other job titles. He's also a published author who loves movies and science. He says participating in the film series was a "no-brainer."
"There is no reason that science should be locked up in academia as it belongs to everyone, and movies seem like a fantastic way to marry the two," he said.
March 21: A National Week of Science on Screen program.
"National Week of Science on Screen is a week promoted by the Science on Screen grant," Mena said. "It is similar to other SoS evenings, but multiple theaters are participating across the country during the same period to further promote the series. We are still working out the details for that particular evening."
April 18: "Tremors" (1990), with Lori Dengler giving a talk titled "Shaky Ground." Dengler is an emeritus professor of geology from Humboldt State University, with expertise in tsunami science and regional earthquakes. She's been part of post-earthquake/tsunami reconnaissance studies to Japan, Indonesia and other parts of the world, co-authored a post-tsunami survey guide for the international tsunami community and continues to be involved with research and outreach projects on the North Coast.
Dengler says she is "all about" making science accessible and hopes people attending both the theater and library series (she's participating in both) have a good time.
"For many people, movies may be their only contact with seismology, geophysics or other sciences," she said. "Disaster movies are intended for entertainment and usually distort the science or ignore it completely … The three movies I'm involved with … are all pretty over the top silly. I hope that these programs draw good crowds and that people will enjoy a behind the scenes look at what is real and what is total Hollywood fabrication."
Dengler says she loves the movie 'Tremors' and has watched it a half-dozen times.
"It really has nothing to do with earthquakes, but the vibrations people experience in the movie are somewhat similar to fault rupture," she said. "I hope they come up with some good questions about the earth and how we figure out what the subsurface structure is like and some of the fantastic things we've learned that are even more amazing than science fiction."
· May 16: "Jurassic Park" (1993), with Samantha del Campo presenting a program on "How to Clone a Dinosaur: the Science Behind the Gene-Editing Technology used in 'Jurassic Park.'"
"I am a junior specialist working in Dr. Kyle Fink's lab," del Campo said. "We are housed within the UC Davis Institute for Regenerative Cures. The facility is focused on developing translational science and therapeutics in the stem cell field. The Fink Lab specifically focuses on gene-editing in neurological disorders … My main project in the lab is the development of a tool to change gene expression of Angelman Syndrome neurons. Angelman Syndrome is a rare neurodevelopmental disorder characterized, on a genetic level, by a lack of expression of a gene called UBE3A in neurons of the brain. The tool I am developing would function like turning off a light switch. By landing this tool in a specific area of the genome, we can 'tell' the cells to turn off expression of a molecule which sits above the UBE3A gene. This molecule physically blocks UBE3A from being made into a protein — we call this strategy 'repressing the repressor.'"
Del Campo says she is passionate about science and SciComm.
"I think it is important for scientists to be able to communicate effectively with the public and to make science more accessible to the average person," she said. "A good litmus test for me is whether or not I can effectively communicate my research to my mother, who works in film. I hope that my talk will encourage others to become as excited about gene-editing as I am."
· June 22: "Hackers" (1995), with Brian Behlendorf talking about coding. Behlendorf is a founding member of the Apache Software Foundation, Mena said.
Films in the Eureka Theater series were chosen based on a combination of factors, Mena added.
"Sometimes a topic would be priority, sometimes a movie would be priority, and we would go from there to search for a specific person," Mena said. "Most of all, we wanted speakers who would really have fun with this and engage the audience … We sent a mass email shout-out to science, tech, math and engineering related professionals to gather those who would be passionate and excited about what we were doing."
Doors open for the series at 6:30 p.m., with events starting at 7 p.m. Admission is $5 and concessions will be available. All profits will go toward the renovation of the Eureka Theater and fundraising efforts.
"The theater is completely volunteer run," Mena said. "The long-term goals right now are to restore the neon blade sign and restoring the auditorium. Restoration of a three-bedroom apartment attached to the theater began recently. It has a beautiful Streamline Moderne style, the same as the theater. Once complete, we hope to have everything back as close as possible to its state in 1939." (Construction was completed on the theater that year.)
For more information about the Eureka Theater or the "Science on Screen" series, call 707-442-2970 or go to www.eureka-theater.org.
Eureka Library<>
The library's "Dumb Movies with Smart People" series began Saturday with the 2003 science fiction film, "The Core," and a related talk by Dengler.
The library's movie and speaker series is scheduled for the second Saturday of each month through June, with each program starting at 1 p.m. There's no charge to attend the events, which are sponsored by Friends of the Redwood Libraries and coordinated by Corin Balkovek, public services librarian.
"When I started in this position," Balkovek said, "I was tasked with coming up with a new film series to offer at the Eureka Library that was a little different from our regular, but super awesome, film series. At the time, I was obsessively listening to a science podcast called 'Ologies' whose tag line is 'Ask smart people dumb questions.' What I really enjoyed about the podcast was how the host made information about various fields of science approachable by using pop culture references to ask and learn more about the subject, and I wanted to find a way to do something similar with our film series. I started brainstorming movie pairings with local experts who might be interested in participating and came up with 'Dumb Movies with Smart People.'"
Other films in the series include "Outbreak," Feb. 9 with epidemiologist Ron Largusa; "Dante's Peak," March 9 with volcanologist Brandon Browne; "San Andreas," April 13 with members of the Redwood Tsunami Work Group, including Dengler; "Anaconda," May 11 with herpetologist Sharyn Marks; and "The Meg," June 8 with marine biologist Brian Tissot.
"The enthusiasm we've received from the experts has been amazing," Balkovek said. "When I first started sending out emails to folks, I was a little worried they would find the idea too silly or would brush it off, but everyone I contacted was excited to participate and some even suggested movies that they thought would good/terrible/interesting."
She added: "At the library, we are all about connecting people to information, and so I really hope that when folks leave one of our movie screenings they feel like they learned something new while also having a fun time at the library."
For more information about the "Dumb Movies with Smart People" series, call the Eureka Library at 707-269-1905 or go to https://humboldtgov.org/library.
Read this article online at www.times-standard.com.