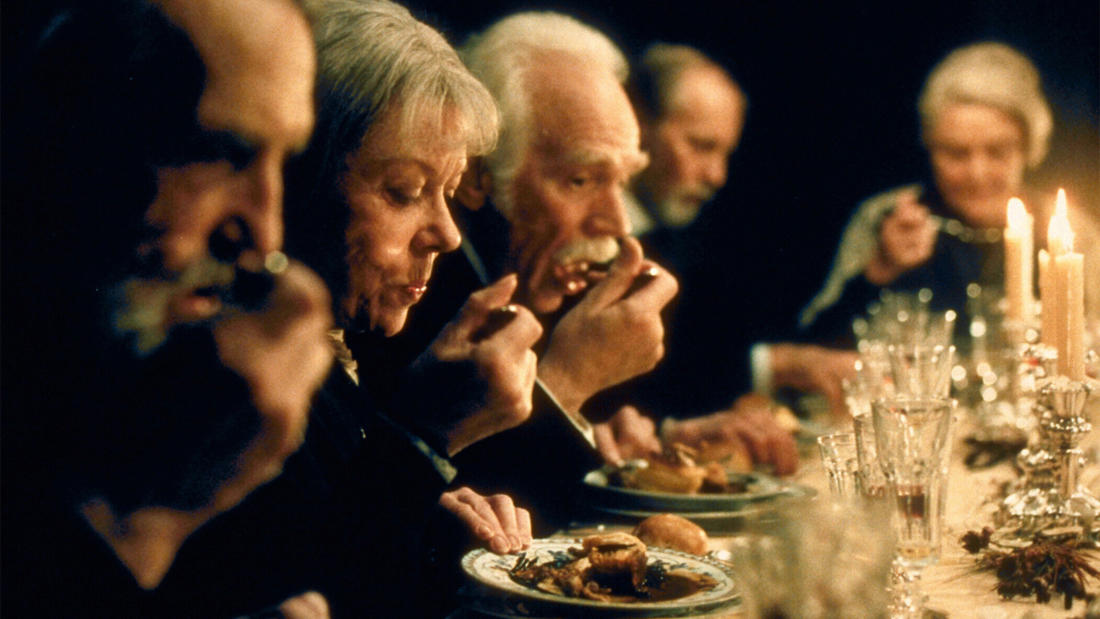 2009
with
Dr. Guy Crosby
Associate Professor, Department of Chemistry & Food Science, Framingham State College; Associate Professor of Nutrition, Harvard School of Public Health; Science Expert for 'Cook's Illustrated' and 'America's Test Kitchen'
Babette's Feast—

Science of Taste
Program Description
An explanation of how our sense of taste works and why food has such control over the mind.
Film Synopsis
In a remote 19th-century Danish village, two sisters lead a rigid life centered around their father, the local minister, and their church.
Set in a remote Danish fishing village in the latter part of the 19th century, Babette's Feast tells of two beautiful sisters (Birgitte Federspiel, Bodil Kjer) who give up their chance for romance and worldly success in order to care for their father, a strict pastor who preaches salvation through self-denial. After his death, they carry on his work, tending to his aging and increasingly quarrelsome flock with saintly devotion. When Babette (Stéphane Audran), a French political refugee, appears on their doorstep seeking shelter, they engage her to keep house and cook their meager meals. Years later, Babette wins the lottery and asks to prepare a sumptuous French feast for the community. Everyone accepts, but the thought of such decadence makes them fear for their Christian souls, and they agree not to show any pleasure. Aided by the exquisite food and wine, the parishioners can't help but be transported by Babette's culinary artistry, and soon rediscover their bonds of love and fellowship. Gabriel Axel directed this Oscar-winning Danish film.
About the Speaker
Dr. Guy Crosby obtained his BS degree in chemistry from the University of New Hampshire, and PhD in organic chemistry from Brown University in 1969. This was followed by two years as a postdoctoral research associate in the Department of Chemistry at Stanford University. He began his professional career with a small startup company in Palo Alto developing new food ingredients. After 12 years in California he and his family moved to Princeton, New Jersey, to work with the Agricultural Products Group, and then the Food Ingredients Division of FMC Corporation as Director of Research and Development. In 1996, he relocated to Bedford, Massachusetts, to serve as vice president of R&D for Opta Food Ingredients. After retiring in 2002, Crosby was appointed an associate professor at Framingham State University, where he taught until 2011. He continues to teach food science at the Harvard School of Public Health.
Dr. Crosby is currently the science editor for America's Test Kitchen, publisher of Cook's Illustrated and Cook's Country magazines, as well as producer of the popular PBS television program America's Test Kitchen, hosted by Christopher Kimball. He is co-author of the book The Science of Good Cooking, published by America's Test kitchen. Dr. Crosby is also an adjunct associate professor in the Department of Nutrition at the Harvard School of Public Health, where he teaches a course on food science and technology.
Dr. Crosby is a professional member of the Institute of Food Technologists, the American Chemical Society, and the American Society for Nutrition. He is also an external advisor for the EcoGastronomy program at the University of New Hampshire, a member of the Food Task Force for Boston's Museum of Science, and a Food Science Communicator for the Institute of Food Technologists. On April 1, 2013, he was officially included in the first group of Certified Food Scientists (CFS) approved by the Institute of Food Technologists.