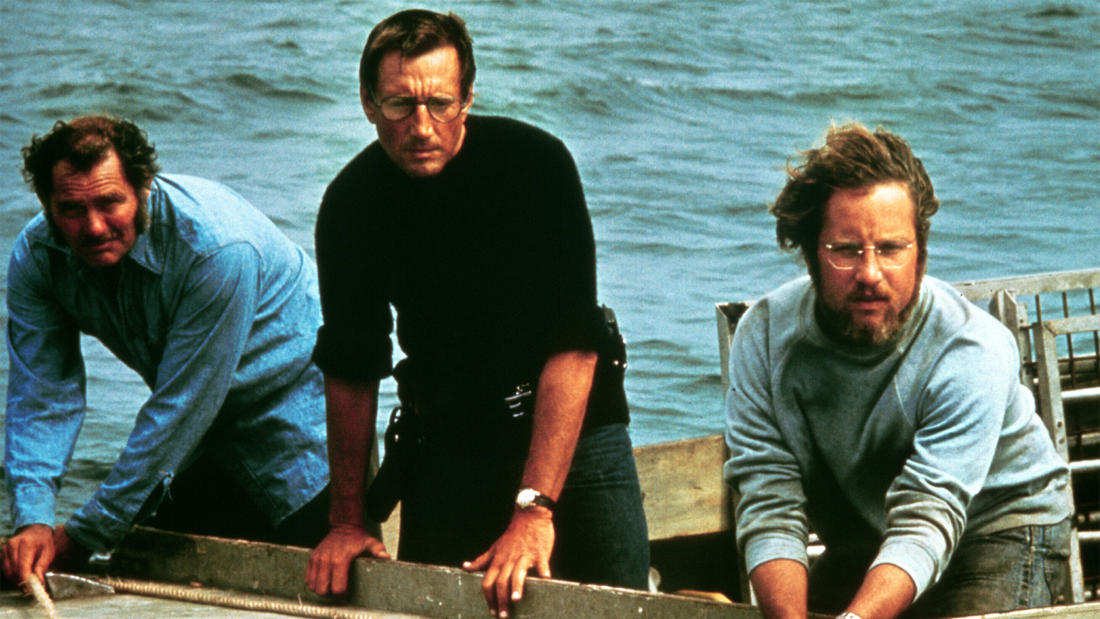 2011
with
Dr. Daniel Huber
Assistant Professor of Biology, University of Tampa
Jaws—

Facts and Fiction About Sharks
Program Description
A discussion of the facts and fiction of shark feeding behavior and biomechanics as they are portrayed in Jaws, plus a lobby display of three sets of real shark jaws.
Film Synopsis
When a gigantic great white shark begins to menace the small island community of Amity, a police chief, a marine scientist, and grizzled fisherman set out to stop it.
When a leviathan of a great white begins making snacks out of the good people of Amity Island, it's up to Police Chief Martin Brody (Roy Scheider), grizzled fisherman Quint (Robert Shaw), and ichthyologist Matt Hooper (Richard Dreyfuss) to capture the killer beast. The physical scars these men boast and brandish seem like paper cuts when compared to the carnage inflicted by the teeth of their intended prey. Will these men have what it takes to reel in the horror that awaits them beneath the waves? One thing is for certain; they're going to need a bigger boat. Now considered one of the greatest films ever made, Jaws won three Academy Awards and spawned three sequels.
About the Speaker
Dr. Daniel Huber specializes in studying the biomechanics of feeding and locomotion in cartilaginous fishes through analyses of material and structural properties of skeletal elements, digital imaging technologies (CT, MRI), theoretical modeling of musculoskeletal systems, finite element analysis, force transduction, and high-speed digital videography, He investigates the relationship between morphology, behavior, and ecology, and how these factors change over the ontogeny of individual species, as well as among species and over orders of magnitude of size. Dr. Huber and his colleagues are the first to have successfully measured voluntary bite force in free-swimming sharks, which provide a glimpse at the behavioral basis of evolutionary diversification in chondrichthyan feeding mechanisms.
Dr. Huber's research on sharks has been featured in a wide variety of media outlets, ranging from primetime television to children's books. He has appeared in numerous shows on National Geographic and the Discovery Channel. His collaboration on the feeding biomechanics of the white shark with the Computational Biomechanics Research Group received worldwide media coverage and was listed as one of Discover Magazine's Top Science Stories of 2008. More recently, Dr. Huber has been working with colleagues on the causes of spinal deformities in captive sand tiger sharks in an effort to reduce the prevalence of this syndrome and decrease the need to catch wild animals for aquarium exhibits. Various aspects of this project have recently been published or are in press in the Journal of Zoo and Wildlife Medicine, International Journal of Comparative Psychology, and Journal of Experimental Biology.