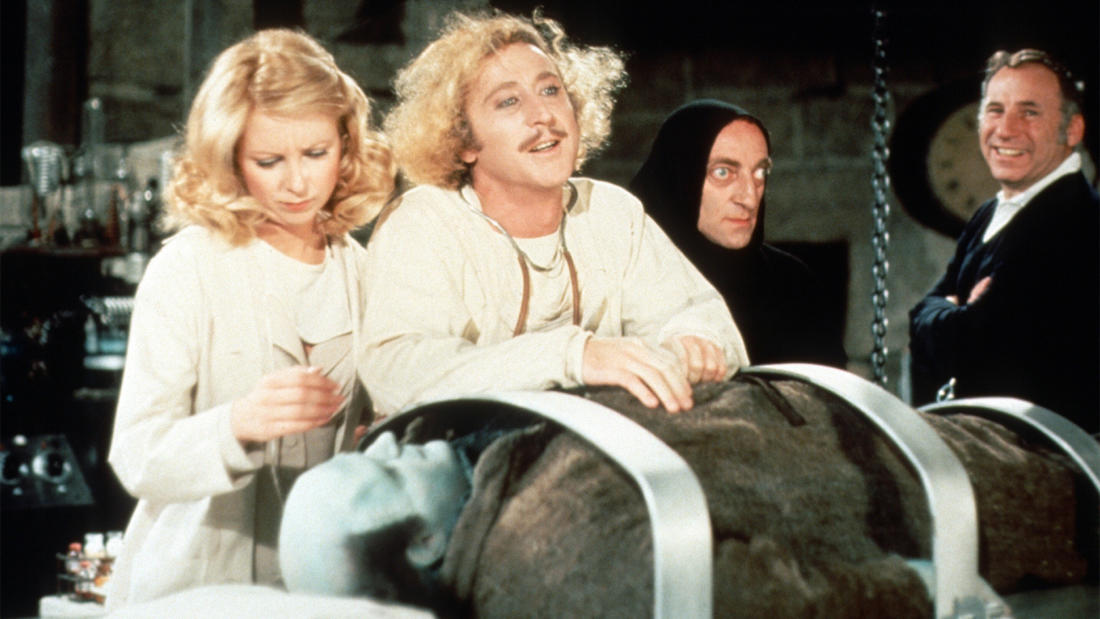 2011
with
Dr. Randy Criss
Instructor of Physics, University of South Florida
Young Frankenstein—

The Science of Electricity
Program Description
Dr. Randy Criss gave a hands-on electricity demonstration using a hand-crank generator, as well as an onstage demonstration of a Jacob's Ladder.
Film Synopsis
An American grandson of the infamous scientist, struggling to prove that he is not as insane as people believe, travels to his family's home country and discovers the process that reanimates a dead body.
Young neurosurgeon Frederick Frankenstein (co-writer Gene Wilder) has spent his entire life trying to live down his family's reputation by altering the pronunciation of his name ("That's Fronkensteen") and rejecting his infamous grandfather's experiments in reanimating dead tissue. But when he is forced to visit the old family castle in Transylvania and discovers granddad's lab journal, he embraces his destiny: to succeed where his ancestor failed. With the help of a salvaged corpse, a purloined brain, and an electrical storm, Frederick creates his monster (Peter Boyle) and brings him to life, with hilariously unintended consequences. The lively supporting cast of characters includes Frankenstein's voluptuous lab assistant, Inga (Teri Garr), pop-eyed hunchback Igor (Marty Feldman), fearsome housekeeper Frau Blücher (Cloris Leachman), and his high-strung fiancée (Madeline Kahn). Director Mel Brooks turns the Frankenstein legend into comic gold in this inspired parody of 1930s Universal horror classics, filmed in gorgeous black and white and recreating in loving detail the look and feel of the original movies.
About the Speaker
Dr. Randy Criss is a physics instructor at the University of South Florida. Dr. Criss received his PhD in physics from the University of Texas at Dallas in 1993. He is an experimentalist with a background in applied spectroscopy. He completed a postdoc at the Space Power Institute, taught for a few years in a liberal arts environment, then worked in industry as an engineer. He comes to USF having spent the past eight years teaching at a local liberal arts college, where he developed an intense interest in pedagogy and physics education research.