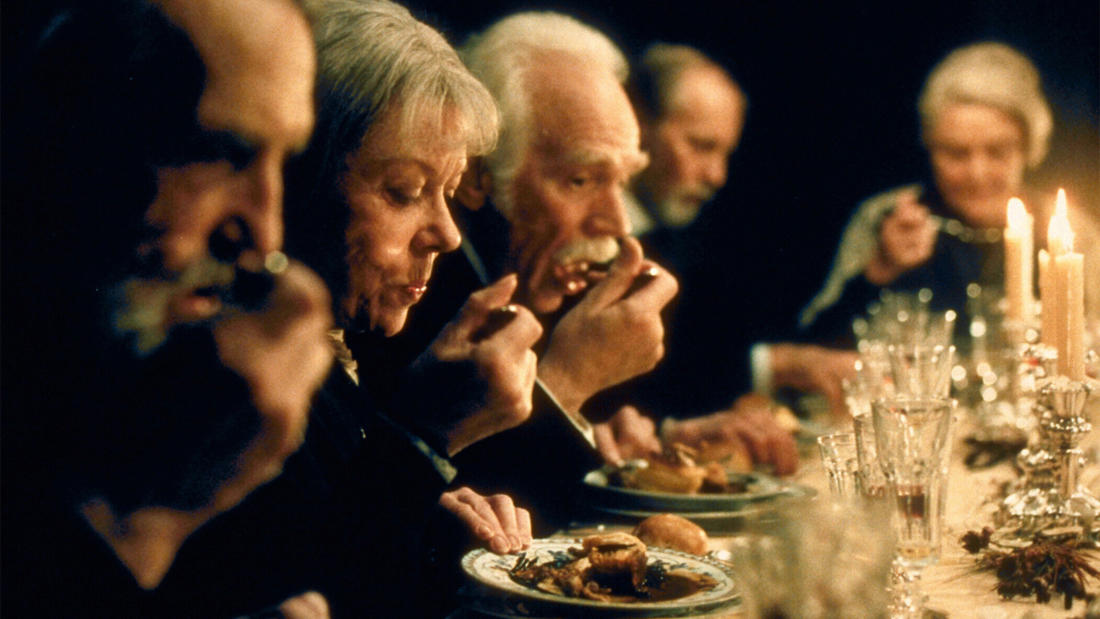 2013
with
Dr. Solomon Katz
Editor of "The Encyclopedia of Food and Culture"; Director of the W.M. Krogman Center for Childhood Growth and Development, University of Pennsylvania
Babette's Feast—

Food Anthropology
Program Description
An examination of Babette's Feast through the lens of food anthropology.
Film Synopsis
In a remote 19th-century Danish village, two sisters lead a rigid life centered around their father, the local minister, and their church.
Set in a remote Danish fishing village in the latter part of the 19th century, Babette's Feast tells of two beautiful sisters (Birgitte Federspiel, Bodil Kjer) who give up their chance for romance and worldly success in order to care for their father, a strict pastor who preaches salvation through self-denial. After his death, they carry on his work, tending to his aging and increasingly quarrelsome flock with saintly devotion. When Babette (Stéphane Audran), a French political refugee, appears on their doorstep seeking shelter, they engage her to keep house and cook their meager meals. Years later, Babette wins the lottery and asks to prepare a sumptuous French feast for the community. Everyone accepts, but the thought of such decadence makes them fear for their Christian souls, and they agree not to show any pleasure. Aided by the exquisite food and wine, the parishioners can't help but be transported by Babette's culinary artistry, and soon rediscover their bonds of love and fellowship. Gabriel Axel directed this Oscar-winning Danish film.
About the Speaker
Dr. Solomon Katz is director of the W.M. Krogman Center for Childhood Growth and Development at the University of Pennsylvania. A leading expert on the anthropology of food, Dr. Katz is the editor of the three-volume work The Encyclopedia of Food and Culture, which won six major international awards and prizes upon its 2003 publication, including the American Library Association's top prize for a reference resource. The founder and chairman of the Task Force on the African Famine for the American Anthropological Association (AAA), he currently serves as chair of the Task Force on World Food Problems, which addresses contemporary global food resources and security. He has presented at the American Public Health Association, the US Agency for Healthcare Policy Research, and the CPC National Immunization Conference, among others. Also an expert on the intersection of science, religion, and ethics, he was the founding president of Metanexus Institute, the past president of the Institute on Religion in an Age of Science, an elected member of the International Society of Science and Religion, and an elected trustee of the Council for a Parliament of the World's Religions. Dr. Katz is also an officer and fellow of the American Association for the Advancement of Science, and is a professor of physical anthropology and a senior fellow at the Wharton School Leonard Davis Institute for Health Economics within the University of Pennsylvania