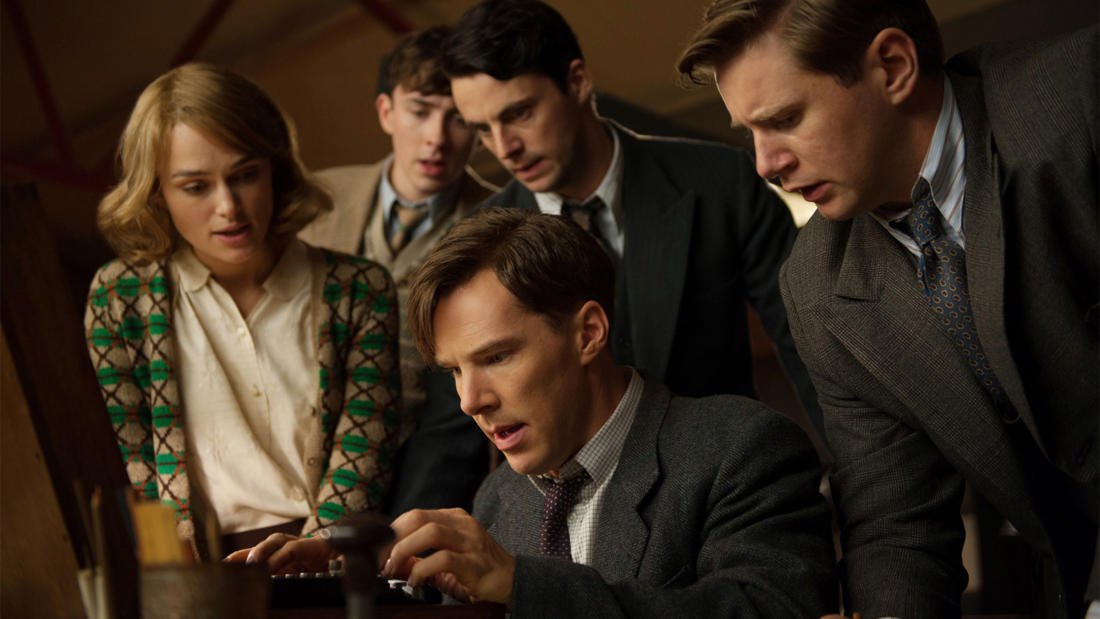 2014
with
Dr. Seth Lloyd
Professor of Mechanical Engineering, MIT; Designer of the First Feasible Quantum Computer
and
Dr. Silvio Micali
Ford Professor of Engineering, MIT; 2012 Turing Award Winner (for his work in the field of cryptography)
moderated by
Beth Gilligan
Director of Development and Marketing, Coolidge Corner Theatre
The Imitation Game—

Computers and Cryptography
Program Description
A discussion on computers and cryptography.
Film Synopsis
During World War II, mathematician Alan Turing tries to crack the enigma code with help from fellow mathematicians.
Told via flashback, The Imitation Game tracks the young, brilliant, and socially awkward mathematician Alan Turing (Benedict Cumberbatch) in the early days of World War II as he applies for a top-secret position tasked with decoding the "unbreakable" Nazi cipher machine called Enigma, used to encrypt all military radio transmissions. Turing's team, including Joan Clarke (Keira Knightley), analyzes Enigma messages while he builds a machine to decipher them. His work was famously labeled by Winston Churchill as "the greatest single contribution to victory." But after the war he suffered great personal and professional turmoil, as he dealt with his homosexuality in a time when it was illegal. The film was nominated in eight Academy Awards, including Best Picture, Best Director, Best Actor, and Best Supporting Actress. It won for Best Adapted Screenplay.
About the Speaker
Dr. Seth Lloyd received a PhD in physics from Rockefeller University, under the supervision of Professor Heinz Pagels. He was a postdoctoral fellow in the High Energy Physics Department at the California Institute of Technology, where he worked with Professor Murray Gell-Mann on applications of information to quantum-mechanical systems. He was a postdoctoral fellow at Los Alamos National Laboratory, where he worked at the Center for Nonlinear Systems on quantum computation. Since 1988, Dr. Lloyd has also been an adjunct faculty member at the Santa Fe Institute.
Dr. Lloyd is a principal investigator at the Research Laboratory of Electronics. He has performed seminal work in the fields of quantum computation and quantum communications, including proposing the first technologically feasible design for a quantum computer, demonstrating the viability of quantum analog computation, proving quantum analogs of Shannon's noisy channel theorem, and designing novel methods for quantum error correction and noise reduction.
Professor Lloyd is a member of the American Physical Society and the American Society of Mechanical Engineers.

Born in Palermo, Italy, Dr. Silvio Micali received his PhD in computer science from the University of California at Berkeley in 1983. He joined MIT in 1983, where he is Ford Professor of Engineering.

His scientific interests include complexity-based pseudorandom generation and cryptography, interactive and computationally sound proofs, zero knowledge, secure protocols, and mechanism design.
He is the recipient of the Goedel prize (in theoretical computer science) and the RSA prize (in cryptography), and is a member of the National Academy of Sciences, the National Academy of Engineering, and the American Academy of Arts and Sciences.

Beth Gilligan relocated to Boston in January 2009 to join the Coolidge Corner Corner Theatre Foundation and currently serves as the director of development and marketing.

Prior to that, she worked for several years for the Hamptons International Film Festival, where she oversaw marketing and development initiatives (including the Alfred P. Sloan Foundation Film & Screenwriting Program), and continues to serve as a festival consultant. She has also served as an editor of the film website Not Coming to a Theater Near You (www.notcoming.com), and contributed film reviews to Tribeca Film Institute publications.
Since joining the Coolidge, she has played an active role in the Art House Convergence (an annual conference of independent cinemas, presented in conjunction with the Sundance Institute), participating on the Leadership Committee and as head of the Marketing Committee.
Beth received an MA in film studies from the University of East Anglia (United Kingdom), and a BA in English literature from Trinity College (Hartford, Connecticut).