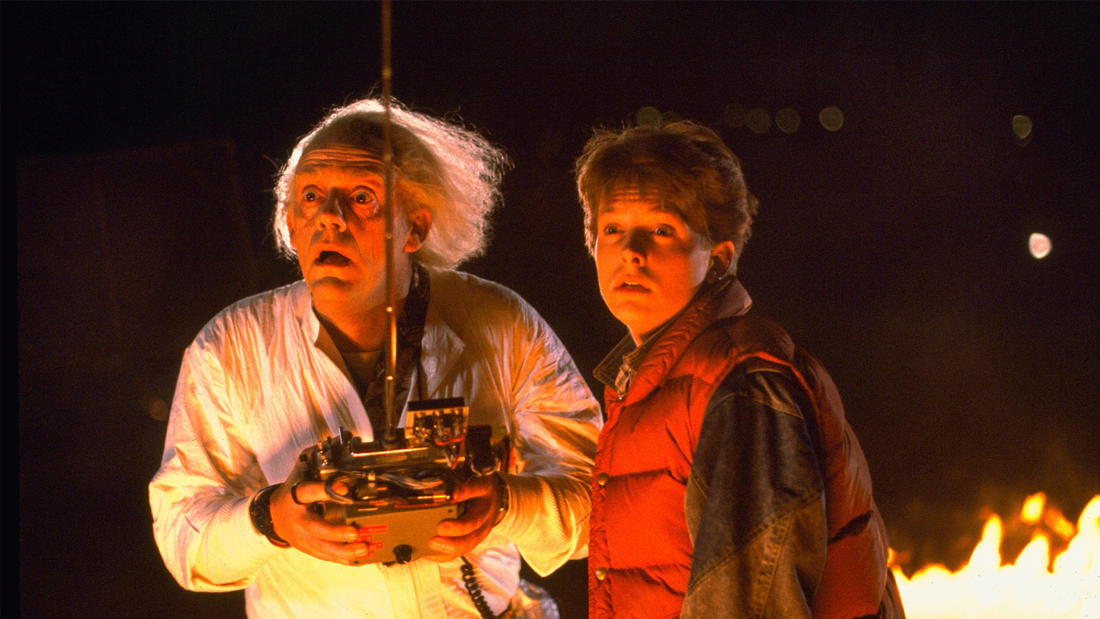 2014
with
Philippe Herndon
Caroline Guitar Company
and
Dr. MVS "Chandra" Chandrashekhar
Assistant Professor in the Electrical Engineering Department, University of Southern California
Back to the Future—

The Science Behind Guitar Amps and Pedals
Program Description
A discussion of the opening "super amplifier" sequence and Marty's disastrous rock and roll "performance" scene.
Film Synopsis
A young man is accidentally sent 30 years into the past in a time-traveling DeLorean invented by his friend Dr. Emmett Brown, and must make sure his high-school-age parents unite in order to save his own existence.
Typical high schooler Marty McFly (Michael J. Fox) is accidentally sent 30 years into the past in a time-traveling DeLorean, invented by his mad-scientist friend Dr. Emmett "Doc" Brown (Christopher Lloyd). Finding himself trapped in the 1950s, Marty searches for Doc to help send him back to his own time. But things get even more complicated when he inadvertently interferes with the budding romance of his teenaged parents (Crispin Glover, Lea Thompson). Our hero must now reunite his parents-to-be, lest he cease to exist in the 1980s. Robert Zemeckis's classic sci-fi adventure comedy was the highest grossing film of 1985, and won a slew of awards, including an Oscar for Best Sound Effects Editing.
About the Speaker
Philippe Herndon is the founder and chief product designer at Caroline Guitar Company.

Dr. MVS "Chandra" Chandrashekhar obtained his BS from Worcester Polytechnic Institute in 2001, followed by a PhD from Cornell University in 2007, both in electrical engineering. He stayed on at Cornell till June 2009 as a postdoctoral associate, before joining the Electrical Engineering Department at the University of South Carolina as an assistant professor. Born in India, raised in Singapore, and educated in the United States, Dr. Chandrashekhar has had broad exposure to the various types of energy problems that different economies face. This has focused his research toward novel, low-cost, fast-energy payback solutions to sustainable energy production, including dye-sensitized solar cells from SiC & GaN powders, photolytic/photoelectrochemical hydrogen production, as well as nanoelectronic materials such as graphene and SiC for electrical power management, sensing, and emissions monitoring. His other interests lie in the physics of novel materials such as graphene. He has co-authored over 20 journal publications and over 30 conference presentations, in addition to successfully funded grant proposals. He has started a company in the energy generation field, and is a member of IEEE, ACS, and MRS.