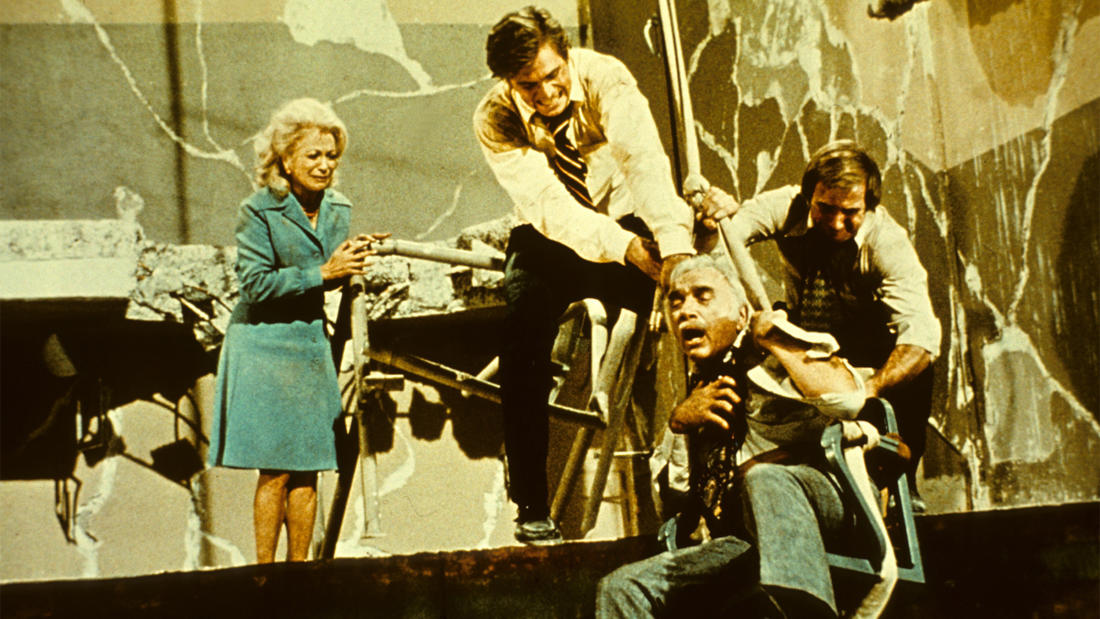 2014
with
Dr. John Vidale
Washington State Seismologist; Professor, University of Washington
Earthquake—

The Science of Earthquakes
Program Description
Dr. Vidale discussed different types of earthquakes that affect the West Coast, early warning signs of earthquakes, and how the city of Seattle is preparing for when "the big one" hits.
Film Synopsis
When a major earthquake hits Los Angeles, the various residents of the city cope with the chaos and destruction.
Construction engineer Stuart Graff (Charlton Heston) is estranged from his jealous and possessive wife, Remy (Ava Gardner), and has an affair with Denise Marshall (Geneviève Bujold), the widow of a co-worker. Meanwhile, Remy tries to persuade her father, Sam Royce (Lorne Greene), who is Stuart's employer, to use his influence to end her husband's affair. Also in the mix are rogue policeman Lew Slade (George Kennedy), perverted grocery store manager Jody (Marjoe Gortner) and the object of his affections, Rosa Amici (Victoria Principal), and daredevil motorcyclist Miles Quade (Richard Roundtree). The lives of all these people are devastated when a major earthquake rips through Los Angeles and reduces the city to ruins.
About the Speaker
Dr. John Vidale is a seismologist who specializes in examining seismograms to explore features within the Earth. He received the American Geophysical Union's James B. Macelwane Medal in 1994. Vidale studied physics and geology at Yale, and obtained his PhD from Caltech in 1987. He then held research positions at UC Santa Cruz and the USGS, until he joined UCLA in 1995. In 2006, he moved to Seattle to direct the Pacific Northwest Seismic Network at the University of Washington. He was a Gutenberg Fellow at Caltech and a Gilbert Fellow of the USGS. Dr. Vidale is a Fellow of AGU and received AGU's Macelwane Medal. He has studied the relation of Earth tides and earthquakes, the inner core, the stronger-than-expected healing of fault zones after an earthquake, and various details of the seismic structure of the mantle. Dr. Vidale also contributed an improved method of ray tracing, which relied on a finite-difference approximation of the eikonal equation and which has been used widely in both earthquake and reflection seismology.