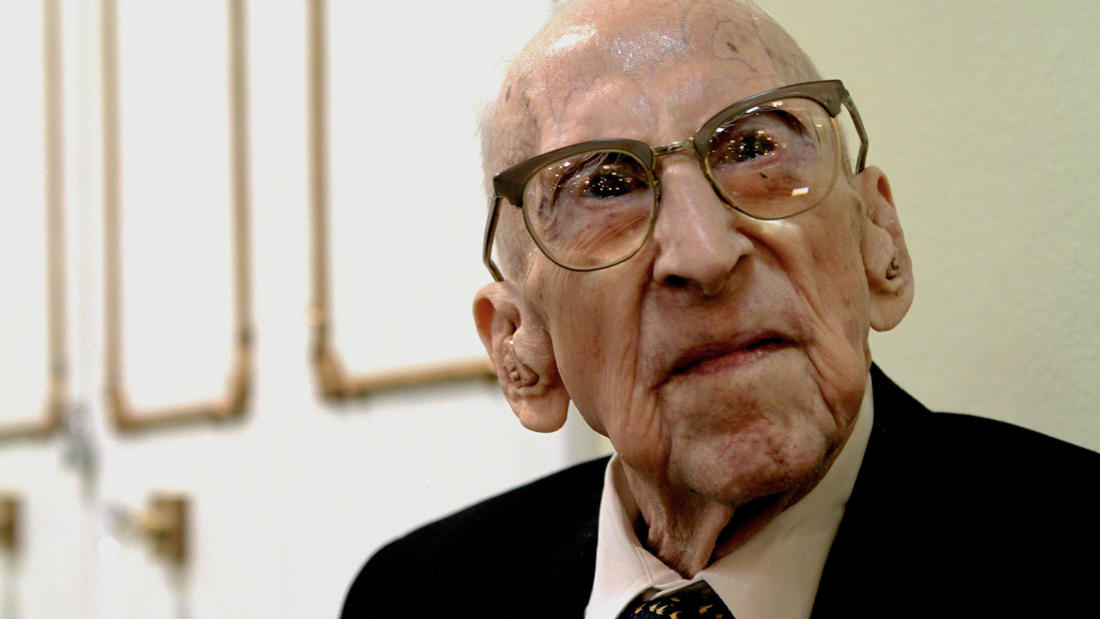 2014
with
Dr. Leonard Poon
Distinguished Research Professor Emeritus, UGA Institute of Gerontology
and
Robert Young
Guinness Gerontology Consultant
and
Hunter Weeks
Director
Walter: Lessons from the World's Oldest People—

Understanding Well-Being in the Oldest Old
Program Description
The demographic and social structure of most industrialized and developing countries are changing rapidly as infant mortality is reduced and population life span has increased in dramatic ways. In particular, the oldest old (85+) population has grown and will continue to grow. This segment of the population tends to suffer physical and cognitive decline, and little information is available to describe how their positive and negative distal experiences, habits, and intervening proximal environmental influences impact their well-being, and how social and health policies can help meet the unique challenges they face.

Director Hunter Weeks led a post-screening Q&A, along with family of featured supercentenarian Besse Cooper. As one of only eight people verified to have lived to the age of 116, the Georgian was the eighth oldest verified person ever.
Film Synopsis
Hunter Weeks and his fiancé set out on an adventure to meet the oldest people in the world and discover their advice for living life to the fullest.
After an encounter with Walter Breuning, the world's oldest man, Hunter Weeks and his fiancé, Sarah Hall, embark on a journey to meet the oldest people in the world, including some of the last people born in the 1800s. Capturing the extraordinary lives of people 110 years or older, the couple's journey sheds light on what is truly important in life. Traveling across the United States, Cuba, and Italy, Hunter and Sarah explore life's lessons through the stories of several living supercentenarians and the families that support them.
About the Speaker
Dr. Leonard Poon is past president of the Division of Adult Development and Aging of the American Psychological Association and past chair of the Behavioral and Social Science Section of the Gerontological Society of America. He was a member of NIH's Human Development and Aging Study Section and has chaired NIMH's Clinical Centers and Special Review Committee. His research is funded by NIA, NIMH, and the AARP Andrus Foundation.

Robert Young is the current Senior Consultant for Gerontology for Guinness World Records (since 2005) and the Senior Claims Researcher for the Gerontology Research Group (since 1999). Young has worked on several books, including Guinness World Records editions 2009, 2008, 2007, 2005, and 1997, World Almanac 2004, The Wisdom of the World's Oldest People (2005) by Jerry Friedman, and Living in Three Centuries (2006) by Mark Story.
Hunter Weeks is a filmmaker and documentary producer. He has directed and produced seven feature length documentaries including 10 MPH, 10 Yards, Inspired to Ride (about the Trans Am Bike Race), Reveal the Path, Ride the Divide (about the Tour Divide mountain bike race), Where the Yellowstone Goes, and Walter: Lessons from the World's Oldest People. Weeks is also a producer and director of the Carbon TV serial documentary series, American Harvest.