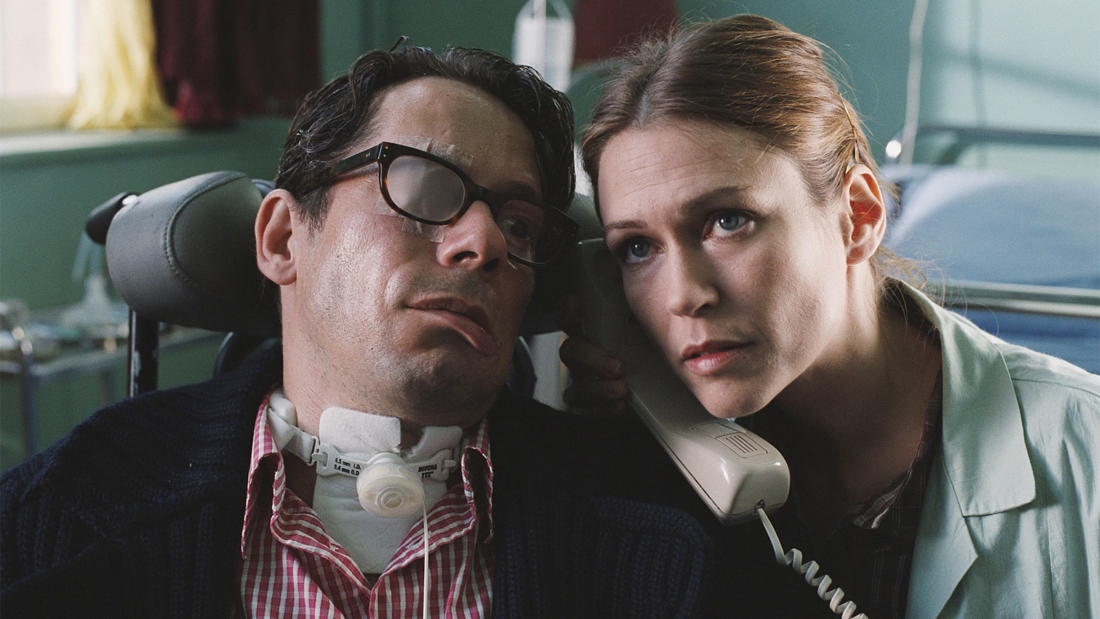 2015
with
Dr. Deborah M. Benson
Clinical Neuropsychologist; Founder and Director, Common Ground Alliance
The Diving Bell and the Butterfly—

The Story of Jean-Dominique Bauby
Program Description
An exploration of the true story of Elle editor Jean-Dominique Bauby.
Film Synopsis
The true story of Elle editor Jean-Dominique Bauby who suffers a stroke and has to live with an almost totally paralyzed body; only his left eye isn't paralyzed.
Jean-Dominique Bauby (Mathieu Amalric), editor-in-chief of French fashion magazine Elle, has a devastating stroke at age 43. The damage to his brain stem results in locked-in syndrome, with which he is almost completely paralyzed and only able to communicate by blinking an eye. Bauby painstakingly dictates his memoir via the only means of expression left to him. Though trapped in his body, Bauby is still able to escape his "diving bell" by letting his imagination take flight like a butterfly. Artist and filmmaker Julian Schnabel won the Best Director award at the 2007 Cannes Film Festival for this fiercely beautiful, quietly moving adaptation of Jean-Dominique Bauby's remarkable memoir.
About the Speaker
Dr. Deborah M. Benson is the founder and director of Common Ground Alliance. Dr. Benson is a New York State Licensed Psychologist specializing in rehabilitation neuropsychology, who has been working with individuals with brain injury and their families for over 20 years. She earned her PhD in clinical neuropsychology in 1992 from the City University of NY-Queens College, and is board certified in rehabilitation psychology by the American Board of Professional Psychology (ABPP). She is certified by the American Psychological Association in the treatment of alcohol and other psychoactive substance use disorders. Other certifications include the Commission on Healthcare Certification as a Life Care Planner; and the American Academy for the Certification of Brain Injury Specialists as a Certified Brain Injury Specialist Trainer.
Dr. Benson was the director of Transitions of Long Island, the post-acute brain injury rehabilitation program of North Shore-Long Island Jewish Health System from 1998–2008, and is currently director of Clinical Services at Paradigm Management Services, a national medical management company. Dr. Benson maintains a small private practice, CarePaths, in Plainview, NY, providing cognitive rehabilitation and counseling services for persons with brain injury and their families.
Dr. Benson currently serves on the board of directors of the Brain Injury Association of New York State (BIANYS), and was the recipient of that organization's Champion of Hope award in 2009. Dr. Benson served on the New York State Traumatic Brain Injury Services Coordinating Council from 2005–2008 and is also on the advisory board of the Coma Recovery Association. Dr. Benson co-edited the textbook Acquired Brain Injury: An Integrative Team Approach (Springer, 2007), and was co-author of the cognitive rehabilitation workbook Functional Memory Manual. She has presented on numerous topics related to recovery, rehabilitation, and long-term wellness after brain injury at regional and national conferences.