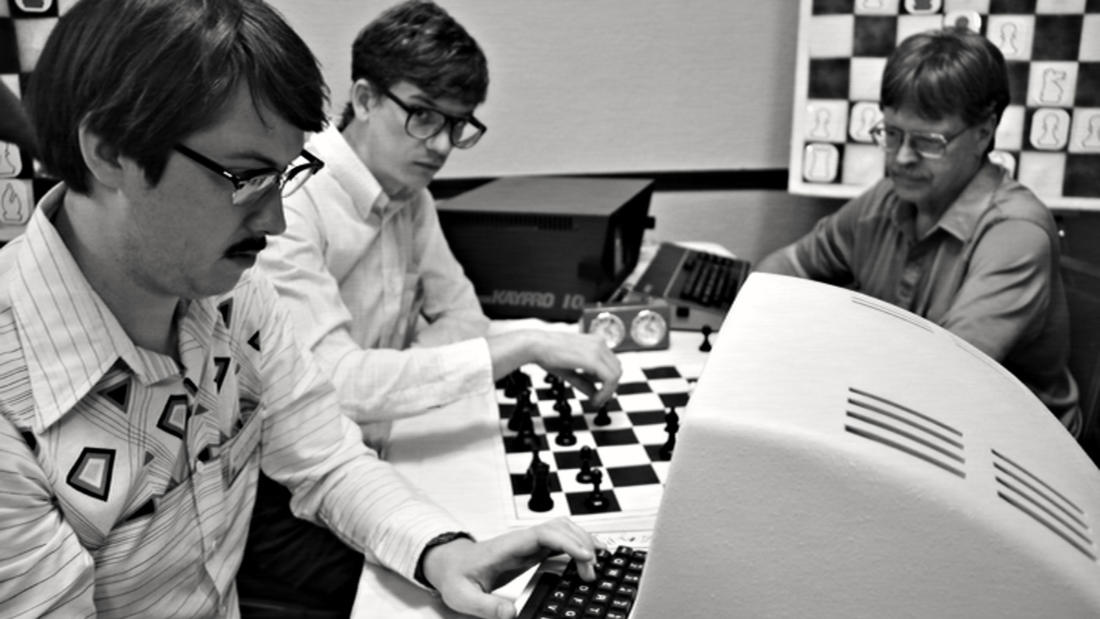 2015
with
Eliza Brock Marcum
Co-Founder, Nashville Women Programmers
and
Lisa French
Co-Founder, Nashville Women Programmers
and
Sondra Sengupta
Apprentice Developer, Nashville Software School
and
Elisha Williams
Business Intelligence Developer
Computer Chess—

Women in Software Development
Program Description
Four female software developers discussed the role of women in the tech world.
Film Synopsis
A 1980s-set story centered around a man-versus-machine chess tournament.
Set in the early 1980s, in and around an isolated roadside hotel, computer programmers gather for a tournament that pits their chess programs against each other. The action is centered on the junior programmer of an academic team who begins to suspect that their computer is able to detect the difference between a computer opponent and a human one, and thus is exhibiting elements of self-consciousness. He also learns from another member of the team that the computer had been engaging him in gnomic philosophical dialogue and hinting that it thinks it's alive.
About the Speaker
Eliza Brock Marcum is a software engineer and business owner in Nashville, Tennessee. She has a background in software engineering with a focus on web applications and engineering management. She holds a bachelor's degree in software engineering and computer science with a domain track in engineering management from Rose-Hulman Institute of Technology. Marcum has been, among other things, the sole developer of a mobile device service infrastructure and payment system, lead developer for a fashion ecommerce startup, and the sole technologist for several Tennessee startups. She started her consultancy, Eliza Brock Software in 2010, eventually growing it to six full-time developers, all specializing in web application development. In 2014, Eliza scaled back her consultancy to focus on her teaching at Nashville Software School, where (since 2012) she has helped train over 150 new software developers in Nashville.

Lisa French is a web designer and front-end developer based in Nashville, Tennessee. French is a Nashville Software School graduate, and is one of the youngest front-end developers to lead the execution of high-quality product/web development. She's been involved in several Nashville projects and events, including PodCamp, WordCamp, HackNashville, Nashville Girl Geek Dinner, Nashville Ladies Hack Day, Nashville Women's STEAM Group, SkillCrush, and Coding For Creative Types.


Sondra Sengupta is an apprentice developer at the Nashville Software School.


Elisha Williams is a business intelligence developer, formerly with AT&T, TVA, and Wyle. She attended the Nashville Software School.