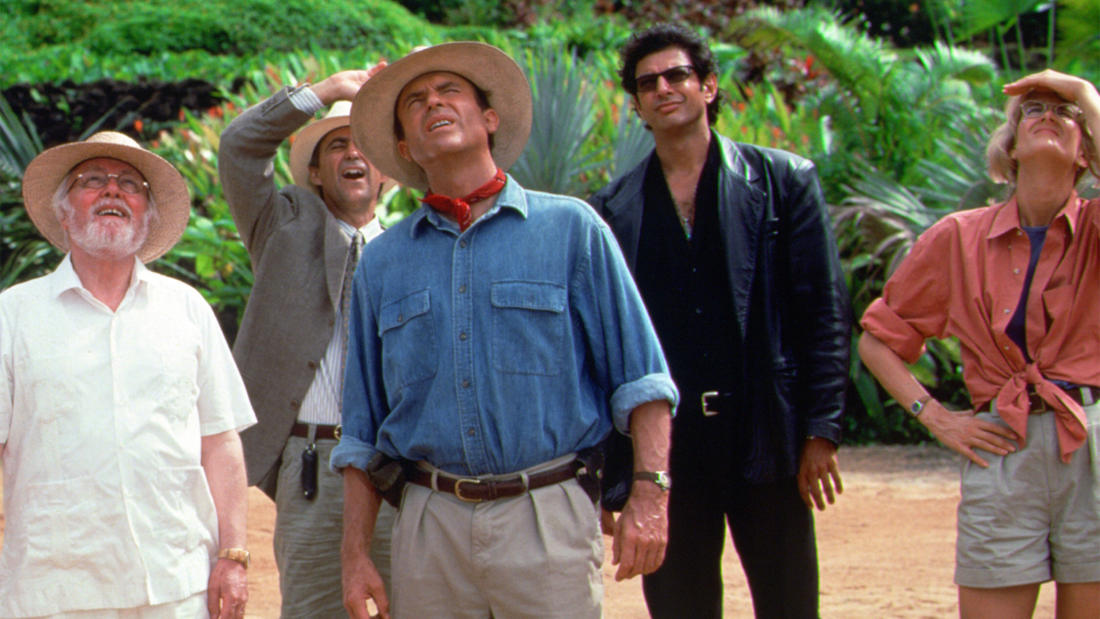 2016
with
Dr. Steven Stice
Director, UGA Regenerative Bioscience Center
and
Randy Smith
Facilities Director, Sandy Creek Nature Center, Athens-Clarke Unified Government
and
Joshua Heard
Sandy Creek Nature Center, Athens-Clarke Unified Government
Jurassic Park—

Humans versus Nature
Program Description
A discussion of the fragility of nature, respect for nature, and harnessing the capacity of nature for the betterment of society.
Film Synopsis
During a preview tour, a theme park suffers a major power breakdown that allows its cloned dinosaur exhibits to run amok.
Two dinosaur experts, Alan Grant (Sam Neill) and Ellie Sattler (Laura Dern), are invited by eccentric millionaire John Hammond (Richard Attenborough) to preview his new amusement park on an island off Costa Rica. By cloning DNA harvested from prehistoric insects, Hammond's scientists have recreated living dinosaurs for the exhibits. Accompanied by a cynical mathematician who is obsessed with chaos theory (Jeff Goldblum) and the millionaire's two grandchildren (Joseph Mazzello, Ariana Richards), the experts are sent on a tour through the resort in computer-controlled touring cars. But as a tropical storm hits the island, knocking out the power supply, an unscrupulous employee (Wayne Knight) sabotages the system so he can smuggle dinosaur embryos out of the park, and the dinosaurs rage out of control. Based on the novel by Michael Crichton, Steven Spielberg directed the first installment of this epic sci-fi adventure film.
About the Speaker
Dr. Steven Stice, awarded the highest scholastic faculty award—The D.W. Brooks Distinguished Professorship—is also a Georgia Research Alliance Eminent Scholar endowed chair, and director of the Regenerative Bioscience Center at the University of Georgia (UGA). He has over 20 years of research and development experience in biotechnology and is a co-founder of five biotechnology companies, including ArunA Biomedical and SciStem, where he currently serves as chief scientific officer. ArunA was the first company to commercialize a product derived from human pluripotent stem cells, and the company has developed stem cells that were used to facilitate approval of Pfizer's current cognitive enhancing pharmaceuticals.
Prior to joining UGA, Dr. Stice was the co-founder and served as both CSO and CEO of Advanced Cell Technology, the only US company currently in human clinical trials using human pluripotent stem cells. Additionally he co-founded startups Prolinia and Cytogenesis, which later merged with what is now ViaCyte.
Dr. Stice has led industry and academic research teams in the area of pluripotent stem cells for over 20 years. In 2001, his labs were first in deriving one set of the original human embryonic stem cell lines in collaboration with BresaGen, Inc. (BG01, 02 and 03), and these lines were placed on the first NIH human ESC registry. Dr. Stice produced the first cloned rabbit in 1987 and the first cloned transgenic calves in 1998 (George and Charlie). In 1997 his group produced the first genetically modified embryonic stem cell derived pigs and cattle. His laboratories were one of only five NIH sponsored sites for training NIH investigators on the propagation, differentiation, and use of hESC over a six-year period.
Currently, the Stice lab is developing novel therapies and new technologies for drug screening, which could change the lives of those suffering with Parkinson's and Alzheimer's. Dr. Stice's research has led to publications in science and nature journals, national news coverage (CBS, NBC, ABC, and CNN) and the first US patents on cloning animals and cattle stem cells, which was featured in The Wall Street Journal.

Randy Smith is the facilities director for the Sandy Creek Nature Center in Athens, Georgia.

Joshua Heard works for the Sandy Creek Nature Center in Athens, Georgia.