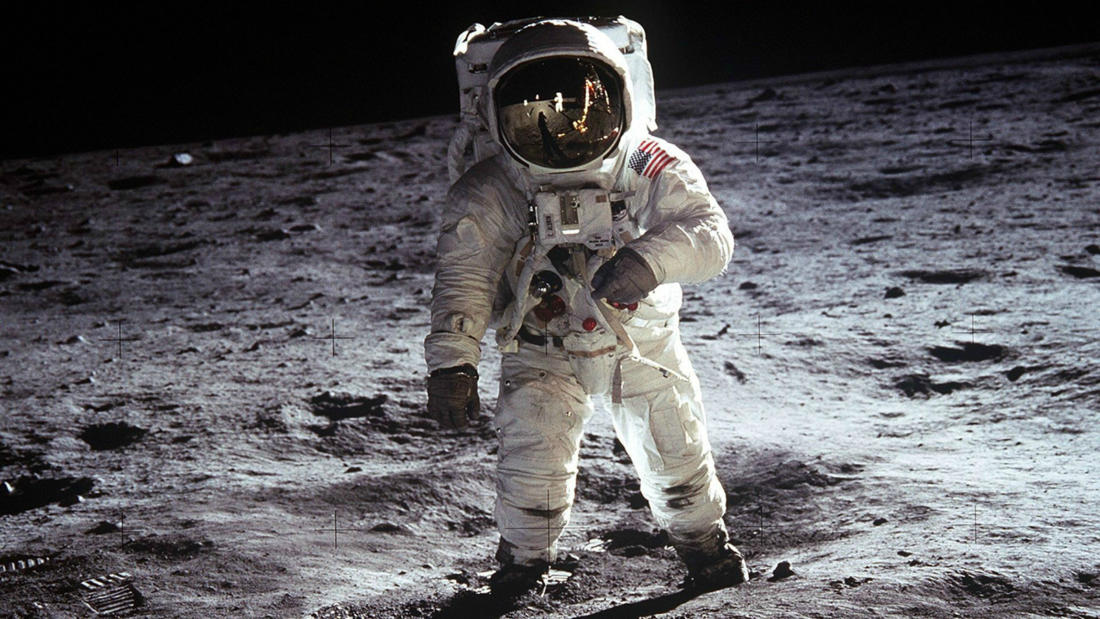 2016
with
Gerald D. "Gerry" Griffin
Former Flight Director, NASA ; Former Director, Johnson Space Center
and
John Aaron
Former NASA Engineer
and
Jerry Bostick
Former Flight Dynamics Officer, Mission Control, NASA, Office of Energy Programs, NASA Headquarters; Former Director, Energy Technology Applications Division, Office of Energy Programs, NASA; Former Deputy Manager, Space Shuttle Program
and
Ginger Kerrick
Division Chief, Flight Operations Directorate Integration Division, Johnson Space Center
and
Al Reinert
Filmmaker
For All Mankind—

One Giant Leap for Mankind
Program Description
A discussion of the atmosphere in the control room during the Apollo missions and the scientific breakthroughs that paved the way for mankind's "giant leap."
Film Synopsis
Al Reinert's documentary is the story of the 24 men who traveled to the moon, told in their words, in their voices, using the images of their experiences.
Sorting through nearly one hundred hours of film and sound recordings recovered from NASA, director Al Reinert created this documentary on the Apollo program of the 1960s and '70s, commemorating man's landing on the moon. The film is a montage of images with voice-over interviews and commentary from the participating astronauts. Brian Eno, famous for his ethereal music, provides the score. For All Mankind was nominated for an Academy Award for Best Documentary in 1990.
About the Speaker
Gerald D. "Gerry" Griffin is a former NASA flight director and director of Johnson Space Center. Born in Athens, Texas, Griffin attended Texas A&M University, where he studied aeronautical engineering. He joined NASA in 1960 and became a flight controller, specializing in guidance and navigation systems. In 1967, he became a flight director. He was lead flight director for Apollo 12, Apollo 15, and Apollo 17, and played an important role in the resolution of the Apollo 13 crisis. He was awarded the Presidential Medal of Freedom, along with the astronauts and the rest of the technical support team for this service.
From August 1982 until January 1986, Griffin served as director of the Johnson Space Center in Houston, Texas.
Griffin was a technical adviser for the films Apollo 13, Contact (also in front of the camera portraying a mission controller), Deep Impact, and Apollo 18.

John Aaron is a former NASA engineer and was a flight controller during the Apollo program. After spending a year attending Bethany Nazarene College, he transferred to Southwestern Oklahoma State University, from which he graduated during 1964 with a BS in physics. Although he had intended to teach mathematics and science after graduating from college, he applied for a job with NASA on the recommendation of a friend. When he arrived at NASA, Aaron was trained as an EECOM, a flight controller with specific responsibility for the electrical, environmental and communications systems on board the spacecraft. By January 19, 1965, when the unmanned Gemini 2 was launched, he was already working in Mission Control. He is widely credited with saving the Apollo 12 mission when it was struck by lightning soon after launch, and he played an important role during the Apollo 13 crisis, earning him the complimentary appellation of "a steely-eyed missile man."
After the Apollo program ended, Aaron remained at NASA. He worked on the Skylab program, and was involved with the development of the Space Shuttle software. Starting during 1984, he worked on the abortive Space Station Freedom project; he became manager of Johnson Space Center's space station projects office during 1989. Four years later, however, he was forced to resign from the job after Texas Senator Robert Krueger blamed him for $500 million of overspending on the station project.
Aaron became a manager in Johnson Space Center's Engineering Directorate during 1993, and stayed in the directorate until he retired from NASA during 2000.
Aaron is a former mayor of Meadowlakes, Texas.


Jerry Bostick attended Mississippi State University where he studied Civil Engineering. He joined NASA in 1962 and served as Retrofire Officer and Flight Dynamics Officer during the Mercury, Gemini, Apollo and Skylab programs. He served as executive assistant to the NASA Administrator and Special Assistant for Programs, Office of Energy Programs at NASA Headquarters.
Upon returning to the Johnson Space Center, he served as Chief of Technical Planning, Manager of Space Shuttle Payload Deployment and Retrieval Systems, Deputy Manager, Space Shuttle Program, and Director of Mission Support.

He left NASA in 1984 to become Vice President, Space Systems, Grumman Aerospace Corporation. In 1996, he retired from Grumman and joined United Space Alliance as Assistant Program Manager, Space Flight Operations Contract, NASA's prime contract for processing and operation of the Space Shuttle.

He retired from United Space Alliance in 1998.

Bostick was a technical adviser on the movies Apollo 13 and Armageddon, and the Emmy Award-winning HBO television series From the Earth to the Moon. He is a co-author of the book From the Trench of Mission Control to the Craters of the Moon, now in its 3rd edition.


Ginger Kerrick is the current division chief for NASA's International Space Station in the Flight Operations Directorate Integration Division. She is the first woman and first Hispanic flight director for NASA. She received a BS in physics from Texas Tech University in Lubbock in 1991, followed by a MS in physics in 1993. She began working at Johnson Space Center as a summer intern in 1991, and began her first permanent job in 1994 as a materials research engineer in the Safety, Reliability and Quality Assurance Directorate. Since 1995, she has worked in the Mission Operations Directorate as a Space Station systems instructor. After working as a crew support engineer at the Mission Control Center, Moscow, she became the first non-astronaut spacecraft communicator. She has been the lead Space Station CAPCOM and was deputy chief of the CAPCOM branch at the time of her selection.

Al Reinert is a film director, screenwriter, and producer. He co-wrote the screenplays for the Ron Howard film Apollo 13 and Final Fantasy: The Spirits Within, but is best known for directing and producing For All Mankind, an award-winning documentary about NASA's Apollo program.