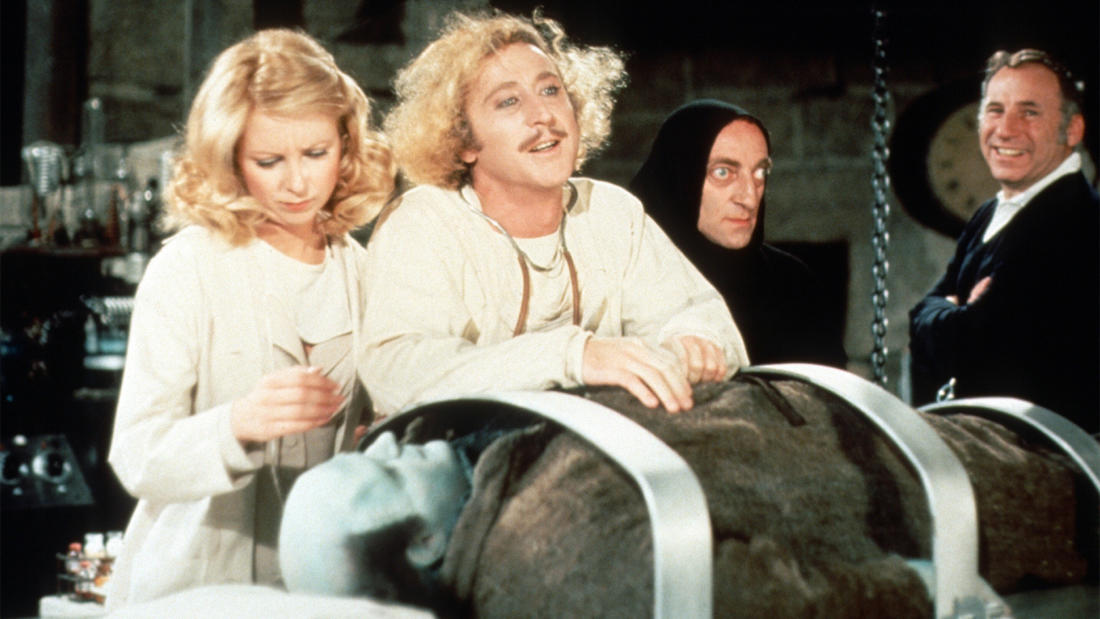 2016
with
Dr. Kenton Gregory
Director, Center for Regenerative Medicine, Oregon Health & Science University
Young Frankenstein—

Regenerative Science
Program Description
A discussion of the applications of regenerative science.
Film Synopsis
An American grandson of the infamous scientist, struggling to prove that he is not as insane as people believe, travels to his family's home country and discovers the process that reanimates a dead body.
Young neurosurgeon Frederick Frankenstein (co-writer Gene Wilder) has spent his entire life trying to live down his family's reputation by altering the pronunciation of his name ("That's Fronkensteen") and rejecting his infamous grandfather's experiments in reanimating dead tissue. But when he is forced to visit the old family castle in Transylvania and discovers granddad's lab journal, he embraces his destiny: to succeed where his ancestor failed. With the help of a salvaged corpse, a purloined brain, and an electrical storm, Frederick creates his monster (Peter Boyle) and brings him to life, with hilariously unintended consequences. The lively supporting cast of characters includes Frankenstein's voluptuous lab assistant, Inga (Teri Garr), pop-eyed hunchback Igor (Marty Feldman), fearsome housekeeper Frau Blücher (Cloris Leachman), and his high-strung fiancée (Madeline Kahn). Director Mel Brooks turns the Frankenstein legend into comic gold in this inspired parody of 1930s Universal horror classics, filmed in gorgeous black and white and recreating in loving detail the look and feel of the original movies.
About the Speaker
Dr. Kenton Gregory is the director of the new Center for Regenerative Medicine at Oregon Health & Science University. Dr. Gregory also holds a faculty appointment in the Division of Cardiovascular Medicine and Department of Biomedical Engineering in the OHSU School of Medicine. He was the founder of the Oregon Medical Laser Center at Providence St. Vincent Medical Center, where he held an endowed chair in laser medicine and surgery and was a practicing interventional cardiologist.

As center director, Dr. Gregory is directing efforts to advance autologous stem cell treatments to safely regenerate hearts damaged by heart attacks and cardiomyopathies that cause heart failure. He has advanced pioneering work to regenerate arms and legs severely damaged from battlefield blast injuries. He is also directing efforts to regenerate skin after burn injuries, lung tissue after acute lung injury, and prevent paralysis after nerve and spinal cord injuries.

Dr. Gregory received his undergraduate degree in engineering and doctorate in medicine from the University of Southern California. He completed his internship/residency in internal medicine and a fellowship in cardiology at the Wadsworth Veterans Administration Hospital in Los Angeles; he also completed an additional research fellowship in cardiology at the Irvine Medical Center in Orange, California. He has held teaching positions at the University of California, Irvine Medical School, and Harvard University School of Medicine, and served as staff cardiologist at Massachusetts General Hospital.

Dr. Gregory holds over 20 domestic and international patents, has served as Principal Investigator on five FDA-sponsored clinical trials, and has received more than $50 million in grants. Among his many accomplishments, he has launched seven spin-off companies since 1991—three headquartered in Oregon.