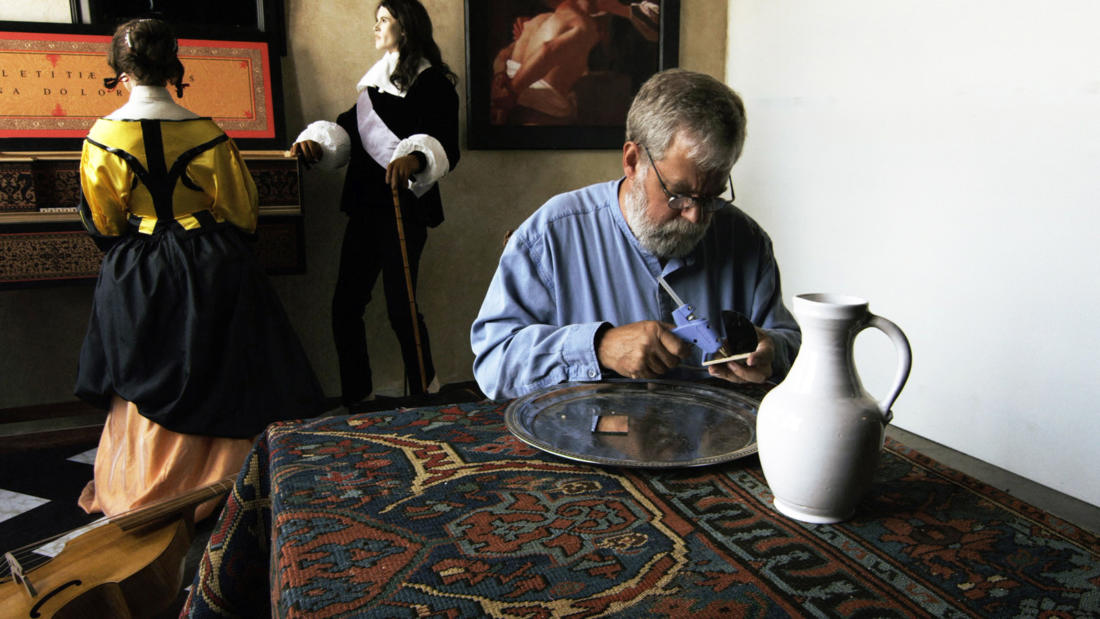 2016
with
Dr. Tim Chupp
Professor, Department of Physics, University of Michigan
and
Dr. Celeste Brusati
Professor, Department of Art History, University of Michigan
Tim's Vermeer—

The Eye as an Instrument: Optics and the Physics of Vision
Program Description
A presentation on the physics of vision and how our eyes perceive color, as well as a discussion of how Vermeer used optics to create his paintings.
Film Synopsis
Inventor Tim Jenison seeks to understand the painting techniques used by Dutch Master Johannes Vermeer.
Tim Jenison, a Texas based inventor, attempts to solve one of the greatest mysteries in all of art history: How did 17th-century Dutch Master Johannes Vermeer manage to paint so photo-realistically 150 years before the invention of photography? The epic research project Jenison embarks on to test his theory is as extraordinary as what he discovers. Spanning a decade, Jenison's journey takes him to Delft, Holland, where Vermeer painted his masterpieces, on a pilgrimage to the North coast of Yorkshire to meet artist David Hockney, and eventually to Buckingham Palace, to see the Queen's Vermeer.
About the Speaker
Dr. Tim Chupp is a professor in the Department of Physics at the University of Michigan. Dr. Chupp and his group are involved in the development of precision measurement, optical pumping, and nuclear polarization techniques for application to a variety of fundamental and applied problems. A key experiment pursues the use of polarized noble gases, 3He and 129Xe, for the enhancement of Magnetic Resonance Imaging (MRI) for medical applications, especially for neurological studies of the functional imaging of cerebral blood flow. This research is a major collaboration involving researchers from physics, chemistry, radiology, neuroscience, and clinical medicine. The other key direction of Dr. Chupp's research is the measurement of manifestations of elementary particle interactions at low and intermediate energies to study physics beyond the standard model of elementary particle interactions. One important pursuit is the search for the CP-violating electric dipole moments of heavy atoms and the neutron, a problem closely related to understanding the apparent cosmological dominance of matter over antimatter. In this work, physics at short range is studied using symmetry and precision measurement techniques accessible with spin polarized systems.
Dr. Chupp is a Fellow of the American Physical Society and received the 1993 I.I. Rabi Prize. He received his BS from Princeton University in 1977, an MS from the University of Washington in 1978, and a PhD from the University of Washington in 1983.

Dr. Celeste Brusati is a professor of art history at the University of Michigan, and holds courtesy appointments in the Department of Women's Studies and at the Penny W. Stamps School of Art and Design. Her scholarship centers on European art and art literature of the 16th and 17th centuries, with a focus on the pictorial arts in the Netherlands. Much of her work deals with problems of pictorial representation and perception, visual and literary reflections on art in the Netherlands, and the role of pictorial images in the making of 17th-century Dutch culture. She is the author of Artifice and Illusion: The Art and Writing of Samuel van Hoogstraten (1995) and Johannes Vermeer (1993) and has written on still life, self-imagery, perspective, trompe l'oeil illusionism, and value. In 2012, she curated Flip your Field: 20th Century Abstract Prints from the Collection at the UM Museum of Art. Current projects include editing the first English translation of Samuel van Hoogstraten's painting treatise, Inleyding tot de hooge schoole der schilderkonst of 1678, to be published by the Getty Research Institute. She is also writing a book, provisionally titled Seeing in Pictures: Paradox and Paradigm in Dutch Art, which considers the artistic and theoretical implications of Dutch still life and genre paintings that reflect on the paradoxes of art and visual perception.