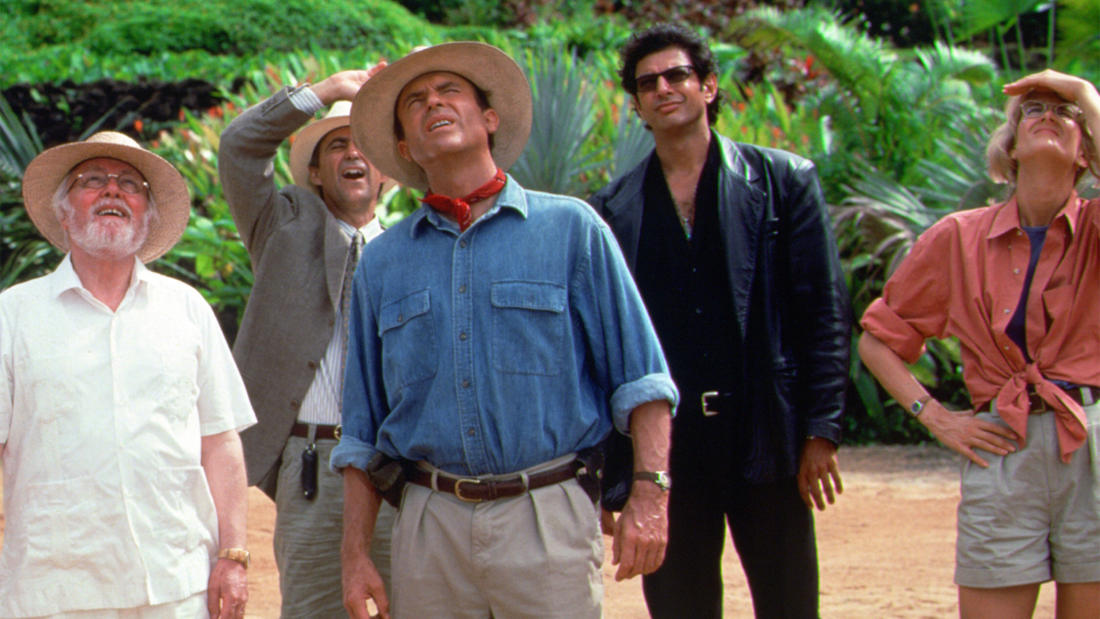 2016
with
Laurie Miller
Manager of Living Collections, COSI
and
Harry Peachey
Formerly the Columbus Zoo
and
Dale Gnidovec
Curator, Orton Geological Museum
Jurassic Park—

The Logistics of Operating a Jurassic Park
Program Description
A discussion of the realities of bringing extinct species back to life and an exploration of the potential challenges of caring for formerly extinct species in a zoo-like setting.
Film Synopsis
During a preview tour, a theme park suffers a major power breakdown that allows its cloned dinosaur exhibits to run amok.
Two dinosaur experts, Alan Grant (Sam Neill) and Ellie Sattler (Laura Dern), are invited by eccentric millionaire John Hammond (Richard Attenborough) to preview his new amusement park on an island off Costa Rica. By cloning DNA harvested from prehistoric insects, Hammond's scientists have recreated living dinosaurs for the exhibits. Accompanied by a cynical mathematician who is obsessed with chaos theory (Jeff Goldblum) and the millionaire's two grandchildren (Joseph Mazzello, Ariana Richards), the experts are sent on a tour through the resort in computer-controlled touring cars. But as a tropical storm hits the island, knocking out the power supply, an unscrupulous employee (Wayne Knight) sabotages the system so he can smuggle dinosaur embryos out of the park, and the dinosaurs rage out of control. Based on the novel by Michael Crichton, Steven Spielberg directed the first installment of this epic sci-fi adventure film.
About the Speaker
Laurie Miller is the manager of living collections at the Center of Science and Industry (COSI). She previously worked as a distance learning assistant at the Columbus Zoo and Aquarium, and as an animal encounters specialist at the Columbus Zoo. She received her BS in environmental education from Ohio State University.

Harry Peachey began his career with elephants at the Indianapolis zoo in 1974 and began working at the Columbus Zoo in 1976. In 1987, he was promoted to the zoo's elephant manager and head keeper of Pachyderms. During his almost 40 years of experience with captive elephant management, Peachey worked with both Asian and African elephants, including males of both species. During his tenure at the Columbus Zoo, he traveled to both Asia and Africa, often in conjunction with in situ conservation projects that received support from the Columbus Zoo, and came into contact with both wild and "domesticated" elephants.
In April of 1998, he spent several weeks in Indonesia, a portion of his time in Jakarta meeting with government officials in both the CITES Office and the Department of Forestry. In April of 2000, Peachey served on the Steering Committee for a meeting held in Bogor, Indonesia, to review the problems facing elephant conservation in Sumatra. Since his return from Indonesia and his exposure to the difficult circumstances confronting both the Elephant Training Centers and in situ elephant conservation in Sumatra, issues which have been complicated by the economic crisis in Asia, he has been actively involved in fundraising to support veterinary care for Sumatra's captive elephant population. He has also served as an elephant consultant to several other zoos. Peachey served as a member of the Board of Directors for the Elephant Manager's Association, and is currently a member of the AZA Elephant TAG/SSP Management Group.

Dale Gnidovec is the collections manager and curator at the Orton Geological Museum. He has a BS in geology from Muskingum College, an MS in geology from Fort Hays (Kansas) State University, and has done PhD work at the University of Texas at Austin and the University of Pennsylvania in Philadelphia. His main interest is paleontology, with a special interest in dinosaurs. He has spent parts of the last 13 summers with crews from the Cincinnati Museum Center searching for and digging dinosaurs in Montana.
At the Orton Museum, his main job is taking care of over 54,000 rocks, minerals, and fossils. He also takes care of the museum's exhibit hall and gives guided tours. Another part of his job is identifying things that people bring in, such as rocks, minerals, fossils, and bones. In addition to his work at the museum, Gnidovec teaches a geology (earth history) course at Ohio State University. He also writes a geology column that appears periodically in The Columbus Dispatch.