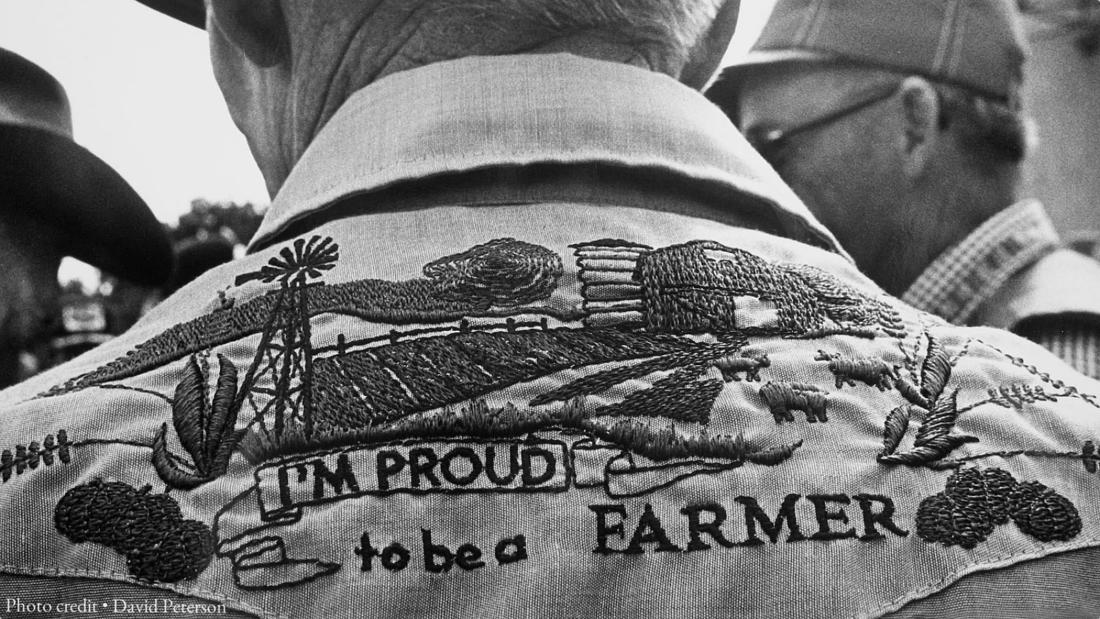 2017
with
Laura Dunn and Jef Sewell
Directors of LOOK AND SEE
and
James Capshew
Professor of History and Philosophy of Science and Medicine, Indiana University
Look and See—

Agrarian life in the twenty-first century
Program Description
Science historian James Capshew talks with the filmmakers about farming in the twentieth and twenty-first centuries.

Film Synopsis
In poetry and prose, Wendell Berry documents the difficult choices made by fellow farmers in Henry County, Kentucky, and how modernity dramatically reshapes their relationship with the land.
Look and See is a cinematic portrait of the changing landscapes and shifting values of rural America in the era of industrial agriculture, as seen through the mind's eye of writer, farmer, and activist Wendell Berry. The first documentary about Berry, undoubtedly one of America's most significant living writers, Look and See was filmed in and around the rolling hills of Henry County, Kentucky—where Berry has lived and farmed since the mid-1960s. Filmmaker Laura Dunn skillfully weaves Berry's poetic and prescient words with gorgeous cinematography and the testimonies of his family and neighbors, all of whom are being deeply affected by the industrial and economic changes to their agrarian way of life. Often called "a prophet for rural America," Berry has long been a voice for the communities that are so often overlooked by the media. Look and See subverts biopic conventions and immerses audiences into Berry's world, providing a space for talking about the land and those who sustain it. It's a conversation that is more urgent now than ever, as we find ourselves in a deeply divided nation where so many Americans are disconnected from the farmers who feed them. Robert Redford, Terrence Malick, and Nick Offerman served as producers on Look and See, which, following its award-winning March 2016 premiere at the SXSW Film Festival, was re-titled and updated to reflect the conversations that emerged after the 2016 presidential election.
About the Speaker
Laura Dunn started making documentaries in response to her undergraduate experience at Yale University. Through a chronicle of labor strikes on campus, The Subtext of a Yale Education examines the corporatization of higher education. She then returned to her birthplace to make Green, a sobering look at environmental racism along the Mississippi River petrochemical corridor, a.k.a. "Cancer Alley". Other work includes experimental films BABY, a personal take on population issues, and Become the Sky, an ecological map of power in Texas. Her first feature documentary, The Unforseen, executive produced by Robert Redford and Terrence Malick, premiered at the Sundance Film Festival, was released theatrically and broadcast on the Sundance Channel. Her new film, LOOK & SEE, also executive produced by Robert Redford and Terrence Malick, and funded in part by the Sundance Documentary Film Fund, is a cinematic portrait of writer and farmer Wendell Berry. Honors include a Rockefeller Media Arts Fellowship, Student Academy Award, Yale's Trumbull Fine Arts Prize, International Documentary Association Pare Lorenz Grant and an Independent Spirit Truer Than Fiction Award. She lives in Austin, Texas with her husband and six young boys.

Jef Sewell acted as producer on Laura's first feature documentary The Unforeseen. In addition to fundraising and extensive on-location work, Jef designed The Unforeseen's motion graphic sequences for which he was nominated for an Outstanding Achievement in Graphics and Animation at the inaugural Cinema Eye awards. Jef is also Founder/CEO of Austin-based Amplifier, a vertically-integrated merchandising logistics firm that serves well-known Internet brands such as MailChimp, Rooster Teeth, Reddit, Geek and Sundry, Slack, InVision and many others.