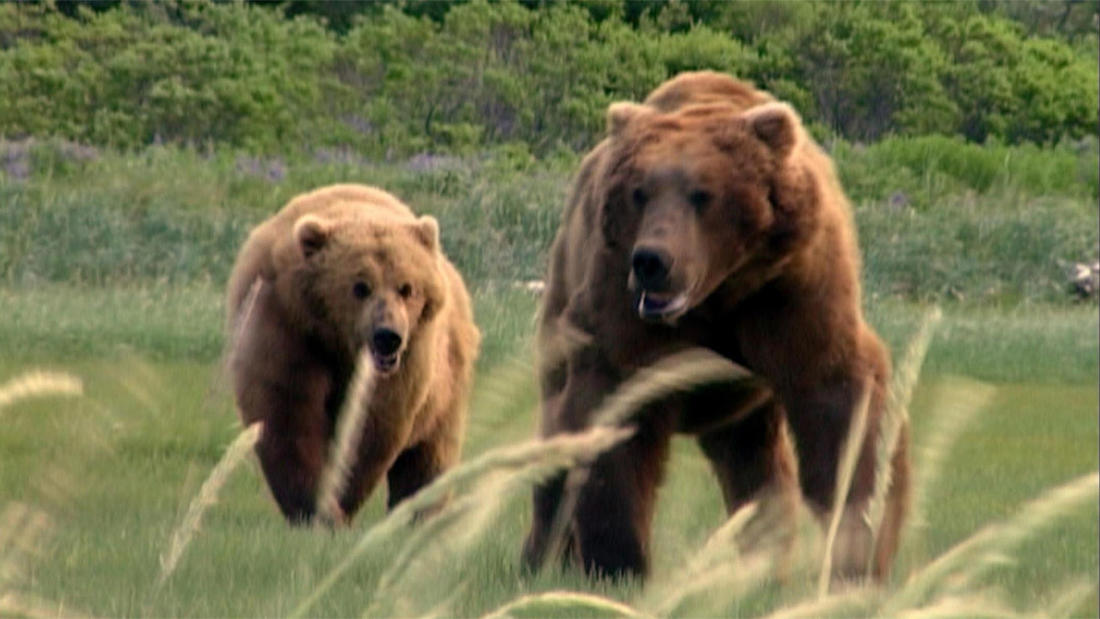 2017
with
Dr. Jack Hopkins
Assistant Professor of Wildlife Biology, Unity College
and
Deanna Witman
Assistant Professor of Environmental Humanities, Unity College
Grizzly Man—

Bears, Humans, and Habituation
Program Description
Was Timothy Treadwell helping to protect bears in Katmai National Park by learning how to coexist with them? Prior to the film, Dr. Jack Hopkins discussed the habituation process and the role it plays in human-bear management.
Film Synopsis
A devastating and heartrending take on grizzly bear activists Timothy Treadwell and Amie Huguenard, who were killed in October of 2003 while living among grizzlies in Alaska.
Grizzly Man chronicles the life and death of bear enthusiast Timothy Treadwell, who was killed, along with his girlfriend, Amie Huguenard, by a rogue bear in October 2003. In one of the most extreme—and ultimately tragic—experiments in human-animal cohabitation ever attempted, for 13 consecutive summers, Treadwell lived (and finally died) among the bears at an Alaskan national park. The footage that he himself shot forms the core of this fascinating inquiry into the fragile relationship between man and nature.
About the Speaker
Dr. Jack Hopkins is an assistant professor of wildlife biology in the School of Biodiversity Conservation at Unity College. He also maintains research positions in the Department of Ecology & Evolutionary Biology at the University of California, Santa Cruz and the Forestry Department at University of Ljubljana in Slovenia. He earned a BA in environmental studies, concentrating in wildlife biology, at Denison University and a PhD in fish and wildlife biology at Montana State University. While in graduate school, Dr. Hopkins studied the ecology and foraging behavior of black bears in Yosemite National Park with his mentors Drs. Steven Kalinowski (Montana State), Paul Koch (UC Santa Cruz), and Chuck Schwartz (USGS). Prior to graduate school, Dr. Hopkins worked as a field biologist for the US Forest Service in the Greater Yellowstone Ecosystem, the US Geological Survey in Glacier National Park, and National Park Service in both the US Virgin Islands, and more recently, Yosemite. Before joining Unity College, he held postdoctoral fellowships at the University of Alberta, Peking University in China, the University of California, San Diego, and the University of California, Merced.

Deanna Witman is an is an award-winning artist-educator exhibiting nationally and internationally. She is an assistant professor at Unity College and an instructor at Maine Media Workshops. She is also the managing editor of Hawk & Handsaw: The Journal of Creative Sustainability, Unity College's literary and visual arts journal. Witman has received numerous grants including The John Anson Kittredge Fund and The Kindling Fund (a re-grantor for The Warhol Foundation). For more than a decade, she has been making photographs without a lens, evolving project by project to the sum of a lensless practice. Witman holds a BS in environmental biology from Kutztown University and an MFA in photography from Maine Media College. Her work has been exhibited nationally and internationally, and is held in private collections.