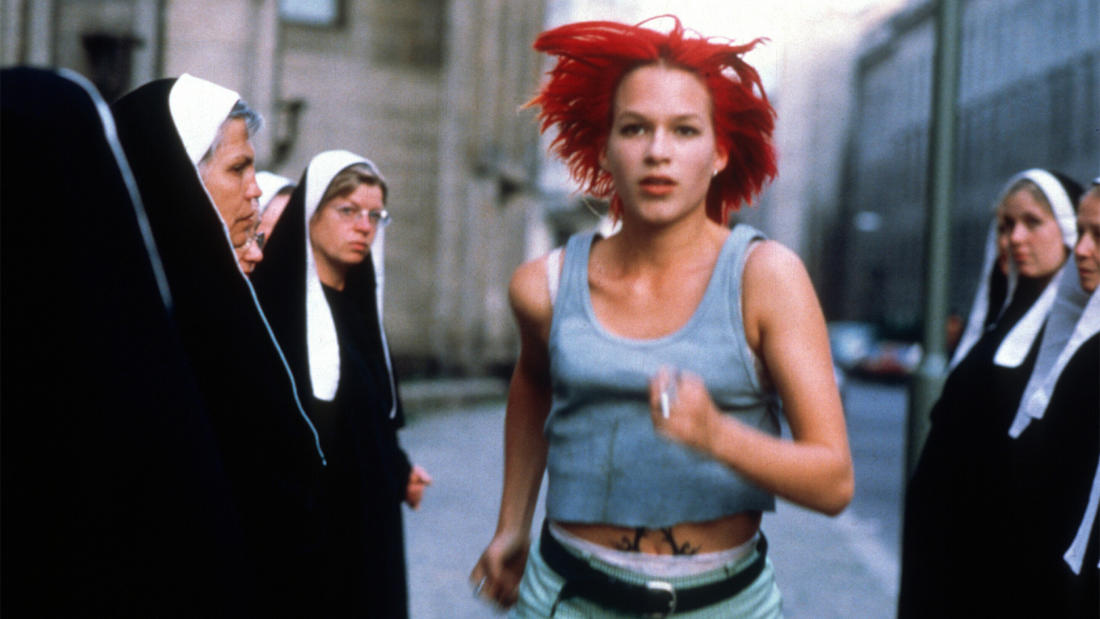 2017
with
Dr. Casey M. Schwarz
Assistant Professor of Physics, Ursinus College
Run Lola Run—

Chaos Theory: Butterflies and Drug Lords
Film Synopsis
After a botched money delivery, Lola has 20 minutes to come up with 100,000 Deutschmarks.
Flame-haired Lola (Franka Potente) receives a frantic phone call from her boyfriend, Manni (Moritz Bleibtreu), a local criminal's errand boy who has just lost a bagful of cash belonging to his boss (Heino Ferch). If Lola can't replace the money and get it to Manni in 20 minutes, he's a dead man. Thinking through the alternatives, Lola quickly settles on a plan: to convince her bank-manager father (Heino Ferch) to give her the cash. Off she sprints, down the stairs and into the streets of Berlin, beginning a breathless race against the clock to save her lover. Director Tom Tykwer presents three versions of Lola's 20-minute run, each beginning the same way before small differences emerge that yield vastly different outcomes, not only for the main characters, but also for the people who cross Lola's path.
About the Speaker
Dr. Casey M. Schwarz is an assistant professor of physics at Ursinus College. She completed her PhD in physics at the University of Central Florida in 2012 studying the radiation effects of semiconductor transport properties. Dr. Schwarz went on to teach at Valencia College in 2012 as an adjunct professor of physics, and then joined the Kuebler research group in spring of 2013 as a postdoctoral researcher where she investigated the processing and properties of novel materials for future optical device applications. Dr. Schwarz joined the faculty at Ursinus College in the fall of 2016. Her research interests include 3D direct laser writing of multi-component chalcogenide materials, development and design of optical devices, and optical characterization. She is also very active in her outreach activities which include mentoring high school and undergraduate students and participating in promotion of women in science events and organizations.