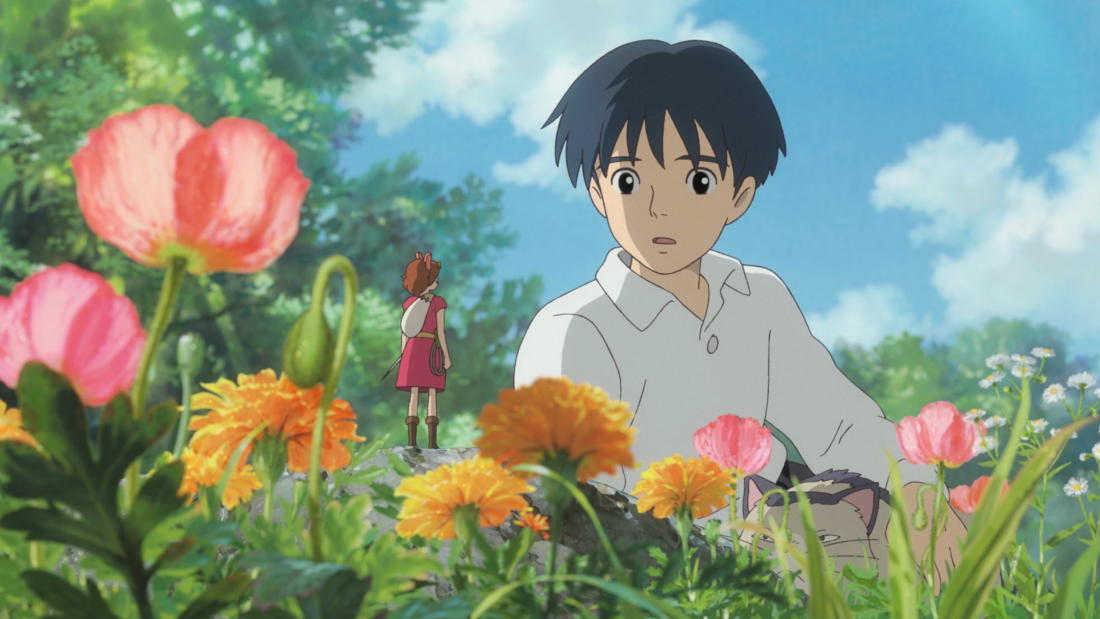 2017
with
Dr. Alej Garcia
Professor of Physics, San Jose State University; Consultant, DreamWorks Animation
moderated by
Tucker Hiatt
Former Visiting Scholar, Stanford University; Founder, Wonderfest
The Secret World of Arrietty—

Creating Worlds: The Science of Scale in Animated Films
Program Description
A discussion of the science of scale in animated films and how animators incorporate scientific principles into character movements to make them more believable. Part of the 2017 National Evening of Science on Screen.
Film Synopsis
A tiny teen and her family live under a the floorboards of a house and survive by borrowing items from the home's human inhabitants.
Arrietty (voiced by Bridgit Mendler), a tiny, but tenacious 14-year-old, lives with her parents (Will Arnett, Amy Poehler) in the recesses of a suburban garden home, unbeknownst to the homeowner and her housekeeper (Carol Burnett). Like all little people, Arrietty remains hidden from view, except during occasional covert ventures beyond the floorboards to "borrow" scrap supplies like sugar cubes from her human hosts. But when 12-year-old Shawn (David Henrie), a human boy who comes to stay in the home, discovers his mysterious housemate one evening, a secret friendship blossoms. If discovered, their relationship could drive Arrietty's family from the home and straight into danger.
About the Speaker
Dr. Alejandro Garcia developed and teaches Physics of Animation at San Jose State University and serves as the physics consultant for DreamWorks Animation SKG. He is the author of over 80 professional publications, including the textbook Numerical Methods for Physics. In addition to his physics of animation work, Dr. Garcia actively participates in the fluctuating hydrodynamics research program at Lawrence Berkeley National Laboratory and regularly organizes international conferences. Dr. Garcia was named SJSU's President's Scholar in 2000 and the Outstanding Professor in 2013.

Tucker Hiatt founded Wonderfest, a Bay Area beacon for science education, in 1997. With the reincarnation of Wonderfest as an independent nonprofit corporation in 2011, the Wonderfest Board appointed Hiatt to the position of Executive Director.
Hiatt earned bachelor's and master's degrees in physics from the University of California with the expressed goal of becoming a science teacher. His thesis research explored a narrow aspect of experimental solid state (condensed matter) physics. Later, he worked with UC Berkeley's Space Astrophysics Group to develop search algorithms that are now at work around the world in the SETI@home software.
He taught physics at UC Santa Cruz, Punahou School, San Francisco University High School, and Branson School. At the Exploratorium, he built an exhibit, wrote a guide book, and trained Explainers. Since 2008, Tucker has been a Board member of the Bay Area Skeptics, and (until mid-2014) he held the position of Visiting Scholar in the Stanford Chemistry Department.
Hiatt has been a member of the American Association of Physics Teachers (AAPT) since 1978. He has published several articles and cartoons in The Physics Teacher, the AAPT journal. In 2001, Tucker wrote and published the Layers of Scientific Understanding poster. And, in 2006, he earned the Amgen Award for Science Teaching Excellence.