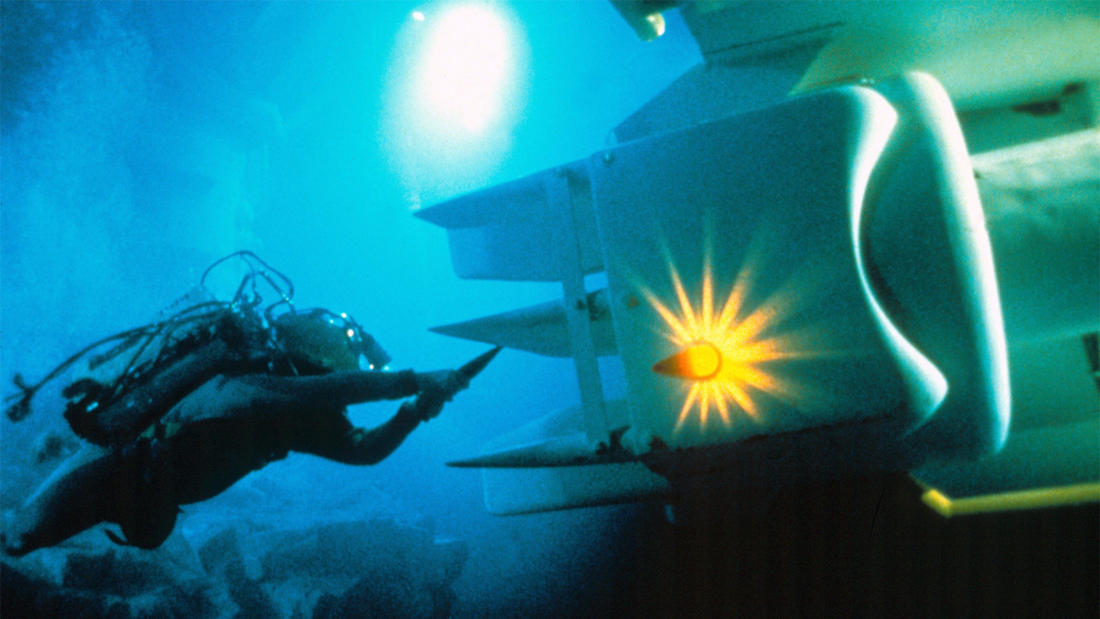 2017
with
Dr. Craig Young
Deep-sea Biologist and Director, Oregon Institute of Marine Biology, University of Oregon
and
Caitlin Plowman
PhD Student, Oregon Institute of Marine Biology, University of Oregon
The Abyss—

Deep Sea Exploration
Film Synopsis
A civilian diving team is enlisted to search for a lost nuclear submarine and face danger while encountering an alien aquatic species.
When the USS Montana, a submarine carrying nuclear warheads, inexplicably collides into a sea wall and sinks to the bottom of the ocean, a deep-sea oil operation team is called upon to assist with the search and rescue. Led by Virgil "Bud" Brigman (Ed Harris), the drill team is partnered with a squad of Navy S.E.A.L.S. whose orders may not be as transparent as they seem. Bud's hard-edged, estranged wife, Lindsey Brigman (Mary Elizabeth Mastrantonio), is also brought on board to lend her expertise as the designer of the massive underwater drilling rig. Upon reaching the Montana, the divers encounter something out of this world, an apparently new species of aquatic life, which they dub "N.T.I's," or non-terrestrial intelligence. While the team of civilian divers views these life forms as the discovery of the century, S.E.A.L. team leader Lieutenant Hiram Coffey (Michael Biehn) sees only a threat that should be eliminated by any means necessary. However, the hurricane gathering strength on the water's surface may prove to be the greatest adversary of all.
About the Speaker
Dr. Craig Young received his BS and MS degrees from Brigham Young University and his PhD from the University of Alberta in 1982. After three years on the faculty at Florida State University, he moved to Harbor Branch Oceanographic Institution in Florida, where he worked as a research scientist and professor for 17 years, while holding adjunct appointments at Florida Institute of Technology, Kings College London and Florida Atlantic University. He has directed the Oregon Institute of Marine Biology since 2002. Dr. Young's publication list numbers more than 200, including scientific papers as well as edited books. He served a 10-year term as an editor of the book series Advances in Marine Biology, and currently is the editor in chief of Marine Ecology (formerly Publicazzioni della Stazione Zoologica di Napoli), the oldest continuously published journal in marine science. Within Oregon, Dr. Young serves as a member of the management commission for the South Slough National Estuarine Research Reserve, as a member of the citizens advisory committee for Oregon Sea Grant, and as a member of the Scientific and Technical Advisory Committee on marine issues.

Caitlin Plowman is an MS student working on how depth affects the reproduction of Bathymodiolan mussels from deep-sea cold seeps. Her thesis will look specifically at how the reproductive timing and egg size change with depth. Her work includes participation in yearly research expeditions to the Gulf of Mexico or the East Coast, where the DSV Alvin is used to collect various organisms from cold seeps. Plowman completed a BS in marine biology at the University of Oregon and in 2014. During that time she was able to participate in multiple deep sea research expeditions, as well as conduct research in Ireland, at Europe's first marine reserve. Between graduating and starting her master's work, she spent five weeks at sea aboard the R/V Falkor studying the Mariana Trench, the deepest part of the world's oceans.