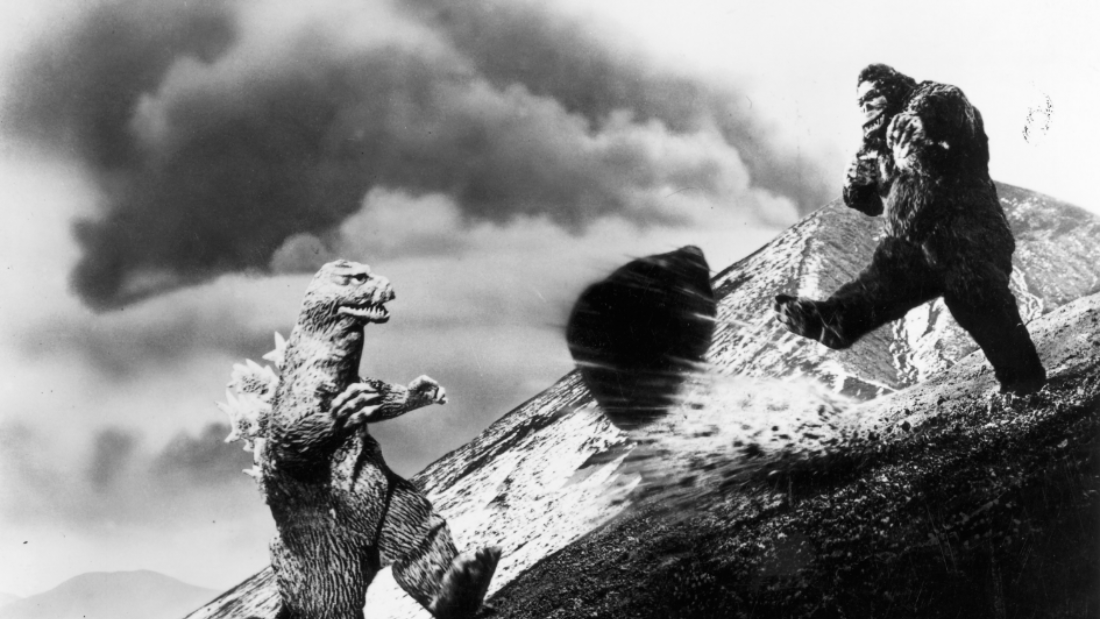 2017
with
Dr. Kent Kirkby
Teaching Professor, Department of Earth Sciences, University of Minnesota
King Kong vs. Godzilla—

Life as a Titan: Godzilla and King Kong vs. Nature
Program Description
Hollywood loves a good monster fight. But for middle-aged monsters, like Godzilla and King Kong, fighting is easy, it's life that is hard. With increasing age, gravity and heat can become potent foes. So how would King Kong and Godzilla stack up against real life monsters, like the larger dinosaurs? Part of the 2017 National Evening of Science on Screen.
Film Synopsis
The monster ape and dinosaur slug it out on Mount Fuji.
Mr. Tako (Ichirô Arishima), head of Pacific Pharmaceuticals, is frustrated with the television shows his company is sponsoring and wants something to boost his ratings. When Tako learns about a giant ape living on the small Pharoh Island, he believes he's found the perfect way to gain publicity and sends two men (Tadao Takashima, Yû Fujik) to capture the creature. At the same time, a group of American pilots discover the chunk of glacier Godzilla was sealed in back in 1955. As the pilots circle the glacier, Godzilla breaks free and heads toward a nearby Japanese Arctic base. Meanwhile, en route to Japan, Kong escapes and swims toward the mainland, putting him on a collision course with Godzilla.
About the Speaker
Dr. Kent Kirkby is a teaching professor in the Department of Earth Sciences at the University of Minnesota. His research interests include the intersection of earth processes and human society, how earth processes have affected human history, and how human activities continue to dramatically affect our world. Together with the Electronic Visualization Laboratory at the University of Illinois at Chicago, he helped develop GeoWall, a low cost stereo-projection system that allows students to interactively investigate geologic data in three-dimensions, and the Rain Table which will allows students to explore water flow across the Earth's surface. He is a recipient of the Horace T. Morse-Minnesota Alumni Association Award for Outstanding Contributions to Undergraduate Education. Dr. Kirkby earned a PhD from the University of Wisconsin - Madison in 1994.