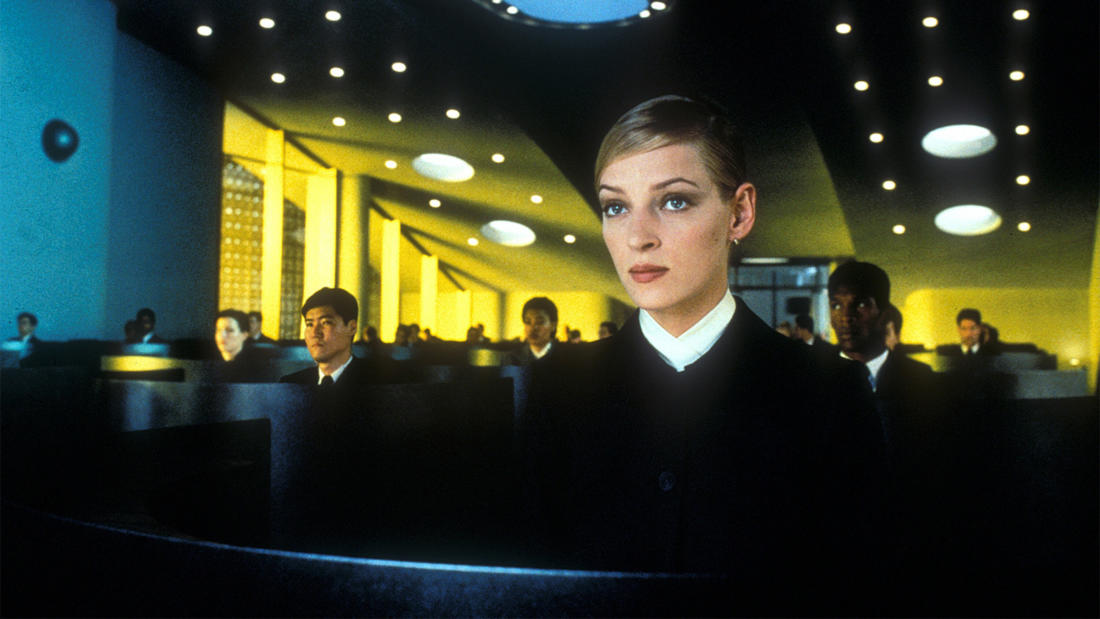 2017
with
Dr. Bradley Hart
Director, Forensic Science Center, Lawrence Livermore National Laboratory
and
Deon Anex
Chemist, Lawrence Livermore National Laboratory
and
Dr. Katelyn Mason
Postdoctoral Research Staff, Lawrence Livermore National Laboratory
Gattaca—

Forensic Science In Crisis: How Proteins Can Help
Program Description
A discussion of the challenges of traditional forensic methods, which have come under increasing criticism by the scientific community, and a look at the work going on at Lawrence Livermore's Forensic Science Center to address some of those challenges.
Film Synopsis
In a dystopian future that prizes ideal DNA above all, a genetically inferior man assumes the identity of a superior one in order to pursue his lifelong dream of space travel.
In the not-too-distant future, a less-than-perfect man wants to travel to outer space. Society has categorized Vincent Freeman (Ethan Hawke) as a genetically inferior "in-valid," and he has become one of the underclass of humans that are only useful for menial jobs. He decides to fight his fate by purchasing the genes of Jerome Morrow (Jude Law), a perfect genetic specimen. He assumes Jerome's identity and joins the Gattaca space program, where he falls in love with Irene (Uma Thurman). Just when Vincent is finally scheduled for a space mission, a Gattaca officer (Gore Vidal) is killed and the police begin an investigation, jeopardizing his secret.
About the Speaker
Dr. Bradley Hart is the director of the Forensic Science Center at Lawrence Livermore National Laboratory. He graduated from the University of Kansas in 1996 with a BS in chemistry, then received his PhD in 2001 from the University of California, Irvine. He began his career in 2001 as a postdoc at LLNL in the Chemistry and Materials Science Directorate. He served as a staff scientist in the FSC from 2003–2008, at which point he left the laboratory to serve as a branch chief within the Department of Defense. While there, he was responsible for the planning and oversight of worldwide CBRNE/Biometric collection and exploitation operations. He developed, established, and oversaw the operation of multiple forensic exploitation laboratories both inside and outside of the continental United States. Dr. Hart returned to LLNL in 2011. In his current role, he oversees operational sample receipt and analysis efforts, as well as research related to the development and application of a variety of methodologies related to forensic science.

Dr. Deon Anex is chemist in the Forensic Science Center at Lawrence Livermore National Laboratory. He received his BS in chemistry from Louisiana State University, and his PhD in physical chemistry and physics from Indiana University. Dr. Anex is part of the research team at LLNL that is developing a groundbreaking technique that provides a second science-based, statistically validated way to identify people and link individuals to evidence in addition to DNA profiling: human hair.

Dr. Katelyn Mason is part of the postdoctoral research staff in the Forensic Science Center at Lawrence Livermore National Laboratory. Her research interests include forensic analysis of protein-containing samples, bioinformatics of high-throughput proteomic and metabolomic datasets obtained from liquid chromatography-tandem mass spectrometry, and high-resolution protein structure determination using solution NMR spectroscopy and elucidation of protein function through biochemical analysis. Dr. Mason received her BS in biochemistry from Fort Lewis College, and her PhD in biochemistry from Montana State University.