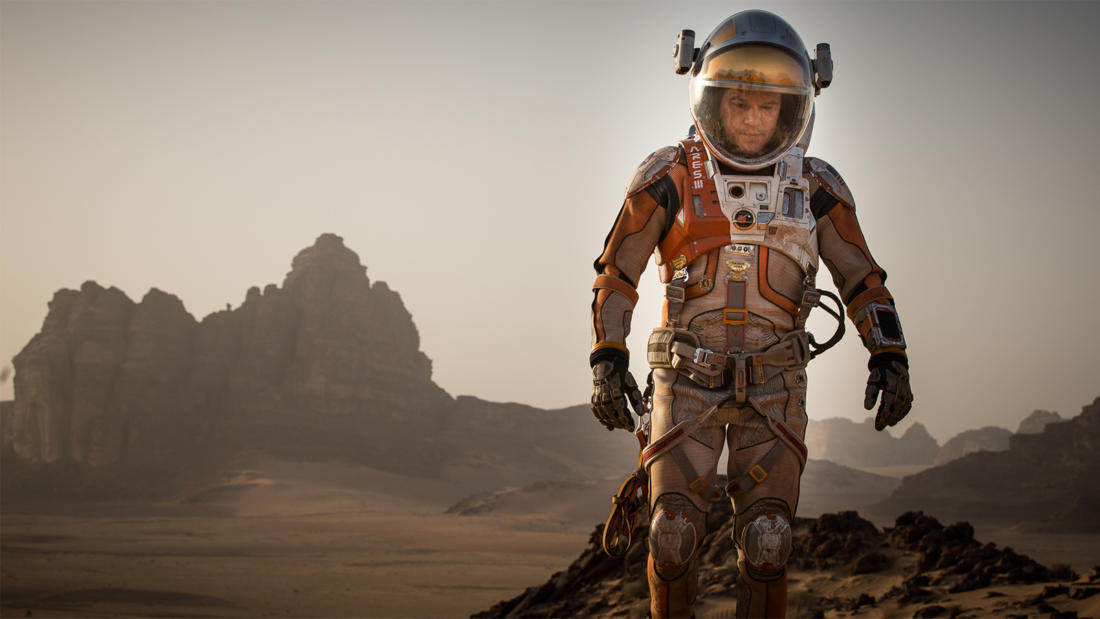 2017
with
Dr. Michelle Bowe
Professor, Department of Biology, Missouri State University
and
Charles Armstrong
External Relations, NASA
The Martian—

How to Survive on Mars
Program Description
A discussion on the themes presented in the film.
Film Synopsis
When astronauts blast off from the planet Mars, they leave behind Mark Watney, presumed dead after a fierce storm. With only a meager amount of supplies, the stranded visitor must use his wits, spirit, and scientific know-how to find a way to survive on the hostile planet.
During a manned mission to Mars, Astronaut Mark Watney (Matt Damon) is presumed dead after a fierce storm and left behind by his crew. But Watney has survived and finds himself stranded and alone on the hostile planet. With only meager supplies, he must draw upon his ingenuity, wit, and spirit to subsist and find a way to signal to Earth that he is alive. Millions of miles away, NASA and a team of international scientists work tirelessly to bring "the Martian" home, while his crewmates concurrently plot a daring, if not impossible, rescue mission. As these stories of incredible bravery unfold, the world comes together to root for Watney's safe return. Based on the best-selling novel by Andy Weir, and helmed by master director Ridley Scott, The Martian was nominated for three Golden Globes.
About the Speaker
Dr. Michelle Bowe is a professor in the Department of Biology at Missouri State University. Her research interests include plant evolution and systematics — especially questions concerning the origin of angiosperms and the relationships among major conifer groups. She is also interested in conservation genetics and general molecular evolution. Current projects include the study of an early flowering plant fossil from China and an AFLP survey of American yew, Taxus canadensis (currently listed as state rare in some states, but becoming more rare due to its medicinal attributes). Dr. Bowe received her PhD in biology from Vanderbilt University.

Charles Armstrong is a member of NASA's Human Spaceflight community. He is currently on a rotational assignment with the NASA/Johnson Space Center's Office of External Relations. He recently served as the systems engineering and integration manager for processes and plans for the Orion Multi-Purpose Crew Vehicle, NASA's upcoming replacement for the Space Shuttle and the vehicle destined to take humans beyond low Earth orbit.
During his 32-year career at the Johnson Space Center, Armstrong worked on a variety of NASA projects including the Space Shuttle, Shuttle-Mir, International Space Station, Assured Crew Return Vehicle and Orbital Space Plane, as well as the Orion Program. In the course of his career, Armstrong has trained astronauts, worked as a flight controller for spacewalks and headed operations planning for the Orbital Space Plane.
He received the NASA Exceptional Achievement Medal in 2011 and the NASA Spaceflight Awareness Leadership Award in 2009. In 2001, he was awarded the Silver Snoopy, an honor bestowed by NASA's astronaut office to recognize professionalism, dedication, and outstanding support that greatly enhanced space flight safety and mission success. In 1995, Missouri State honored Armstrong with the Outstanding Young Alumni Award. He currently serves on the MSU Department of Physics, Astronomy and Materials Science Advisory Board.
He received his BS in physics and mathematics from Missouri State in 1979 and his master's in space physics from the University of Houston in 1993.