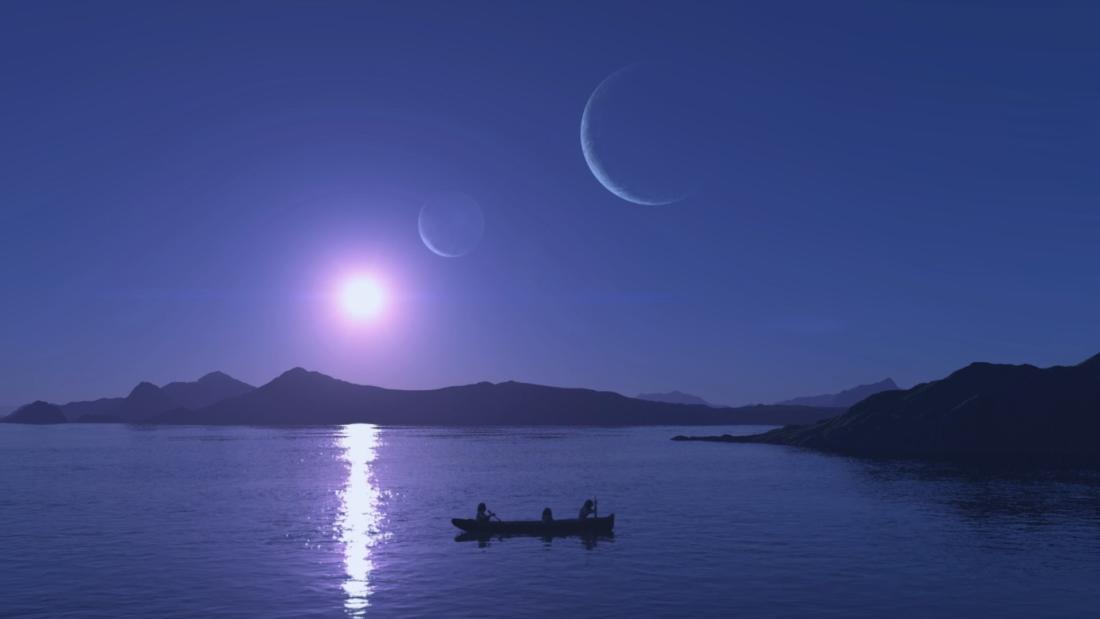 2017
with
Mohamed El Marzouki
Doctoral Candidate, The Media School, Indiana University
and
Alexandra Cotofana
Doctoral Candidate, Department of Anthropology, Indiana University
The Peal Button—

Interacting with Geography: A Cultural Lesson
Program Description
A post-film discussion centered on the film from an anthropological, religious studies, and political science point of view, focusing on local ontologies and how outside cultures need to understand the people of Chile, and especially tribes, as interacting with their geography differently than how other cultures may do so.
Film Synopsis
Filmmaker Patricio Guzmán examines the link between Patagonian waterways and genocide.
The ocean contains the history of all humanity, while the sea holds the voices of the Earth and receives impetus from the stars, transmitting it to living creatures. Chile, with its 2,670 miles of coastline, the largest archipelago in the world, presents a supernatural landscape with its volcanoes, mountains and glaciers. In it are the voices of the Patagonian indigenous people, of the first English sailors, and also those of its political prisoners. Some say that water has memory. This film shows that it also has a voice.
About the Speaker
Mohamed El Marzouki is a doctoral candidate at the Media School, Indiana University. His research interests sit at the intersection of youth citizenship, participatory media and politics, and creative cultural production in the MENA region. His dissertation project, Young and Creative: Dissent, Youth Citizenship and Participatory Media on the Moroccan Social Web, investigates the role that social media platforms play in enabling youth in the Maghreb region to create spaces for a culture of political dissent. With a focus on youth in post-Arab Spring Morocco, his research examines the affordances of social media technologies and their use for democratic and political change.
Prior to joining the School of Journalism, El Marzouki worked as a lecturer in communication at Al Akhawayn University in Ifrane, Morocco. Some of the courses he taught include News Reporting, Writing and Editing, Introduction to Mass Communication, Communication Theory, and International Communication. Before teaching at Al Akhawayn University, El Marzouki received an MA in media and communication from Goldsmiths College, University of London and a BA in communication from the University of New Hampshire. He is a native speaker of Arabic, fluent in English, and has working knowledge of written and spoken French.

Alexandra Cotofana is a PhD student in sociocultural anthropology, with research interests geographically focused on Romania and Ukraine. Topically, her interests include spirituality in socialist and post-socialist regimes, secondary economies, the anthropology of secrecy, gendered practices, medical anthropology, documentary-making and visual identities, and the anthropology of human rights. For her dissertation, Cotofana plans to analyze the effects of dictatorial regimes on spiritual practices and post-socialist divides within the Christian Orthodox ideology. She explores changes in the relation of religion and magic within Romanian Christian Orthodoxy, with a strong focus on magic practices. She was festival director for the In Light Human Rights Documentary Film Festival at IUB in March 2015. Cotofana completed her BA in political sciences and her MA in anthropology at the National School for Political and Administrative Studies in Bucharest, Romania.