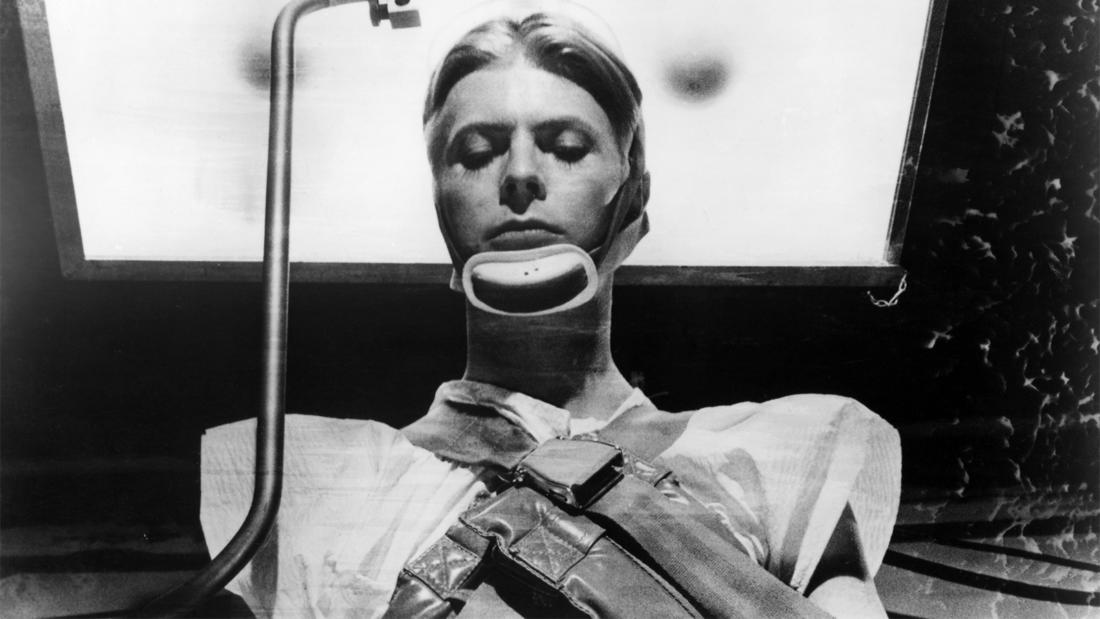 2017
with
Dr. Mace Hack
State Director, The Nature Conservancy; Adjunct Associate Professor, School of Natural Resources, University of Nebraska, Lincoln
and
Buey Ray Tut
Founder, Aqua-Africa
and
Jess Benjamin
Ceramic Artist
moderated by
Mike McMeekin
President, Lamp Rynearson & Associates; Engineer
The Man Who Fell to Earth—

Navigating Drought: The Importance of Water Conservation
Program Description
A post-film discussion on water issues and conservation.
Film Synopsis
An extraterrestrial crash lands on Earth seeking a way to ship water to his planet, which is suffering from a severe drought.
Thomas Jerome Newton (David Bowie) is an alien who has come to Earth in search of water to save his home planet. Aided by lawyer Oliver Farnsworth (Buck Henry), Thomas uses his knowledge of advanced technology to create profitable inventions. While developing a method to transport water, Thomas meets Mary-Lou (Candy Clark), a quiet hotel clerk, and begins to fall in love with her. Just as he is ready to leave Earth, Thomas is intercepted by the US government, and his entire plan is threatened. Based on the novel of the same name by Walter Tevis, rock legend David Bowie made his acting debut in this trippy and highly provocative exploration of the outsider's experience in modern Western culture.
About the Speaker
Dr. Mace Hack is the state director for The Nature Conservancy in Nebraska. In this position, he leads a statewide staff of 20 to conserve the lands and waters on which all life depends. Dr. Hack holds an undergraduate degree in biology from Princeton University and a doctorate in biology from the University of California at San Diego, and has worked on wildlife conservation projects in both the United States and internationally, including extensive work on the grasslands of East Africa. Prior to joining the Conservancy, Dr. Hack worked for the Nebraska Game and Parks Commission as assistant administrator for the Wildlife Division, where he and his team were responsible for research and population monitoring of both game and non-game wildlife, including endangered species. Dr. Hack also serves as an adjunct associate professor for the School of Natural Resources at the University of Nebraska, Lincoln.

Buey Ray Tut is the founder of Aqua-Africa, which focuses on delivering sustainable water solutions to communities in East Africa. Born in South Sudan in a small village called Maiwut, Tut immigrated to the United States as a refugee at the age of 11. While attending the University of Nebraska Omaha, he and his childhood friend, Co-Founder Jacob Khol, decided they wanted to help their homeland. They founded Aqua-Africa with plans to transform the way in which aid is administered to underdeveloped nations. After three years of continuous research, they decided to invest in a complete development program for South Sudan. Tut is a graduate of University of Nebraska, Omaha, where he majored in Economics and Political Science.

Jess Benjamin is a ceramic artist whose work explores issues of water crisis and conservation. Benjamin grew up in the irrigation ditches of rural Nebraska, and spent her teenage years irrigating, harvesting corn and hay, building fences, and processing cattle. She received her BA from Hastings College and then moved to Omaha in 2002 to apprentice at the Jun Kaneko Studio. In 2008, she received her MFA from Bowling Green State University, Ohio. Benjamin has recently exhibited at the Joslyn Art Museum, Museum of Nebraska Art, and at the Great Plains Art Museum in Nebraska. She is a recipient of the 2013 Nebraska Arts Council Individual Artist Fellowship Grant. Her artwork has been published in Lark Crafts, The Best of 500 Ceramics, and 500 Ceramic Sculptures.

Mike McMeekin is a local activist, engineer, and the president of Lamp Rynearson & Associates, a civil engineering, survey, planning, and consulting firm. He has 36 years of professional engineering experience and has played a leadership role in a number of signature projects in the Omaha area, including the Qwest Center Omaha and Riverfront Redevelopment, Rosenblatt Stadium, and the redevelopment of Aksarben. He is currently working as part of the Program Management Team for the City of Omaha's $1.7 billion Combined Sewer Overflow Control initiative.
McMeekin is a graduate of the American Council of Engineering Companies' Senior Executives Institute, an advanced management, leadership, and public policy training program for current and emerging leaders of engineering and architectural firms. He recently completed a six-year term on the Board of Directors of the Greater Omaha Chamber of Commerce. McMeekin also served as co-chair of Environment Omaha, a joint initiative of Omaha by Design and the City of Omaha to create an Environmental Master Plan for the City of Omaha. For his work on this initiative, he was named the 2010 recipient of the Laurels Award by Omaha by Design. He earned a BS in civil engineering from the University of Nebraska, Lincoln, and an MS in environmental engineering from Washington State University.