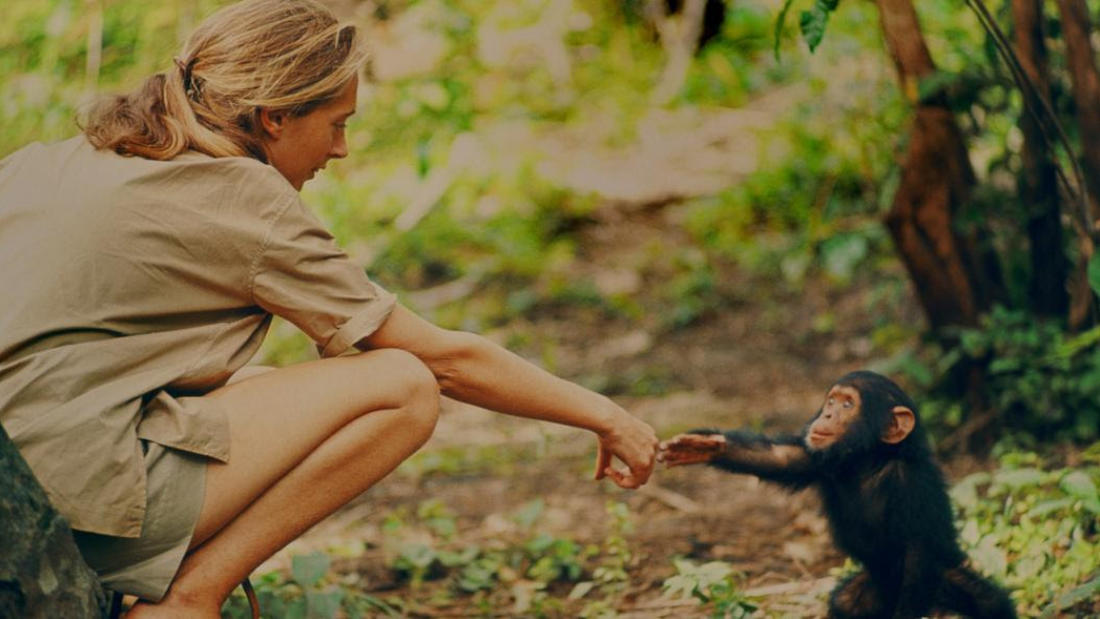 2017
with
Anthony Di Fiore
Chair and Professor, Anthropology Department, University of Texas
and
Rebecca Lewis
Associate Professor of Anthropology, University of Texas
Jane—

Primatologists discuss Jane Goodall
Program Description
Special guests Dr. Anthony Di Fiore and Dr. Rebecca J. Lewis of the University of Texas—who have both studied primates extensively—bring many years of experience and knowledge to a lively discussion about Jane Goodall, her methods, and her contributions to our understanding of chimpanzees and our place in the world.

Film Synopsis
Jane Goodall, a young and untrained woman, challenges male-dominated scientific consensus with her chimpanzee research and revolutionizes people's understanding of the natural world.
Drawing from over 100 hours of never-before-seen footage that has been tucked away in the National Geographic archives for more than 50 years, award-winning director Brett Morgen tells the story of Jane Goodall, a woman whose chimpanzee research challenged the male-dominated scientific consensus of her time and revolutionized our understanding of the natural world.
Set to a rich orchestral score from legendary composer Philip Glass, the film offers an unprecedented, intimate portrait of Jane Goodall—a trailblazer who defied the odds to become one of the world's most admired conservationists.
About the Speaker
Anthony Di Fiore, chair of the University of Texas's Anthropology Department, conducts long-term behavioral and ecological field research on several species in the primate community of Amazonian Ecuador, investigating the ways in which ecological conditions and competition shape primate behavior, social relationships, and societies. He complements his field studies with molecular genetic laboratory work that addresses issues difficult to explore through observational studies alone, including questions about dispersal behavior, gene flow, mating patterns, population structure, and the fitness consequences of individual behavior.
Rebecca Lewis established and is the director of the Ankoatsifaka Research Station in Madagascar's Kirindy Mitea National Park. She is also an associate professor of anthropology at the University of Texas at Austin. Her research interests include the evolution of primate social behavior, intersexual conflict, social relationships, and power dynamics.