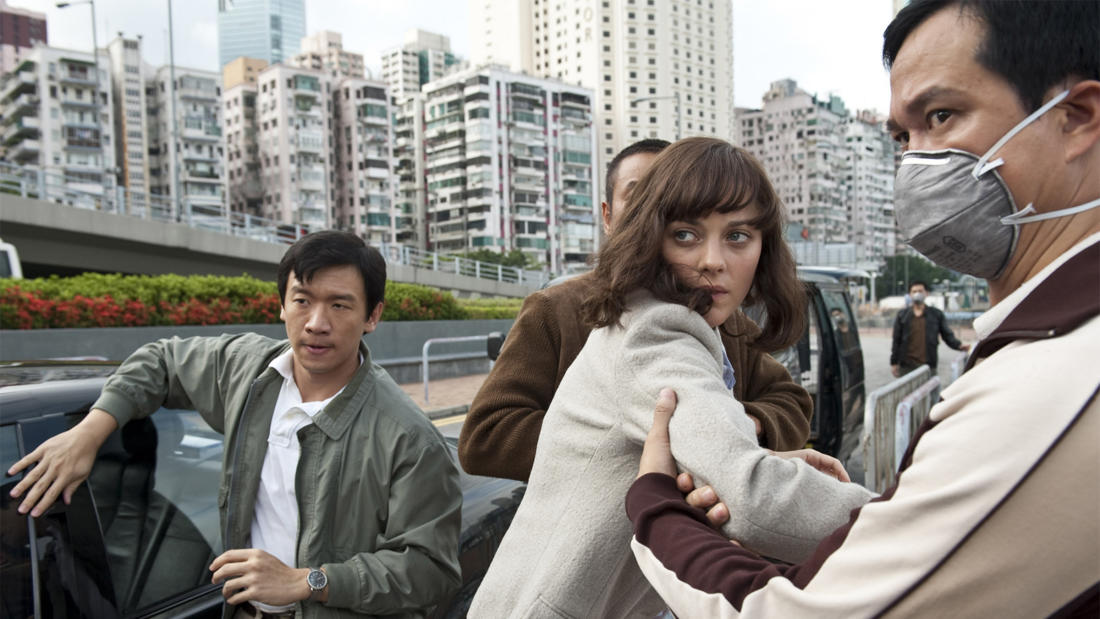 2017
with
​Dr. Monica Borucki
Biomedical Scientist, Lawrence Livermore National Laboratory
and
Dr. Jonathan Allen
Bioinformatics Scientist, Lawrence Livermore National Laboratory
Contagion—

Reconstructing a Rabies Epidemic: Byte by Byte
Program Description
A look at how biologists and computer scientists used cutting-edge, ultra-deep sequencing technology to study the dynamics of a 2009 rabies outbreak. This case study, based on a dramatic increase (more than 350 percent) in the gray fox population infected with a rabies variant for which striped skunks serve as the reservoir hosts, helps illustrate the changes in the viral genome during cross-species viral transmission.
Film Synopsis
Director Steven Soderbergh's disaster thriller follows the rapid progress of a lethal airborne virus that kills within days.
When Beth Emhoff (Gwyneth Paltrow) returns to Minnesota from a Hong Kong business trip, she attributes the malaise she feels to jet lag. However, two days later, Beth is dead, and doctors tell her husband (Matt Damon) that they have no idea what killed her. Soon, many others start to exhibit the same symptoms, and a worldwide pandemic erupts. Doctors try to contain the lethal microbe, but society begins to collapse as a blogger (Jude Law) fans the flames of paranoia.
About the Speaker
Dr. Monica Borucki is a biomedical scientist in the Biosciences and Biotechnology Division of Lawrence Livermore National Laboratory. Her research focuses on the mechanisms of viral evolution and emergence, biosurveillance, and viral forensics. She previously served as select agent manager for the LLNL Biodefense group and as a biodefense analyst for the LLNL Biodefense Knowledge Center. Before coming to LLNL, she served as a research geneticist at USDA-ARS and adjunct faculty at Washington State University where she investigated the epidemiology and virulence of food pathogen, Listeria monocytogenes. Her postdoctoral experience involved investigation of the ecology and genetics of South American hantaviruses at University of Nevada, Reno. She received her PhD from Colorado State University where she studied the evolution of La Crosse virus, a mosquito-borne virus that causes encephalitis. She received her M.S. at California Polytechnic State University San Luis Obispo investigating the revival and characterization of ancient Bacillus spores from bees entombed in amber. She has served as PI on competitive grants funded by DTRA, NIH, and internally funded LLNL projects.

Dr. Jonathan Allen is a bioinformatics scientist at Lawrence Livermore National Laboratory. His research focuses on the development and application of new software tools to address various genome sequence analysis problems. Problem areas of interest include prediction of genetic virulence markers in viruses, detecting genetic engineering in bacteria, and eukaryotic gene prediction.