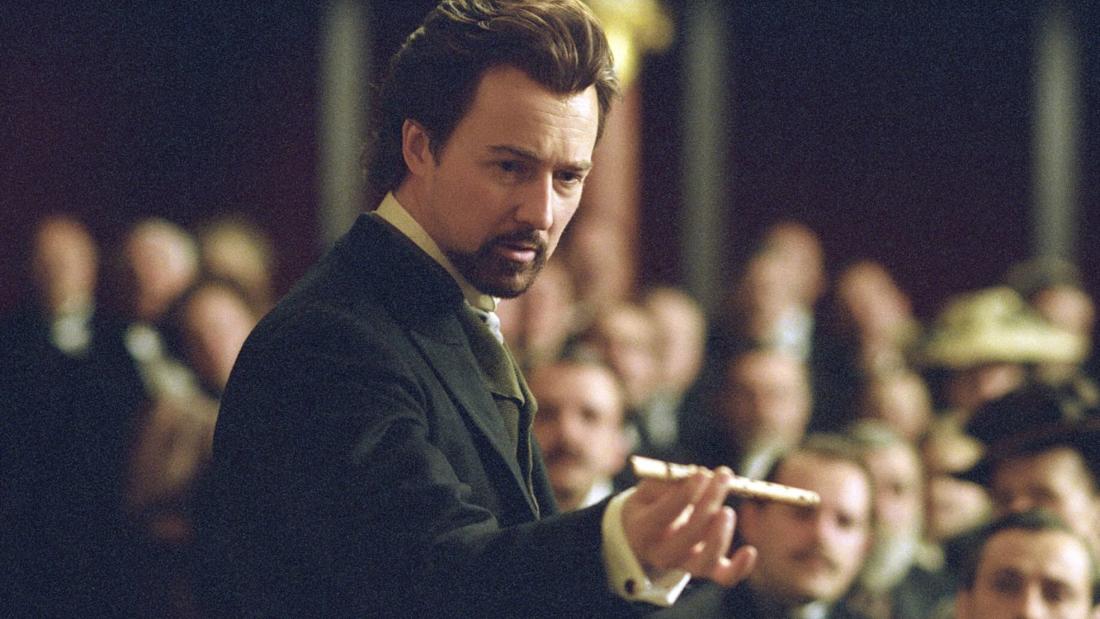 2017
with
Robert Strong
Magician
and
Dr. Luigi Anzivino
Neuroscientist and magician
and
Marc "Zeke" Kossover
Co-Director of the Leadership Program at Exploratorium in San Francisco
The Illusionist—

The science of deception
Program Description
We know that magicians are fooling us—so why do magic tricks still work? After a performance by renowned magician Robert Strong, Dr. Luigi Anzivino, neuroscientist and magician, demonstrates how the phenomena of cognitive and sensory illusions are responsible for the "magic" of magic tricks. He is joined by Marc 'Zeke' Kossover, physicist and co-director of the Leadership Program at Exploratorium in San Francisco.
Film Synopsis
A stage magician uses his magic to win back the great love of his life from a brutal enemy, her fiancé, who is also the powerful crown prince of Austria.
A master magician named Eisenheim (Edward Norton) vies with Crown Prince Leopold (Rufus Sewell) of Vienna for the hand of noblewoman Sophie (Jessica Biel), the girl he once loved. He brings his considerable powers to bear on the prince, as she is about to be named royal fiancee. However, a police inspector named Uhl (Paul Giamatti) tries to warn Eisenheim that he is playing a very dangerous game.
About the Speaker
Magician Robert Strong dazzles with his dramatic illusions, mentalism, and amazing sleight-of-hand. He has won every award possible for a magician and has performed twice at the White House for two presidents.
Luigi Anzivino, magician and Tinkering Content Developer at San Francisco's Exploratorium, wants people to learn by doing in messy, unusual, and inventive ways, without fear of failure. In his work at the Exploratorium, he focuses on developing, documenting, and sharing rich learning experiences, with the goal of creating a physical, cultural, and social space that is safe for trying out tentative ideas, not knowing the right answer, and developing the skill of posing—even more than solving—interesting problems. He holds a PhD in behavioral neuroscience from UCLA.
Zeke Kossover is a teacher in the Exploratorium's Teacher Institute. His primary role is to train and support coaches and mentors who work with novice science teachers in their first two years in the classroom. In 2011, he was selected to be an Albert Einstein Distinguished Educator Fellow at the National Science Foundation, working with Congress and the White House on important science education issues. For fun, Zeke puts on physics circus shows. He thinks of them as magic shows, but in reverse—the secret to a magic trick is to make something simple intentionally confusing, while Zeke tries to make confusing things easy to understand.