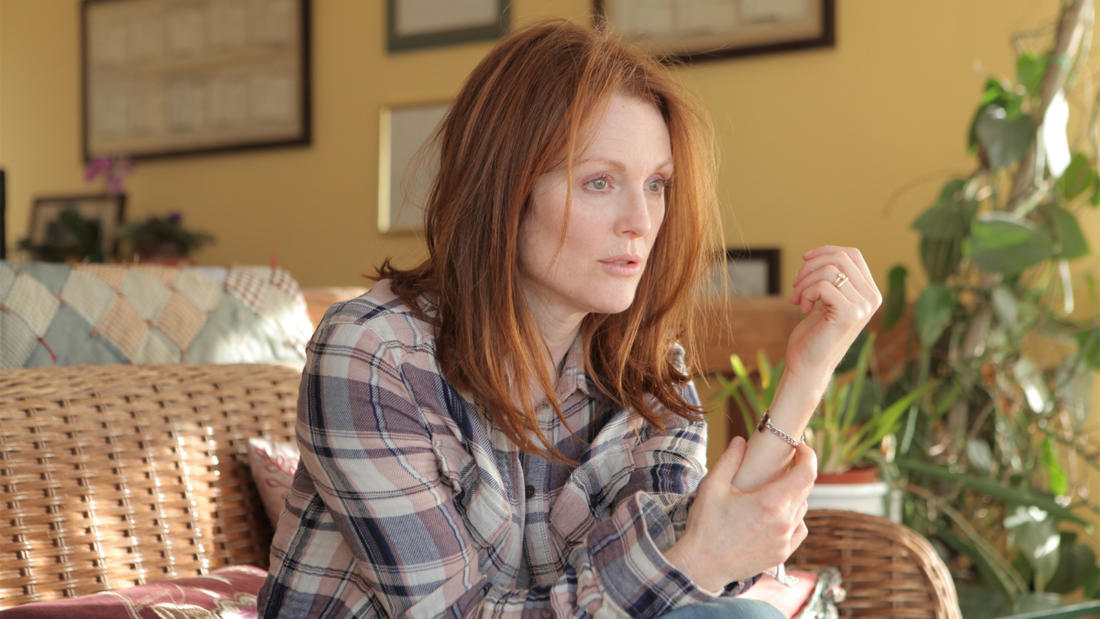 2017
with
Dr. Lisa Miller
Biophysical Chemist and Associate Division Director, Brookhaven National Laboratory
and
Dr. Steven O. Smith
Director of Biochemistry, Stony Brook University
and
Dr. William Van Nostrand
Professor of Neurosurgery and Medicine, Stony Brook University
Still Alice—

The Unfolding of Alzheimer's Disease
Program Description
An exploration of Alzheimer's disease.
Film Synopsis
A linguistics professor and her family find their bonds tested when she is diagnosed with Alzheimer's disease.
Alice Howland (Julianne Moore) is a renowned linguistics professor with a loving husband (Alec Baldwin) and three grown children (Kristen Stewart, Kate Bosworth, Hunter Parrish). But things start to unravel when, while giving a lecture, Alice forgets the word "lexicon," and then during a jog becomes disoriented and gets lost. Concerned with the persistence of these problems, she visits a neurologist who diagnoses her with early-onset Alzheimer's disease. As the terminal degenerative neurological condition gradually gets worse, Alice and her family's lives change completely in the face of a daunting challenge. The disease advances, and Alice struggles not only to fight her own mental deterioration, but to make the most of the time she has left. Based on the novel of the same name, Still Alice earned Julianne Moore an Academy Award for Best Actress.
About the Speaker
Dr. Lisa Miller is the associate division director for spectroscopy and imaging in the Photon Sciences Directorate at Brookhaven National Laboratory. She is also the spokesperson for Beamlines U2B and U10B at the NSLS. Beamlines U2B and U10B specialize in mid-infrared microspectroscopy and full-field imaging of materials such as biological cells and tissues, plants, microbes, polymers, soils, and minerals. Dr. Miller's research focuses on the study of the chemical makeup of cells and tissues using synchrotron-based infrared and x-ray imaging. Her work elucidates the role of metal ions in protein misfolding and neurodegeneration in Alzheimer's disease and amyotrophic lateral sclerosis.

Dr. Steven O. Smith is a professor and the director of structural biology in the Department of Biochemistry and Cell Biology and Stony Brook University. His research interests range from structure-function studies on membrane receptors to the structure and inhibition of amyloid fibrils associated with Alzheimer's and cerebral amyloid angiopathy.

Dr. William Van Nostrand is a professor of neurosurgery and medicine at Stony Brook University. He is interested in understanding the role of amyloid ß-protein precursor (AßPP) and its derived fragment Aß in the cerebrovascular in the pathogenesis of Alzheimer's disease and related disorders. His research focuses on identifying factors that regulate the assembly of Aß peptides in brain, with an emphasis of understanding their pathogenic interactions with cells in cerebral blood vessels that lead to cellular degeneration, loss of vessel wall integrity, and hemorrhagic stroke. His studies in this area are multi-leveled involving basic protein-protein interactions between Aß peptides and distinct chaperone proteins, in vitro cell culture models, and several in vivo transgenic mouse models recently developed in the laboratory. In addition, he has a strong interest in physiologic functions of AßPP in regulating hemostatic mechanisms. To this end he utilizes several in vivo mouse gene knockout and transgenic models to elucidate the role of AßPP in vascular processes involved in coagulation, stroke, and traumatic brain injury.