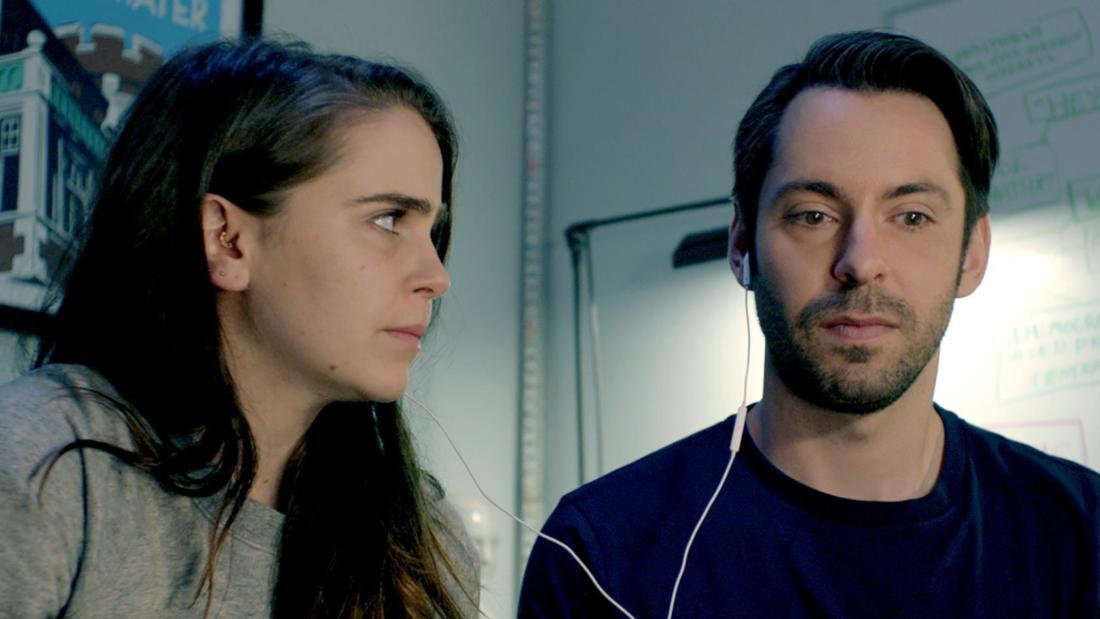 2018
with
Ken Goldberg
William S. Floyd Jr. Distinguished Chair in Engineering at University of California Berkeley
Operator—

AI and the uncanny valley
Program Description
Artist, inventor, and robotics expert Ken Goldberg discusses artificial intelligence and the discomfort we feel when robots and interfaces seem almost, but not quite, human.
Film Synopsis
When a programmer is hired to create the ideal personality for an automated call center, his attempts to quantify what it means to be human throws his life into chaos.
An existential comedy about married couple Joe (Martin Starr) and Emily (Mae Whitman). Joe's existence is ruled by data. He tracks everything, including his sex life, and converts that information into charts that help keep his overwhelming neuroses in check. At work, Joe designs personalities for digital customer service voices, but when his latest robo-agent is a disaster, he enlists Emily to serve as the template for the redesigned voice. As the project progresses, Joe becomes increasingly obsessed with replicating his wife's empathy, threatening their marriage and leading him to the brink of insanity.
About the Speaker
Ken Goldberg is an artist, inventor, and UC Berkeley Professor focusing on robotics. He was appointed the William S. Floyd Jr Distinguished Chair in Engineering and serves as Chair of the Industrial Engineering and Operations Research Department. He has secondary appointments in EECS, Art Practice, the School of Information, and Radiation Oncology at the UCSF Medical School. Ken is Director of the CITRIS "People and Robots" Initiative and the UC Berkeley AUTOLAB where he and his students pursue research in machine learning for robotics and automation in warehouses, homes, and operating rooms. Ken developed the first provably complete algorithms for part feeding and part fixturing and the first robot on the Internet. Despite agonizingly slow progress, he persists in trying to make robots less clumsy. He has over 250 peer-reviewed publications and 8 U.S. Patents. He co-founded and served as Editor-in-Chief of the IEEE Transactions on Automation Science and Engineering. Ken's artwork has appeared in 70 exhibits including the Whitney Biennial and films he has co-written have been selected for Sundance and nominated for an Emmy Award. Ken was awarded the NSF PECASE (Presidential Faculty Fellowship) from President Bill Clinton in 1995, elected IEEE Fellow in 2005 and selected by the IEEE Robotics and Automation Society for the George Saridis Leadership Award in 2016. He lives in the Bay Area and is madly in love with his wife, filmmaker and Webby Awards founder Tiffany Shlain, and their two daughters.