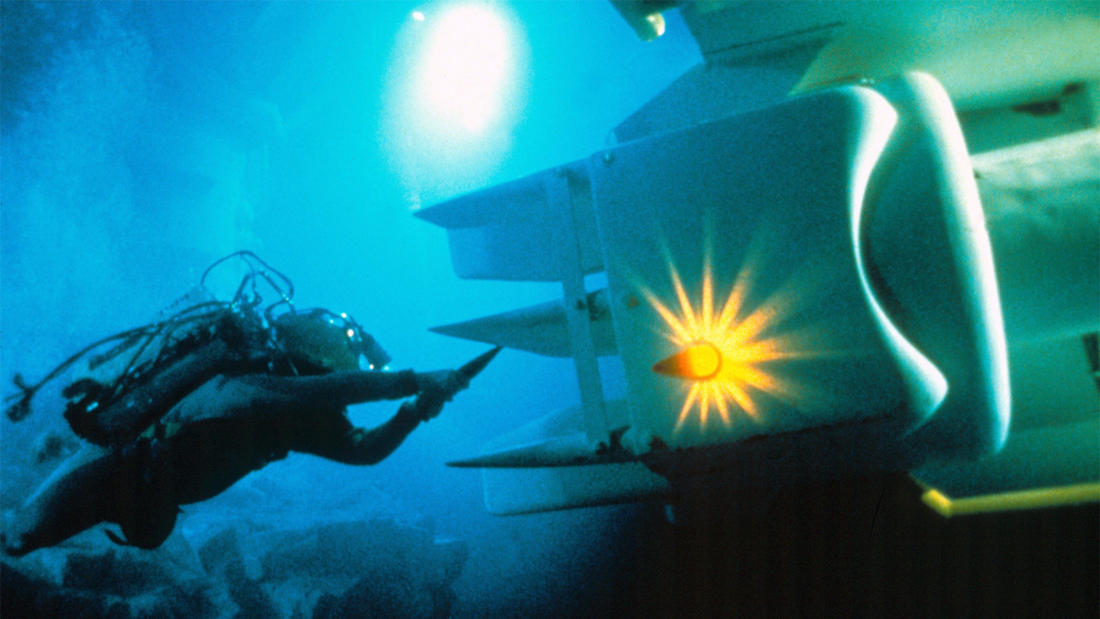 2018
with
Chloe Strauss
Academic Diving Program instructor, Indiana University
The Abyss—

Deep breaths: Mixed-gas and liquid breathing for deep-water diving
Program Description
Can humans breath something other than air? IU Academic Diving Program instructor Chloe Strauss will discuss the use of mixed-gas diving for deep-water exploration and experiments with breathing oxygenated liquids at depths that make breathing gas impossible for our lungs.
Film Synopsis
A civilian diving team is enlisted to search for a lost nuclear submarine and face danger while encountering an alien aquatic species.
When the USS Montana, a submarine carrying nuclear warheads, inexplicably collides into a sea wall and sinks to the bottom of the ocean, a deep-sea oil operation team is called upon to assist with the search and rescue. Led by Virgil "Bud" Brigman (Ed Harris), the drill team is partnered with a squad of Navy S.E.A.L.S. whose orders may not be as transparent as they seem. Bud's hard-edged, estranged wife, Lindsey Brigman (Mary Elizabeth Mastrantonio), is also brought on board to lend her expertise as the designer of the massive underwater drilling rig. Upon reaching the Montana, the divers encounter something out of this world, an apparently new species of aquatic life, which they dub "N.T.I's," or non-terrestrial intelligence. While the team of civilian divers views these life forms as the discovery of the century, S.E.A.L. team leader Lieutenant Hiram Coffey (Michael Biehn) sees only a threat that should be eliminated by any means necessary. However, the hurricane gathering strength on the water's surface may prove to be the greatest adversary of all.
About the Speaker
Chloe Strauss is an Indiana University graduate with degrees in biology and anthropology, and a certificate in underwater resource management. She is also a research assistant in the Lynch lab, currently working on her own project focusing on the mutation rate response to decreasing pH of the coral reef pathogen Vibrio shiloi. She completed the Living Museums of the Sea field research project in the Dominican Republic during the summer of 2015, and is a PADI Open Water Scuba Instructor. She is currently appointed as an adjunct lecturer teaching with the Academic Diving Program.