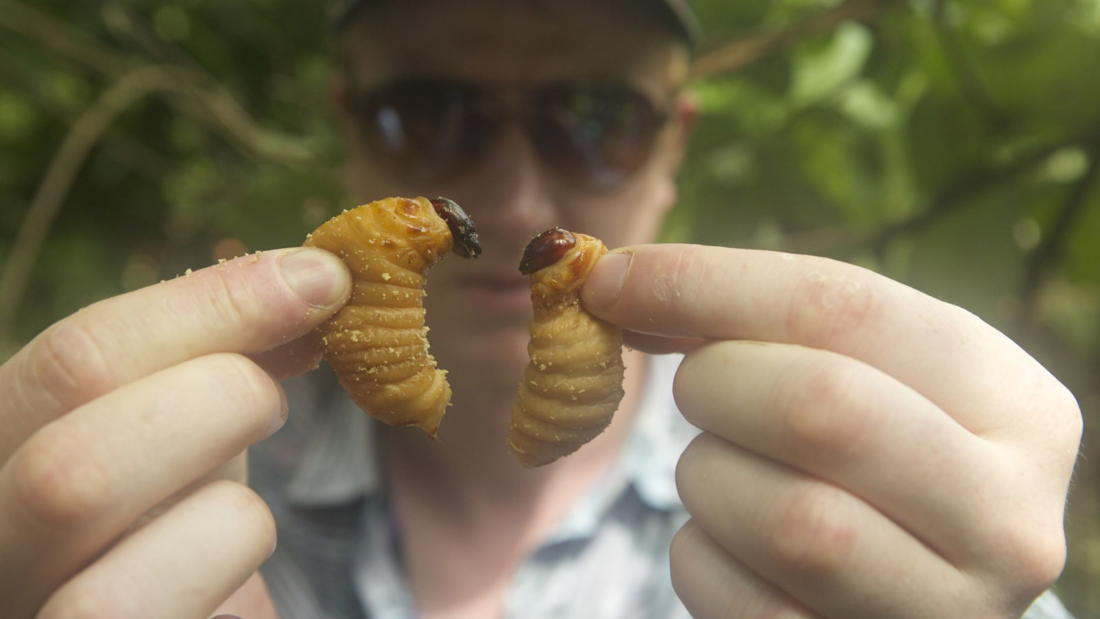 2018
with
Jesse Rye
Executive director, Farm Fresh Rhode Island
and
David Gracer
Entomophagist
and
Daniel Kamil
Co-owner of the Cable Car Cinema; Programmer of the Providence Center for Media Culture
Bugs—

Ew...you're eating that? The future of food sustainability
Program Description
A panel of speakers from the food and farming industries discuss the future of sustainable eating—and insects' place in it. All audience members receive crickets and black ants to taste! Part of the 2018 National Evening of Science on Screen.
Film Synopsis
Will eating insects save our Earth? A chef and a food lab researcher go globe-trotting to investigate edible insects.
Insects as food is a hot topic, particularly over the last few years, since the UN recommended edible insects as a resource to combat world hunger. They have been heralded for their taste by cooks and gastronomes, for their low ecological impact by environmentalists, and for their nutritional content by public health scientists. It would seem that insects are the new superfood that will fix all our problems of global food security.

For the past three years, a team from Copenhagen-based Nordic Food Lab has been travelling the world to learn what some of the two billion people who already eat insects have to say. In BUGS, film director Andreas Johnsen follows them as they forage, farm, cook, and taste insects with communities in Europe, Australia, Mexico, Kenya, Japan, and beyond. During their journey they encounter everything from revered termite queens and desert-delicacy honey ants to venemous giant hornets and long-horned grasshoppers trapped using powerful floodlights, which sometimes cause their operators blindness.
Photo by Andreas Johnsen, courtesy Kino Lorber

About the Speaker
Jesse Rye is from Algoma, Wisconsin, a small town near Lake Michigan surrounded by farms and fishing boats. His family tree is populated with cheesemakers, barbers, and general store owners—needless to say, entrepreneurship and supporting local businesses are in his blood. But many of the core industries in Jesse's small community locked their doors during his childhood and family farms were replaced by factory farms. These dramatic changes inspired Jesse to understand how communities could revitalize themselves economically while preserving their unique sense of place, cultural traditions, and environmental integrity. Since earning a master's degree from the Heinz School of Public Policy and Management at Carnegie Mellon University, he has worked locally as a nonprofit manager, nationally as a researcher and advocate, and statewide as program director and communications specialist. At Farm Fresh, Jesse oversees all social enterprise programs, strategic financial management, communications, technology development, and human resources. In the past five years, he has worked with the board and leadership staff to double the organization's operating budget and staff, while maintaining a balanced budget. Jesse devotes much of his time to the development of the new RI Food Hub and serves on the RI Food Policy Council as a member of the steering committee and the Food Solutions New England Chair. Jesse is an avid pickler and a fledgling potter who dreams of making his own fermenting crocks.