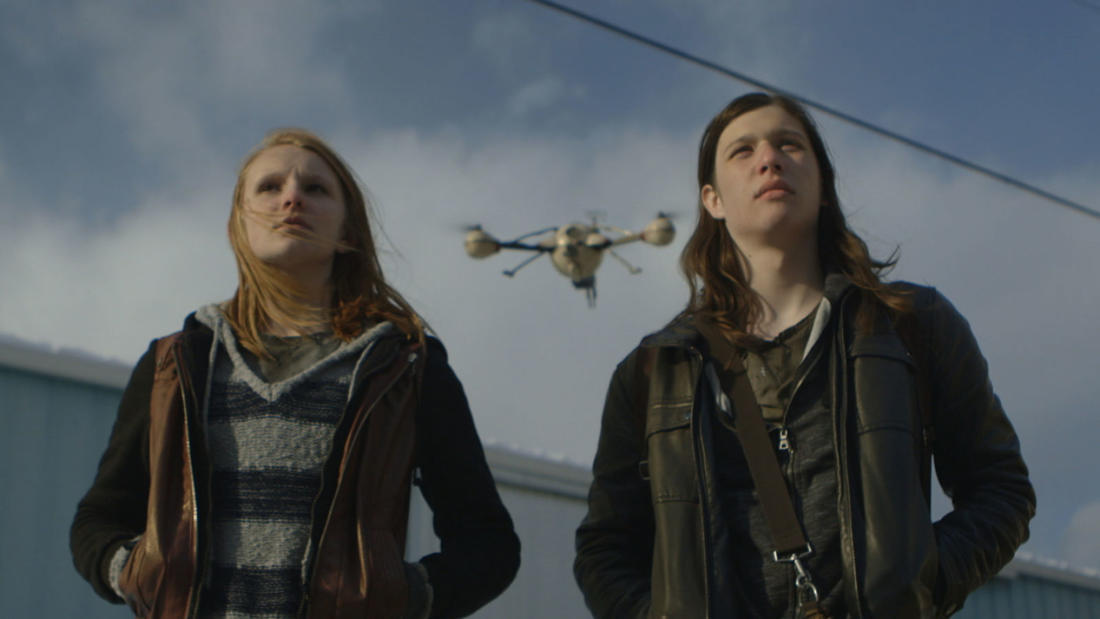 2018
moderated by
Dr. Jeff Bradshaw
Associate Director Intern, University of Nebraska-Lincoln Panhandle Research and Extension Center
with
Wayne Woldt
Director of the Nebraska Unmanned Aircraft Innovation, Research, and Education laboratory at the University of Nebraska-Lincoln
and
Don Masten
AirScout
and
Tracy O'Neal
Instructor, Western Nebraska Community College
Rotor DR1—

Flying farmhands: The future of drone technology in agriculture
Program Description
Drone technology is transforming modern farming by making unprecedented amounts of precise, real-time crop data available—and accessible—to farmers. Professor Wayne Woldt presents his research on cutting-edge drone use in agriculture and joins a discussion with local drone and aerial imaging experts.
Film Synopsis
In a post-apocalyptic world in which 90 percent of the human population is dead or missing and drones fill the sky, a 16-year old boy sets out to find his father with his DR1 drone companion.
In this community-collaborated feature film, developed and produced by an online network of thousands of drone enthusiasts, survivors of a cataclysmic viral epidemic struggle to rebuild and reconnect with the world they've lost. Autonomous drones, originally meant to deliver vaccinations for the deadly disease, now wander aimlessly through the sky and are hunted for their parts and power sources. But when a 16-year-old boy named Kitch stumbles on a peculiar drone named DR1, clues about his lost father begin to surface and lead him on an incredible journey.
About the Speaker
Wayne Woldt, Ph.D., P.E., is an Associate Professor and Extension Specialist at the University of Nebraska, in the School of Natural Resources and the Department of Biological Systems Engineering. He has been at UNL for 26 years, and has developed a research and extension program on the application of unmanned aircraft systems. Wayne is the Director of the Nebraska Unmanned Aircraft Innovation, Research and Education (NU-AIRE) laboratory, and his areas of interest include agriculture, flight safety, and land mapping. Specific areas of research and education include: crop spraying with small unmanned aircraft systems, development of a safety beacon for flight operations, development of passive and active sensing technologies for agriculture and natural resources, deployment and flight operations of unmanned aircraft systems, and performance of autonomous navigation systems. Wayne has been flying unmanned aircraft for the past five years, and obtained the first FAA issued Certificate of Authorization to fly unmanned aircraft in Nebraska. His pilot ratings include private, glider, hot air balloon, and remote, with over 700 hours of total flight time.
Don Masten, born and raised in Nebraska, is a pilot, EMT, Certified Law Officer, and small business owner. Don began his career with DuPont (Conoco) in their Natural Resources Division. While with DuPont he designed, certified, and produced a unique fluid measurement device; became a certified chromatographer; managed special projects and integrated technology; and designed and implemented an alternate fuel program for fleet vehicles. He left DuPont and returned to Nebraska to sell and service center pivots. While at the dealership he started the Micro-Irrigation Division, designing and installing sub-surface drip. He became involved in the NRD program to design and install flow meters in Nebraska. In 2008 Don left the pivot business and started a Water Resources Division for a local coop, where he sold, designed and installed SDI systems with a focus on NRCS EQIP projects and graduated from the Water Leaders Academy class #8. He brought true thermal imaging to the high plains with the Airscout program. Don is past president of the Central Plains Irrigation Association and a board member. He has also organized and participated in numerous trips to developing nations to complete sustainable agriculture projects, build infrastructure, and drill wells.
Tracy O'Neal, D.C., is a faculty member at Western Nebraska Community College in Scottsbluff. He has been at WNCC for 13 years and teaches Human Anatomy and Physiology. Tracy holds a doctorate in chiropractic with a post doctorate specialty in orthopedics. After 33 years, he recently retired from his private chiropractic practice. Tracy began flying small unmanned aircraft five years ago for various projects including construction site assessment, feedlot evaluation of feeding practices, and the filming of training procedures for the Gering Fire Department. He has completed the FAA Part 107 Certificate of Authorization course and will be taking the exam shortly. Tracy currently has four drones. The newest is a Matrice 210 RTK, which is an industrial drone designed for search and rescue, firefighting, agriculture, and other industrial uses. His goal is to use his drones locally to help or assist in community needs.
Examples of drones used in agricultural research will be on display in the Midwest Theater lobby prior to the event.
Event partners and sponsors for this event include the University of Nebraska-Lincoln Panhandle Research and Extension Center, Western Nebraska Community College, Farm Credit Services of America, Walther Farms, Trail Animal Clinic, Kelley Bean Company, Connecting Point, Dinklage Feed Yard, the Nebraska Arts Council, and the Nebraska Cultural Endowment.
Donations at this free event support the Scottsbluff-Gering Chamber of Commerce Agribusiness Committee scholarship fund.