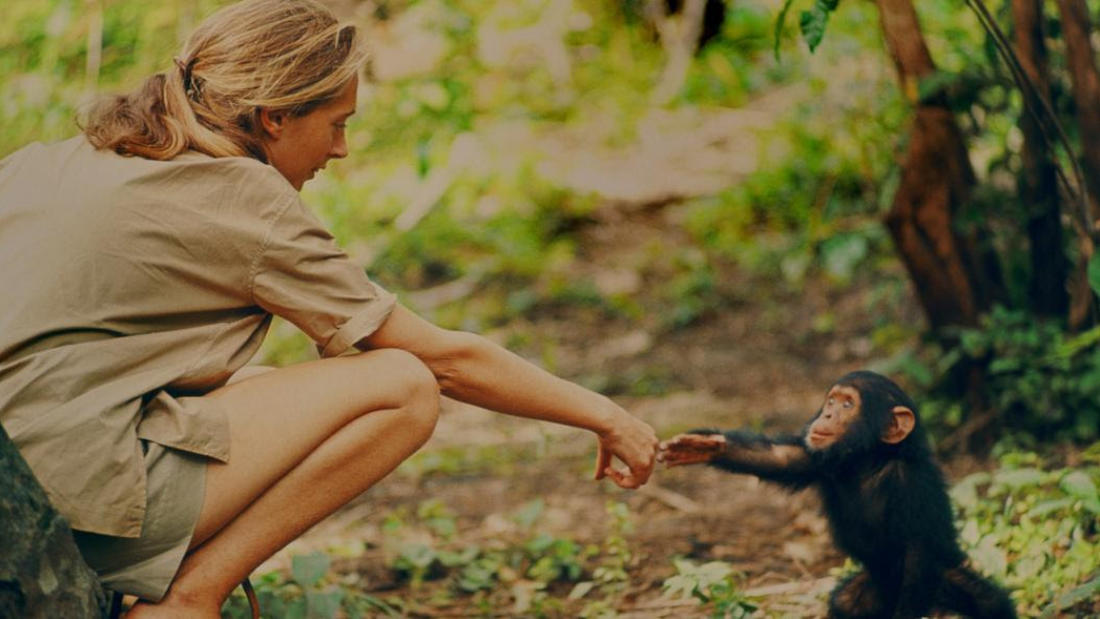 2018
with
Kelly Stewart Harcourt
Research associate, Anthropology Department, University of California Davis
Jane—

Why do we study apes?
Program Description
Gorilla expert Kelly Stewart Harcourt, longtime research associate of Dian Fossey, explains why she and her fellow primatologists are drawn to study apes—and what they've learned from them. Part of the 2018 National Evening of Science on Screen.

Film Synopsis
Jane Goodall, a young and untrained woman, challenges male-dominated scientific consensus with her chimpanzee research and revolutionizes people's understanding of the natural world.
Drawing from over 100 hours of never-before-seen footage that has been tucked away in the National Geographic archives for more than 50 years, award-winning director Brett Morgen tells the story of Jane Goodall, a woman whose chimpanzee research challenged the male-dominated scientific consensus of her time and revolutionized our understanding of the natural world.
Set to a rich orchestral score from legendary composer Philip Glass, the film offers an unprecedented, intimate portrait of Jane Goodall—a trailblazer who defied the odds to become one of the world's most admired conservationists.
About the Speaker
Dr. Kelly Stewart Harcourt graduated from Stanford University in 1973, with a BA in anthropology, after which she went to Rwanda to Dian Fossey's research camp, the Karisoke Research Center. There, she met many wild mountain gorillas and her future husband, Sandy Harcourt. Over the next 16 years, she and Sandy conducted various projects on the behavior, ecology, and conservation of gorillas in Rwanda, Uganda, Congo, and Nigeria, splitting their time between Africa and Cambridge, England, where Kelly earned her PhD in zoology in 1981. From 1980 to 1983, they co-directed the Karisoke Research Center in Rwanda while Fossey was in the States. Since 1989, Kelly has been a research associate in the anthropology department at the University of California Davis, where her husband is a professor emeritus. She and Sandy have written extensively in scientific and popular publications, including their 2007 book, Gorilla Society. From 1989 to 1999, she was editor of the Gorilla Conservation News. From 1996 to 1999, she wrote a science column for her local newspaper in Davis, California. Kelly has served on numerous scientific and conservation advisory boards, including those for the Dian Fossey Gorilla Fund Int., the African Wildlife Foundation, and, currently, for the Mountain Gorilla One Health Program.