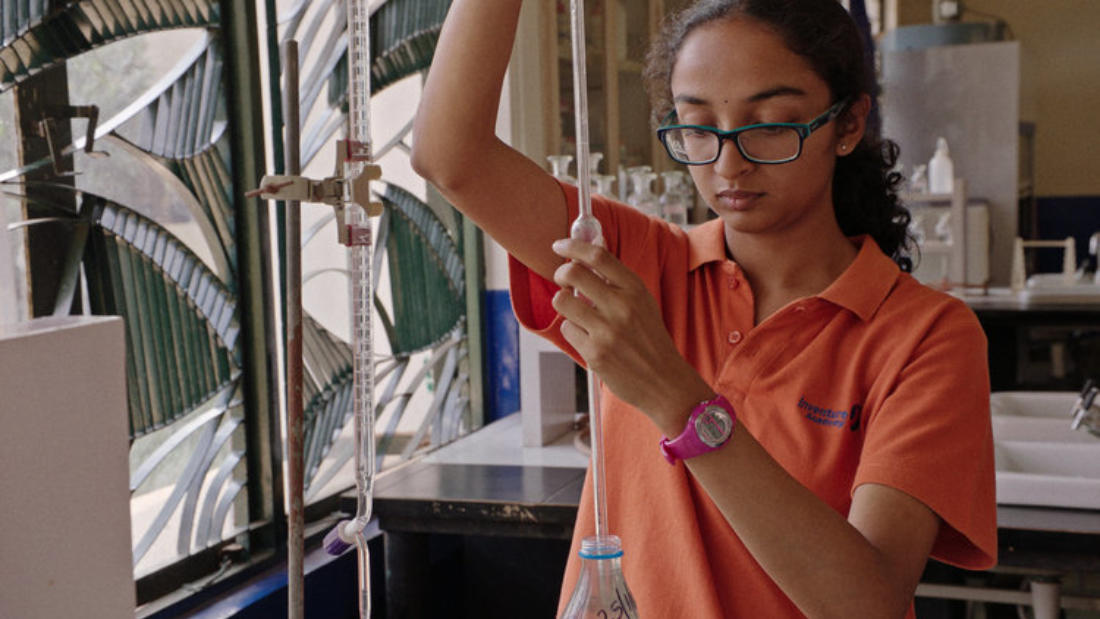 2019
with
Caitlin Sullivan
Director of Outreach and Equity Programs, Society for Science & the Public
and
Ana Humphrey
Best in Category: Astronomy and Physics at the 2018 Intel International Science and Engineering Fair
Inventing Tomorrow—

Cultivating the next generation of scientists
Program Description
Caitlin Sullivan of the Society for Science & the Public and 2018 international science fair awardee Ana Humphrey discuss how we can encourage cultivate the next generation of scientists. Presented as part of the 2019 National Week of Science on Screen.
Film Synopsis
Passionate teenage innovators from around the world create cutting-edge solutions to environmental threats.
Indonesia, India, Mexico, Hawaii, and many other countries, communities, and islands are rife with the ravages of environmental degradation. But hope comes with a surprising—and touching—group of young people. Meet six brilliant high school students as they prepare for the world's largest high school science competition: the Intel International Science and Engineering Fair (ISEF). Inspired by the issues and problems they've witnessed in their own communities, these teens propose big ideas and ingenious solutions to the world's environmental challenges. With unfettered minds and ambition, they descend upon Los Angeles to participate in ISEF and meet thousands of their peers from all over the world. Soon, a sense of global community forms, focused on making the world a better place.
Director Laura Nix trains her eye on her articulate and loveable subjects and goes beyond the notion of the nerdy whiz kid to create a complete portrait of engaged and inspired (and inspiring) youth. An artful and moving film, Inventing Tomorrow looks optimistically at the future through the passion and forward thinking of these exceptional teens. [Sundance Institute]
Photo courtesy of IQ190 Productions LLC
About the Speaker
Caitlin Sullivan is the director of outreach and equity for the Society for Science & the Public. Previously, she was the program manager for the Regeneron Science Talent Search. She taught high school chemistry and physics to students in 9th through 12th grade at all skill levels at Montgomery Blair High School in Silver Spring, Md. She attended Indiana University and holds a B.S. in Chemistry and an M.S. in Education, with minors in math, Spanish, and physics.