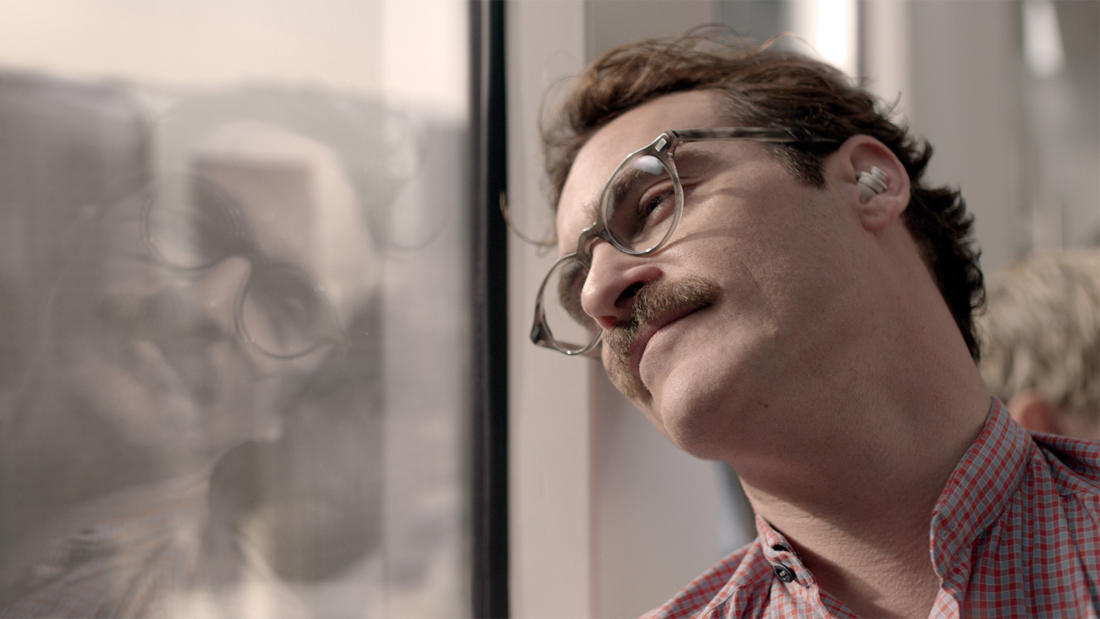 2019
with
Sergey Razin
Chief Technology Officer, Swampfox Technologies Inc.; Professor of AI and Entrepreneurial Engineering, University of South Carolina
and
Adrian Williams
IT Coordinator and Projectionist, Nickelodeon Theatre
Her—

Is artificial intelligence feasible?
Program Description
Machine-learning expert Sergey Razin discusses the feasibility, economics, and ethics of artificial intelligence with Nickelodeon Theatre IT coordinator and projectionist Adrian Williams.
Film Synopsis
A lonely writer develops an unlikely relationship with his newly purchased operating system that's designed to meet his every need.
In the near future, a sensitive and soulful man earns a living by writing personal letters for other people. Left heartbroken after his marriage ends, Theodore (Joaquin Phoenix) forms an unlikely bond with a new operating system that has the capacity to develop into an intuitive and unique entity in its own right. He starts the program and meets the voice behind the OS1, Samantha (Scarlett Johansson). Though friends initially, the relationship soon deepens into love. Nominated for five Academy Awards, this film marks director-producer Spike Jonze's solo screenwriting debut.
About the Speaker
Sergey Razin is responsible for driving product strategy and innovation at Swampfox Technologies Inc. As a noted authority in advanced analytics and machine learning, Sergey pioneered and holds patents in the application of these technologies in the areas of IT security, media, and speech recognition. He is currently leading the development of innovative solutions based on these technologies that enable contact centers. Prior to joining Swampfox, Sergey was the CTO of SIOS where he pioneered products in AIOps space, EMC CTO office where he drove initiations in areas of network protocols, cloud and storage management, metrics, and analytics. Sergey has also served as principal investigator, a leader in research, development, and architecture in areas of big data analytics, speech recognition, telephony, and networking. He is a professor of AI and Entrepreneurial Engineering as well as Industry Advisory board member at the University of South Carolina and holds a Ph.D. in computer science from the Moscow State Scientific Center of Informatics. He also holds a BS in computer science from the University of South Carolina.
As projectionist for the Nickelodeon, Adrian Williams quality tests hundreds of films and pieces of media. As IT Coordinator, Adrian handles general maintenance for the theatre's two major projectors and equipment, as well as managing the technical organization of presentations and community events. Adrian is the heart of all things tech for the theatre. In addition to managing technology for the Nick, Adrian is a senior at the University of South Carolina, working on his Bachelor's in Media Arts with a minor in Film and Media Studies. As a member of the student led-organization 1080c, Adrian partners with other aspiring filmmakers in creating short films and documentaries.