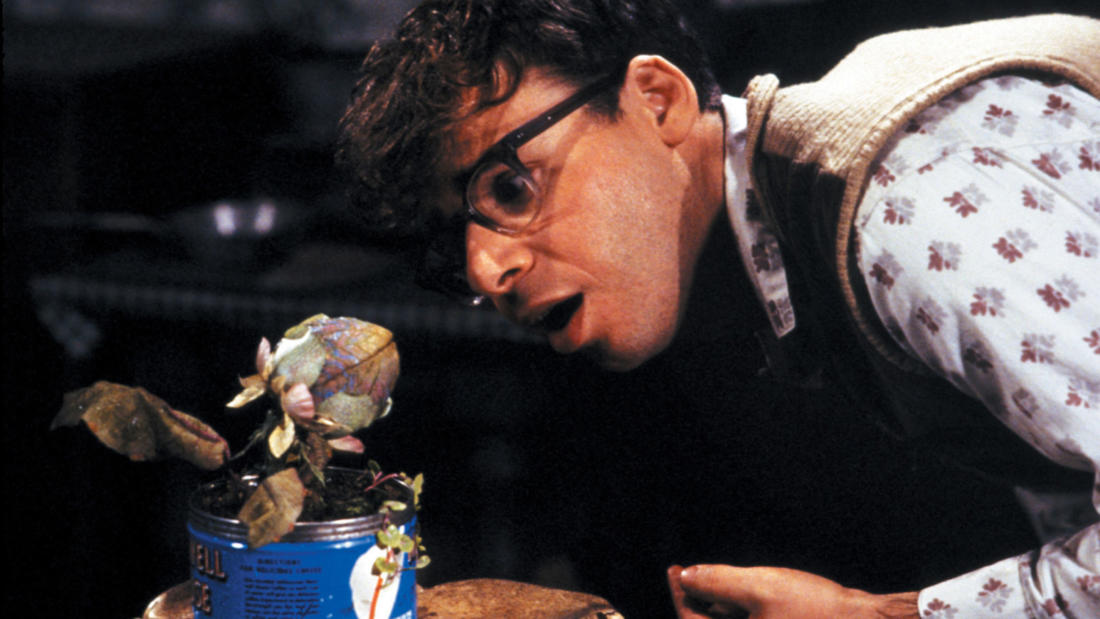 2019
with
Fay-Wei Li
Assistant professor, Boyce Thompson Institute; Adjunct Assistant Professor of Plant Biology, Cornell University College of Agriculture and Life Sciences
Little Shop of Horrors (1986)—

Killer plants
Program Description
Boyce Thompson Institute plant biologist Fay-Wei Li introduces Earth's killer plants, covering the evolution of toxicity and even predatory behavior in a variety of flora. Presented as part of the 2019 National Week of Science on Screen.
Film Synopsis
A nerdy florist finds his chance for success and romance with the help of a giant man-eating plant who demands to be fed.
Meek flower-shop assistant Seymour (Rick Moranis) pines for co-worker Audrey (Ellen Greene). A total eclipse brings a seeming reversal of fortune for him and the store: he discovers an unusual plant he names Audrey II (voiced by Levi Stubbs), an oddity that brings the press and curious customers to the shop. When it fails to thrive on water and sunlight, Seymour secretly discovers, to his horror, that the plant feeds only on human flesh and blood. After Seymour feeds Audrey's abusive boyfriend, Orin (Steve Martin), to Audrey II after Orin's accidental death, the increasingly bloodthirsty plant demands more bodies. If he refuses, will Seymour lose his newfound fame and his burgeoning romance with Audrey?


Image courtesy of PHOTOFEST
About the Speaker
Dr. Fay-Wei Li is interested in the evolutionary processes at the gene, genome and microbiome levels that shaped plant diversity. His lab primarily focuses on "seed-free" plants (ferns, lycophytes and bryophytes), and anything that has an unusual biology.
Fay-Wei joined the Boyce Thompson Institute as an Assistant Professor in 2017. He is also an Adjunct Assistant Professor at the School of Integrative Plant Science, Plant Biology Section, at Cornell University. Fay-Wei's engaging hands- on presentations have been highlights of events in the local community, including Judy's Day and Sciencenter After Dark: Wicked Plants.
In 2018, Fay-Wei was awarded a $1.1 million grant from the National Science Foundation to study hornwort/bacteria symbiosis. The hornwort plant relies on nitrogen-fixing soil bacteria to give it life, and unlocking the secrets of that process may help reduce agricultural dependence on synthetic fertilizer.
While at Duke University, Fay-Wei was part of a team that discovered a new genus of ferns, which they named after Lady Gaga, leading to national media coverage. You can learn more about Fay-Wei and his lab's work by visiting www.fernway.net.