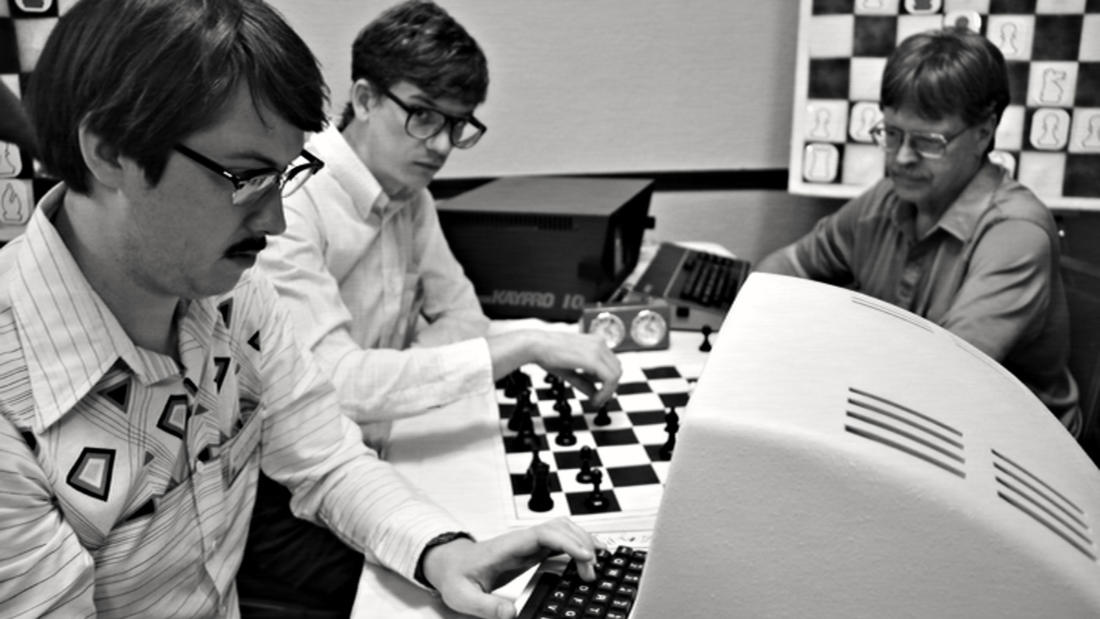 2019
with
Frank Lee
Professor of Digital Media, Drexel University; Director, Entrepreneurial Game Studio
Computer Chess—

The evolution of gaming and society
Program Description
In this faux-documentary set in the early 1980s, a weekend tournament of chess-playing computer programs leads various participants to personal, existential, and spiritual questions. Following this screening, Dr. Frank Lee of Drexel University's Entrepreneurial Game Lab connects the film's era to our own tech-entwined world, commenting on the development of gaming and its intersections with social, educational, and military spheres.

Film Synopsis
A 1980s-set story centered around a man-versus-machine chess tournament.
Set in the early 1980s, in and around an isolated roadside hotel, computer programmers gather for a tournament that pits their chess programs against each other. The action is centered on the junior programmer of an academic team who begins to suspect that their computer is able to detect the difference between a computer opponent and a human one, and thus is exhibiting elements of self-consciousness. He also learns from another member of the team that the computer had been engaging him in gnomic philosophical dialogue and hinting that it thinks it's alive.
About the Speaker
Dr. Frank J. Lee is a Professor of digital media in the Antoinette Westphal College of Media Arts and Design at Drexel University, with appointments in psychology, computer science, and biomedical engineering. Lee received his Ph.D. in cognitive psychology in 2000 from Carnegie Mellon University, and his B.A. in cognitive science in 1994 from UC Berkeley. In 2008, Lee co-founded Drexel's Game Design Program, which is currently ranked as one of the top five game design programs in U.S. He is also the founding director of the Entrepreneurial Game Studio at Drexel University, a unique university initiative designed to teach students entrepreneurship and gaming by helping them to create their own game companies.
His past projects have won national and international awards and recognitions that have received extensive media coverage. His most recent project, Skyscraper Tetris, was mentioned in more than 1,500 news stories worldwide, with an estimated 2.2 billion total views. It was also recognized by Guinness World Records as the Largest Architectural Video Game Display. He was selected as one of the 50 most admirable gaming people of 2​0​1​4​ by Polygon, and one of the Top Innovators in Philadelphia by Philadelphia Magazine in 2012.