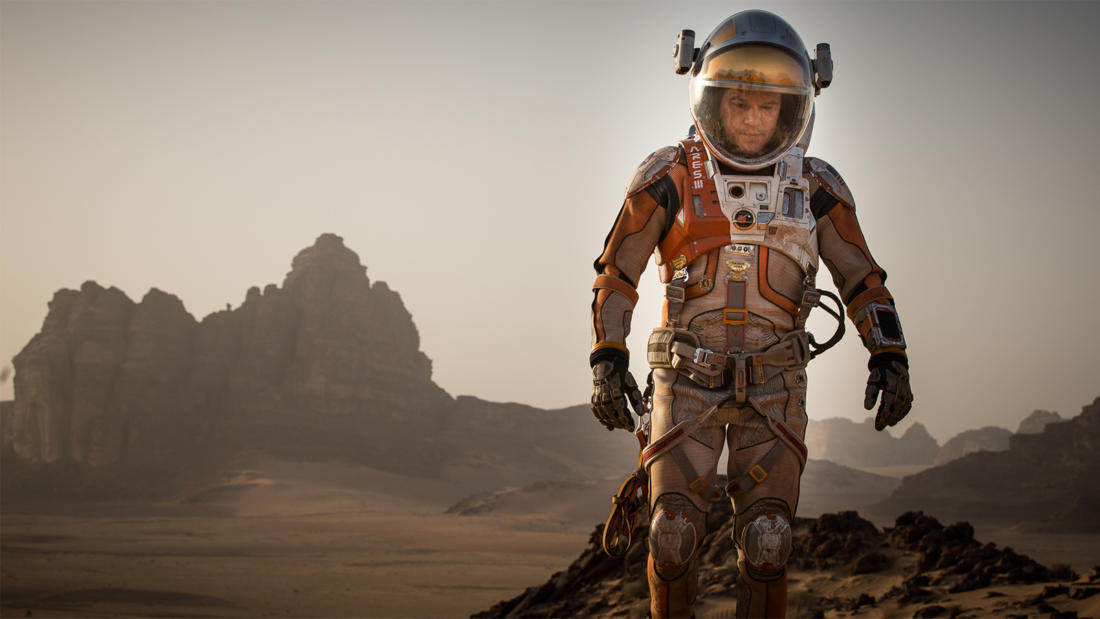 2019
with
Jennifer Fowler
Assistant Director of the Montana Space Grant Consortium
and
Bryan von Lossberg
Engineering manager on the Hubble Space Telescope and Mars Pathfinder missions; Former Jet Propulsion Laboratory engineer; President, Missoula City Council
The Martian—

The astrophysics of The Martian
Program Description
Jennifer Fowler of the Montana Space Grant Consortium and Bryan von Lossberg, engineering manager on the Hubble Space Telescope and Mars Pathfinder space missions, discuss The Martian's portrayal of astrophysics and planetary science.
Film Synopsis
When astronauts blast off from the planet Mars, they leave behind Mark Watney, presumed dead after a fierce storm. With only a meager amount of supplies, the stranded visitor must use his wits, spirit, and scientific know-how to find a way to survive on the hostile planet.
During a manned mission to Mars, Astronaut Mark Watney (Matt Damon) is presumed dead after a fierce storm and left behind by his crew. But Watney has survived and finds himself stranded and alone on the hostile planet. With only meager supplies, he must draw upon his ingenuity, wit, and spirit to subsist and find a way to signal to Earth that he is alive. Millions of miles away, NASA and a team of international scientists work tirelessly to bring "the Martian" home, while his crewmates concurrently plot a daring, if not impossible, rescue mission. As these stories of incredible bravery unfold, the world comes together to root for Watney's safe return. Based on the best-selling novel by Andy Weir, and helmed by master director Ridley Scott, The Martian was nominated for three Golden Globes.
About the Speaker
Jennifer Fowler is currently assistant director of the Montana Space Grant Consortium and director of UM's Autonomous Aerial Systems Office. She received her bachelor's degree in physics from Rutgers University and is currently pursuing a master's degree in data analytics at the University of Montana. Her work allows her to indulge her passions for physics, atmospheric science, and aeronautics, including mentoring students. In her free time, Jennifer likes to ski, hike, backpack, and fly.

Bryan von Lossberg is a second-term Missoula City Council Alderman representing Ward 1, which includes the Northside, Rattlesnake and Downtown areas. He currently serves as Council President and previously chaired Council's Parks and Conservation Committee. Bryan consults regarding solar opportunities and was the campaign coordinator of the Solarize Missoula residential installation program. Formerly the Executive Director of Montana's Alternative Energy Resources Organization and the Tahoe-Baikal Institute in California's Lake Tahoe area, he has an M.S. in Environmental Studies from the University of Montana. Earlier, Bryan was an engineering manager at semiconductor equipment maker Applied Materials and NASA's Jet Propulsion Laboratory—where he worked on the Hubble Space Telescope repair mission and the 1997 Mars Pathfinder program. He has a B.S. in mechanical engineering from Stanford University. Bryan, his wife Genevieve, and their 6-year-old daughter Austen Rose live in the Northside.