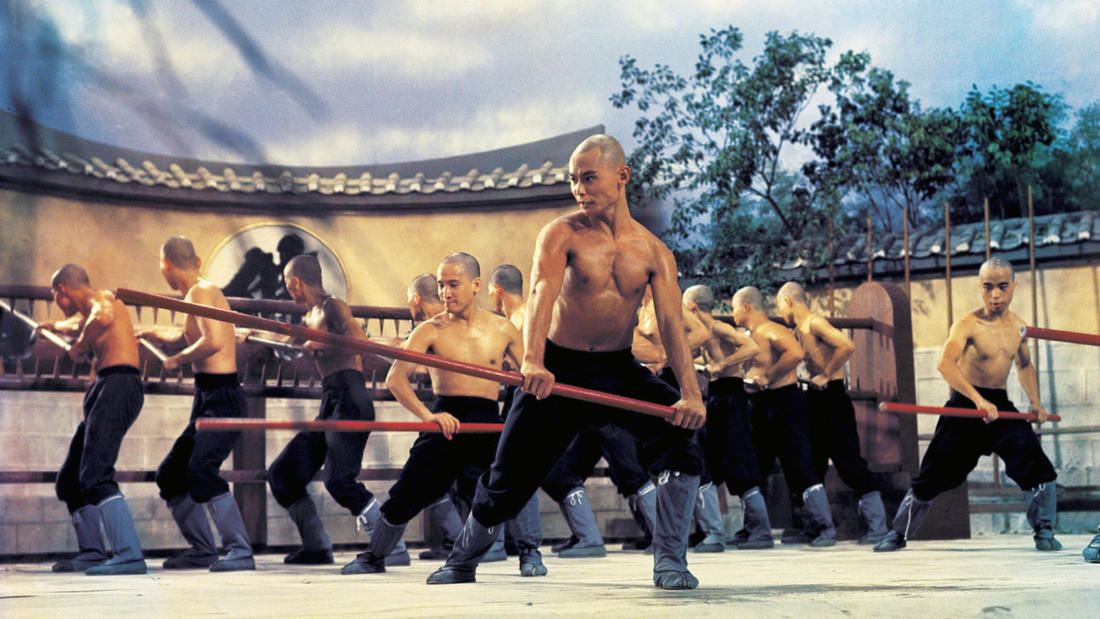 2018
with
Keith Cross
Hip-hop artist; Assistant Professor of Multilingual and Multicultural Education, University of Hawai`i at Mānoa
and
Navid Najafi
Award-winning hip-hop emcee; Poet facilitator and youth mentor, Pacific Tongues
and
Kavet the Catalyst
MC, DJ, producer, and entrepreneur
and
Spel Oner
Graphic designer and illustrator
The 36th Chamber of Shaolin—

Kung fu and the language of hip-hop
Program Description
A panel of Hawai'ian hip-hop artists, influencers, and scholars discusses the influence of seminal kung-fu film The 36th Chamber of Shaolin on visual styles, linguistics, and music in hip-hop culture.
Film Synopsis
Young student Liu is urged to rise against the Manchu oppression in China, but the revolution has disastrous consequences. Escaping the massacre, Liu seeks shelter in the Shaolin Temple, where the monks train him in their famous martial arts skills.
A landmark in the Shaw Brothers repertoire, The 36th Chamber of Shaolin is considered to be one of the greatest kung fu films of all time. The film follows the trials and tribulations of Liu Yude, and later, San Te, as he embarks on a quest of Shaolin mastery to seek vengeance and liberation for his people against the Manchu government. Gordon Liu fully embodies the role of San Te, imbuing each punch, kick, and head-butt with the force and discipline of a dedicated Shaolin disciple, a performance that inspired the Bride's training sequence in Kill Bill 2.
Photo courtesy of PHOTOFEST
About the Speaker
Keith Cross is a veteran hip-hop artist, singer-songwriter, educator, and scholar. Keith has a Ph.D. from Stanford University Graduate School of Education, specializing in race, inequality, and language in education, and is currently assistant professor of multilingual and multicultural education at University of Hawai'i at Mānoa. For several years, Keith has taught hip-hop lyricism (i.e., rap) to youth and the elderly as a tool for enhancing mental and social well-being. As a scholar, he investigates cognitive function, language learning, and cultural and environmental sustainability in relation to oral traditions (especially, communication via the composition and performance of song lyrics). To hear his music and learn more, visit keithcrossmusic.com.
Navid Najafi is the winner of the 2012 and 2013 Nā Hōkū Hanohano Hip Hop Album of the Year awards and one of the most respected emcees in Hawai'i. His smooth flow and intelligent, positive lyrics have been well received by fans and critics alike. A graduate of the University of Hawai'i, Navid is a dedicated volunteer and youth facilitator in his community. Along with serving as an administrator for Soundshop, he is also a poet facilitator and youth mentor for the non-profit poetry education organization Pacific Tongues.
From 1997 to 2001, Kavet the Catalyst created the first Hawai'i hip-hop radio show, Lightsleepers. In Hawai'i, he created a handful of groundbreaking events, including Trip the Lights and INERTIA, which, for ten years, helped Hawai'i's B-Boy scene gain world-wide regard. Beatroot, which he launched 12 years ago, is Hawai'i's only producer battle, where music producers and beat-makers battle to see who has the dopest beats. Beatroot alumni have gone on to work with acclaimed artists like Diplo, Eryka Badu, and Kid Cudi. In 2016, Kavet opened a Lightsleepers flagship store to sell clothing, music, and records, and to host monthly Producer Hangouts, art shows, and special one-run events.
Spel Oner's broad range of visual art (from traditional artistic forms to computer-based media) appears in print and digital media. As a young immigrant raised by his grandparents, Spel took to art as a diversion and sanctuary. His artistic talent emerged at a young age, as he excelled in various styles and media. Spel has worked with numerous artists and companies, including Lightsleepers, Shing02, Year of the Ox, and Super Cr3w. He has been organizing and putting art shows together for years now, gathering local artists to express themselves through art. His notable shows include the Stage, Geisha, Love Letters, Ordinary People, and Robot Carnival Shows.