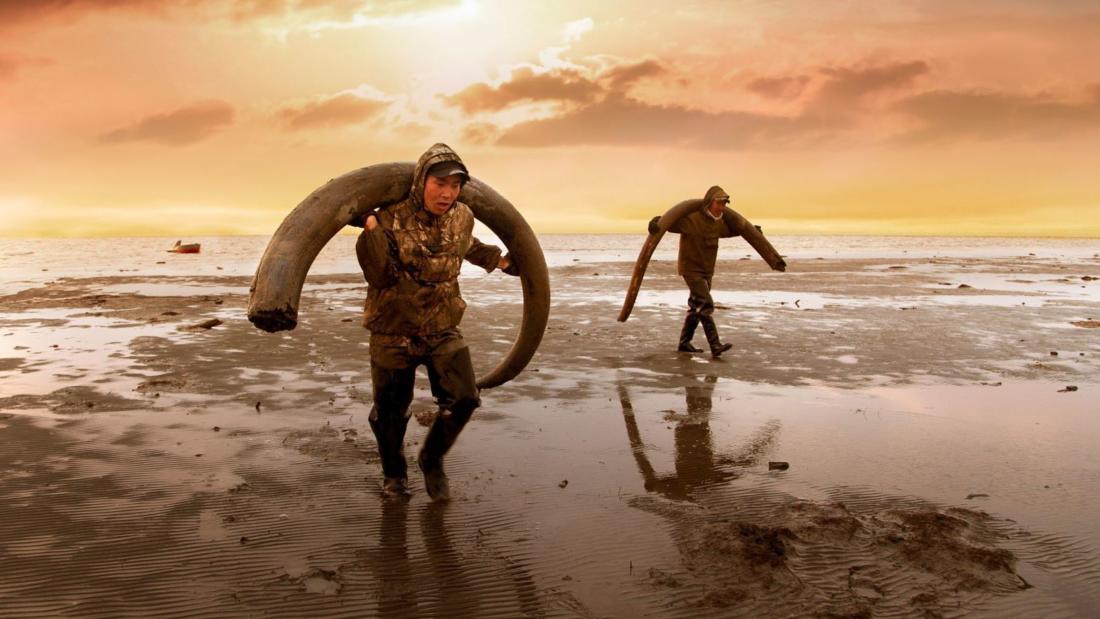 2019
with
Marguerite Butler
Professor of Biology, University of Hawai'i at Mānoa
and
Yvonne Chan
John Kay Teaching Chair in Research Science at `Iolani School
and
Masato Yoshizawa
Assistant Professor of Biology, University of Hawai'i at Mānoa
Genesis 2.0—

Genetics 2.0
Program Description
Geneticists from the University of Hawaiʻi at Mānoa discuss the genetics behind attempts to clone extinct animals.
Film Synopsis
When tusk hunters on a thawing Siberian island discover a surprisingly well-preserved mammoth carcass, its resurrection becomes the first manifestation of the next great technological revolution—one that might turn the world upside down.
Winner of the World Cinema Documentary Special Jury Award for Cinematography at Sundance 2018 and directed by Oscar-nominated Swiss director and producer Christian Frei, Genesis 2.0 observes the harsh and dangerous life of so-called mammoth hunters on the remote New Siberian Islands in the far north of Siberia. There is a kind of gold rush fever in the air, because the prices for this white gold have never been so high. But the thawing permafrost unveils more than just precious ivory. Sometimes the hunters find an almost completely preserved mammoth carcass with fur, liquid blood, and muscle tissue on which arctic foxes gnaw.
Such finds are magnets for high-tech Russian and South Korean clone researchers in search of mammoth cells with the greatest possible degree of intact DNA. Their mission? To bring an extinct woolly mammoth back to life and resurrect the species. And that's just the beginning. Worldwide, synthetic biologists are working on re-inventing life. Man is becoming the Creator.
The resurrection of the mammoth is a first manifestation of this next great technological revolution. An exercise. A multi-million dollar game. The new technology may turn the world as we know it completely on its head ... and all of this has its origin in the unstoppably thawing permafrost at the extreme edge of Siberia.
About the Speaker
Growing up catching crayfish and toads in the former cane and pineapple fields of central O'ahu, Marguerite Butler dreamed of becoming a biologist at the University of Hawai'i. After graduating from Mililani High School she spend over 20 years at top mainland and international institutions before landing a job in the Biology Department at the University of Hawai'i in 2006.
Butler is an evolutionary biologist and comparative physiologist, studying the natural wonders of Hawai'i and the Pacific. In Hawai'i, the world's hotspot for extraordinary evolution (even more so than the Galapagos with their Darwin's finches), Butler and her lab are discovering how native damselflies have evolved from one original colonist to over 20 native species which fill unique "niches" in our volcanic stream valleys. In Papua New Guinea, Butlerʻs lab is exploring how frogs have explosively diversified into hundreds of species and repeatedly evolved distinct lifestyles. How the earth's history has influenced biodiversity in accelerating the rate of evolution is a very hot topic in biology currently, and the Pacific Rim provides many unique opportunities for study. Butlerʻs research has been funded by the National Science Foundation and the Department of Defense.
An active teacher, Butler teaches Animal Physiology at UH in a fully project-driven format for students to explore their own scientific ideas, as well as many graduate seminars in functional biology, evolution, and analysis, and is an associate editor for the journal Integrative Organismal Biology. She also collaborates with local teachers to provide lectures and educational materials on biodiversity and STEM education, and is an invited lecturer at the annual Evolutionary Quantitative Genetics summer course at the Friday Harbor Marine Labs.
Yvonne Chan teaches independent research, environmental science, and conservation genetics to children in grades 11 and 12. She is the director of the Sullivan Center Research Lab, which strives to nurture student independent research, foster citizen-science among schools and communities, and provide outreach and workshops to improve STEM-education in Hawaii.
At the University of Hawaii, she taught Introduction to Research in the Honors Program and was an ornithology lecturer for the Department of Biology; an assistant specialist for the Pacific Biosciences Research Center, working with their Interdisciplinary Graduate Research Training Program; and a postdoctoral researcher for the Hawaii Institute of Marine Biology. More recently she was in Sweden as a Marie Curie Fellow for the Stockholm Museum of Natural History, working on whole-genome sequencing of the extinct Woolly Rhino.
Dr. Chan earned a bachelor of arts in biology from Pomona College, a master of science from the University of British Columbia's Center for Applied Conservation Biology, and a Ph.D. from Stanford University's Department of Biological Sciences, using ancient DNA to understand small mammal response to past climate change.
Masato Yoshizawa holds a Ph.D. in Neuroscience from Kyoto University, Japan. He spent his youth catching turtle and crayfish in suburban of Nagoya-city. During this time, he became interested in a question "where does mind come from?" A dog seems to have a mind, but crayfish may not.
After he finished his PhD in the developmental mechanism of the mouse brain, he shifted his focal animal to blind cavefish. Since joining UH Manoa at 2014, he has taught developmental biology every spring semester and talked about stem cell research. His research team is currently involved in the evolutionary mechanisms of brain functions, and recently found the evolution of laterality in cavefish (L-R asymmetric usage of sensor), and the molecular-level of similarity between autism-symptom and cavefish behaviors. Masato's research has been funded by Hawaii Community Foundation and the National Institute of Health. His research was well-received and picked up by journal blogs (Integr Comp Biol; BMC series) and Hawaii local news (Honolulu Civil Beat and Hawaii Public Radio). He also actively serves public exhibitions (Fall in Love with Science at Bishop Museum; Mānoa Green Days in year 2016, 2017, 2018) as well as collaborates with Dr. Rossiter, the director of Waikiki aquarium, to make cavefish exhibition in a 200-GAL tank in the Waikiki aquarium.